Former New York City Mayor Michael Bloomberg denounced campus "safe spaces" and urged students at the University of Michigan to welcome exposure to "challenging and uncomfortable ideas" during his commencement address Saturday.
Bloomberg, 74, offered some political commentary and denounced the "demagogues" and their quest for the White House this election season during his commencement address.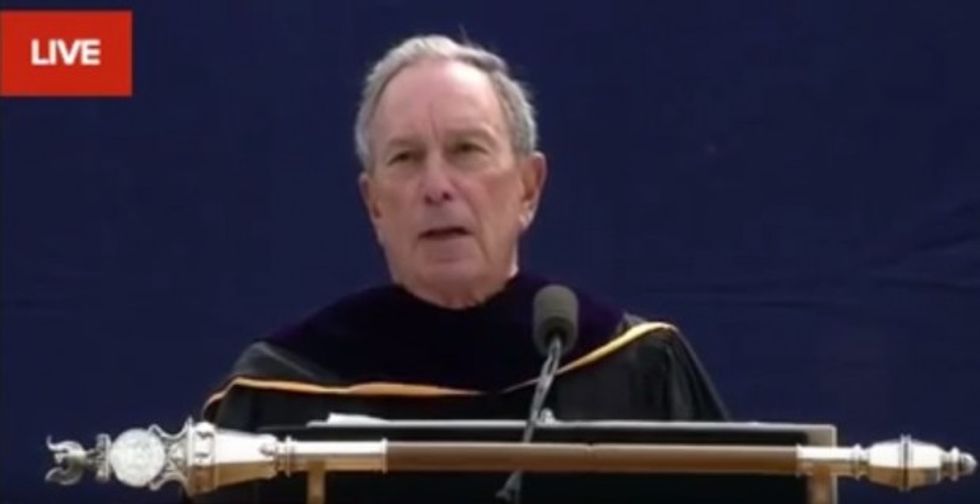 Michael Bloomberg (Image source: YouTube)
"Every generation has had to confront its own demagogues. And every generation has stood up and kept them away from the White House. At least so far. And now it is your turn," Bloomberg told the students, according to CNN. "In this year's presidential election, we've seen more demagoguery from both parties than I can remember in my lifetime. Our country is facing serious and difficult challenges, but rather than offering realistic solutions, candidates in both parties are blaming our problems on easy targets who breed resentment. For Republicans, it's Mexicans here illegally and Muslims. For Democrats, it's the wealthy and Wall Street."
Bloomberg also proceeded to extol the students to consider the true purpose of pursuing a college education and discussing a variety of ideas.
"The most important knowledge that you will leave here today with, like the importance of teamwork, has nothing to do with your major," Bloomberg said. "It is about how to study, how to cooperate, how to listen carefully, how to think critically, and how to resolve conflicts through reason. In other words, it is working with others. Those are the most important skills in the working world, and it's why colleges have always exposed students to challenging and uncomfortable ideas."
Bloomberg continued,  saying, "The fact that some university boards and administrations now bow to pressure groups, and shield students from these ideas through safe spaces, code words, and trigger warnings, is in my view a terrible mistake," as the crowd cheered. "The whole purpose of college is to learn how to deal with difficult situations, not to run away from them."
But some of the students offered a different response to his words as Bloomberg continued addressing the topic.
"A microaggression is exactly that, micro. But in a macro sense, one of the most dangerous places on a college campus is the so-called safe space, because it creates a false impression that we can isolate ourselves from those who hold different views," Bloomberg said. "We can't, and we shouldn't try. Not in politics, not in the workplace."
This time, Bloomberg's words were met with a mixture of boos and jeers.
Watch a clip of the speech below.
(H/T: Daily Caller)
—
Follow Kathryn Blackhurst (@kablackhurst) on Twitter