In an interview on CBS' "Face the Nation," which aired Sunday, Texas Sen. Ted Cruz suggested that Republican presidential front-runner Donald Trump and Democratic front-runner Hillary Clinton are more alike that many have suggested.
When discussing his recent decision to appoint former Hewlett Packard CEO Carly Fiorina as his running mate, the candidate explained his hope that a Cruz-Fiorina ticket would provide a clear alternative for conservative voters.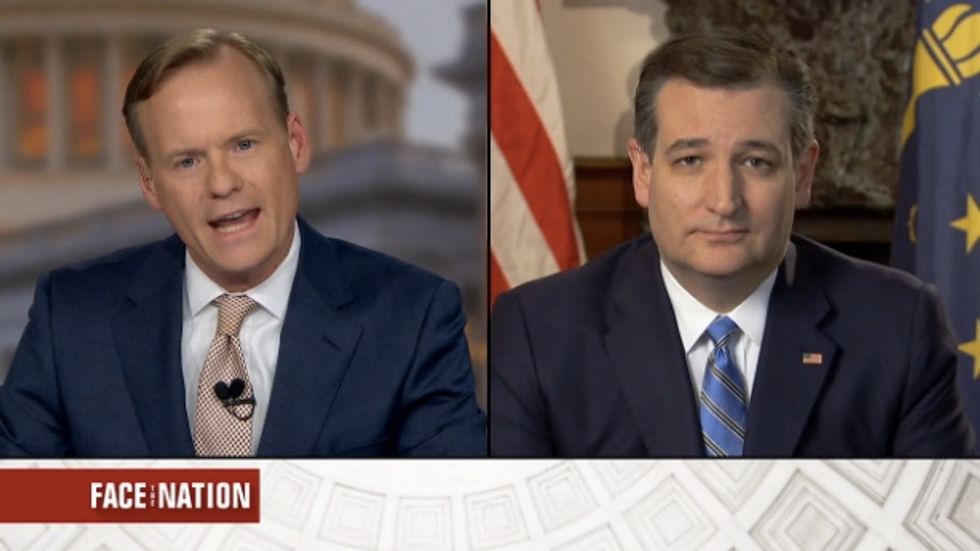 Image source: "Face the Nation"
"One of the reasons this week that I announced Carly Fiorina as my vice presidential nominee is to provide a clear choice, a clear contrast to the voters," he said. "And I think there couldn't be a clearer choice between Carly and me on the one side, running on issues, running on substance, running on jobs and freedom and security and protecting the American people, versus Donald Trump and Hillary Clinton on the other side."
Cruz criticized Trump for being a phony conservative, asserting that it would be a mistake to nominate another "big government, rich New York liberal" like Trump or Clinton.
"Donald and Hillary are really flip sides of the same coin," he said, reasserting previous claims he'd made linking the billionaire businessman with the former secretary of state. "Hillary has made millions of dollars selling power and influence in Washington. Donald has made billions buying politicians like Hillary Clinton ... ."
"Both Donald Trump and Hillary Clinton agree they think Planned Parenthood is wonderful. They both support taxpayer funding for it. I disagree with that," he continued. "They both supported Bill Clinton's law banning many of the most popular firearms in America. I disagree with Donald Trump and Hillary Clinton on that."
Cruz was asked to explain why, if Trump is in fact a bad conservative, the candidate has managed to acquire so many votes in primaries across the country? The Texas senator responded by attributing Trump's success to his ability to capture the loyalty of an "impassioned minority."
"Early on Donald did well when there were 17 candidates because he unified his support. He has — he has an impassioned minority behind him," Cruz explained. "And when everyone else was diffuse, he won a lot of early states."
The GOP candidate also addressed former House Speaker John Boehner's recent remarks about him being "Lucifer in the flesh." Cruz claimed that Boehner was "auditioning" to be Trump's running mate, proving that Trump is the favored pick of the Washington establishment.
"I saw Boehner's comments. I kind of wondered if Boehner was auditioning to be Donald Trump's vice president," he said. "You know, a Trump-Boehner ticket would really say the Washington cartel in all its force."
Watch: