"Meet the Press" host Chuck Todd became increasingly frustrated with Texas Sen. Ted Cruz as the senator repeatedly evaded his questions Sunday and refused to answer whether or not he would support Donald Trump if he wins the Republican presidential nomination.
After a very heated primary season, Todd attempted to gauge whether Cruz would follow through on the candidates' joint promise at the beginning of the Republican presidential debates to support whomever the party's nominee would eventually be.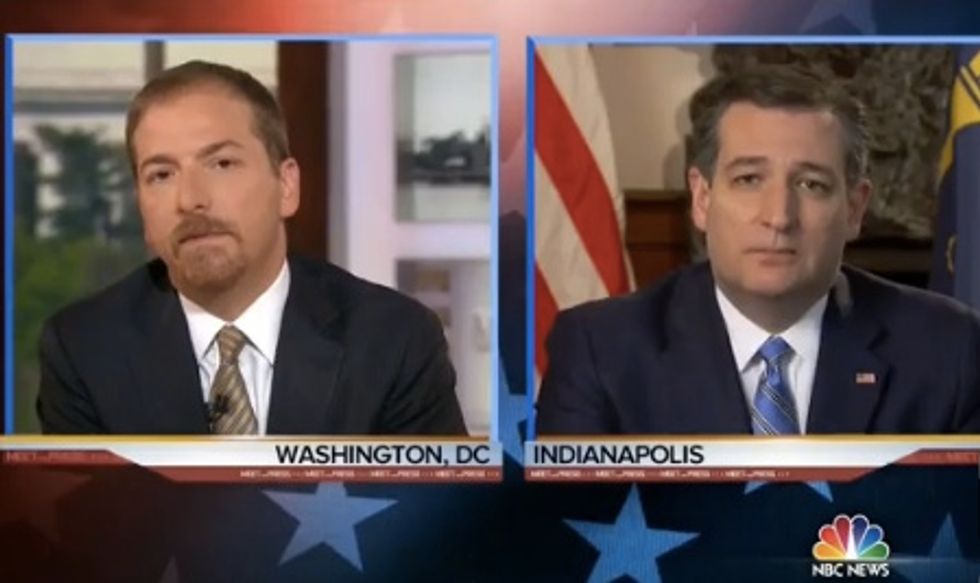 Image source: "Meet the Press"
"You've spent this entire interview trying to eviscerate Donald Trump," Todd said Cruz in the middle of the interview. "If he's the nominee, I take it you can't support him anymore, can you?"
Cruz responded, saying, "I believe that if the Republican party nominates Donald Trump, we will lose to Hillary," Cruz said.
After Cruz continued for several seconds longer, Todd interrupted him to ask the question again.
"But are you going to support him? I understand what you believe about the Republican party," Todd said. "Can you support him? Can you tell your delegates, 'Lay down your arms and support Donald Trump?'"
When Cruz responded, saying that he recognized "that many in the media would love for me to surrender to Donald Trump," Todd indicated that he was having none of it.
"It's not about the media, it's about the numbers!" Todd countered. "[Trump] may win. Republican voters are the ones rejecting you. This is not a media conspiracy, senator!"
Cruz fired back, saying, "Well, actually, with all due respect, the media has given two billion dollars of free advertising to Donald Trump ... Listen, the — the simple reality is the media, almost entirely, are liberal, partisan, Democrats. That is the reality of it. The media created this Trump phenomenon, and then — and then they don't hold him accountable. Now, I'm sure the media plan to do so if he's the nominee in the general election."
The two continued to go back and forth as Cruz listed his problems with the media and with Trump. Finally, Todd tried once more time to receive an answer to his original question.
"All right, can you answer the question about whether you are going to support ... are you going to support Donald Trump if he's the nominee?" Todd asked.
Cruz fired back, "I am going to beat Donald Trump. We are headed to a contested convention, and we're gonna win, and I'm not willing to concede this country. Listen, this is my kids' future, Chuck. It's not — it's not simply a game. If we lose...this, if we lose this, we lose our country. We lose the Supreme Court for a generation, religious liberty is taken away, the Second Amendment is taken away, our kids are bankrupted. We are at the edge of a cliff."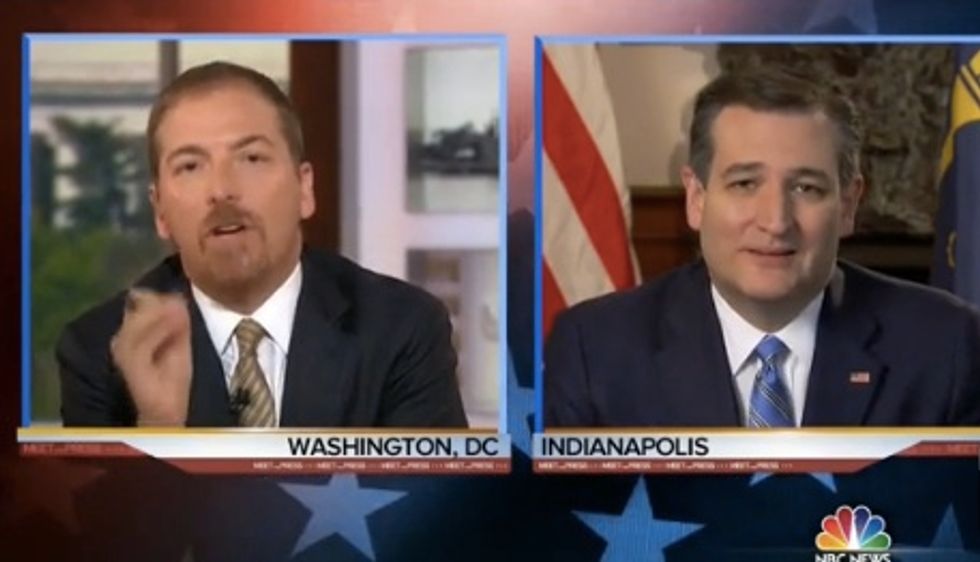 Image source: "Meet the Press"
Todd responded, "Don't you think it's important to take a stand? You just said, it's a time for choosing. If it's a time for choosing, say it. For him or against him as the nominee? It's a time for choosing, is it not?"
Cruz answered, "Chuck, Chuck, you're welcome — you're welcome to lobby for support for Trump as much as possible. We are going to beat Trump because Trump's winning the nomination loses the country ... And I am not willing to give up on America."
Finally, Todd accepted that Cruz would not give him an answer, after all.
"All right, so let the record show, you have not taken a position on whether Trump, whether you can support Trump if he's the nominee," Todd said. "Fair enough?"
Cruz responded, "And let the record show you tried very, very hard to get me to commit to supporting Trump. The record will show that."
Watch the interview below.
(H/T: Mediaite)
—
Follow Kathryn Blackhurst (@kablackhurst) on Twitter