© 2023 Blaze Media LLC. All rights reserved.
CNN Reporter Asks White House if Obama Really Thinks the Network 'Has a Problem Journalistically'
"One of President Obama's more cutting jokes was at CNN."
CNN seemed slightly bothered by one of President Barack Obama's jokes at Saturday night's White House Correspondents Dinner, so reporter Michelle Kosinski asked White House press secretary Josh Earnest if the commander in chief really meant it.
"One of President Obama's more cutting jokes was at CNN," Kosinski began, before Earnest cut her off.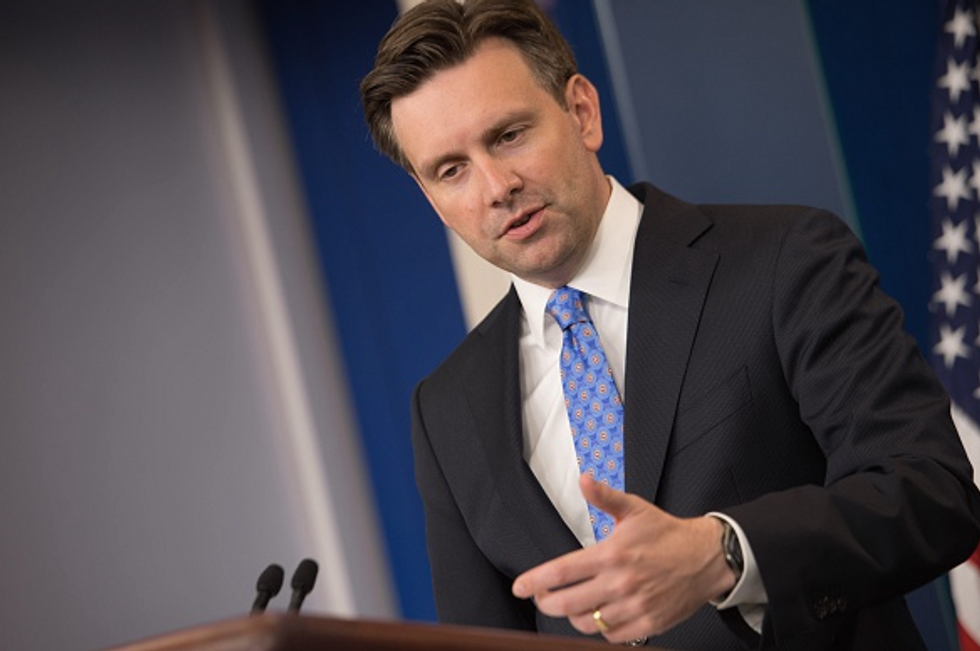 White House Press Secretary Josh Earnest speaks during the daily briefing at the White House in Washington, DC, on September 3, 2015. AFP PHOTO/NICHOLAS KAMM (NICHOLAS KAMM/AFP/Getty Images)
Earnest asked the reporter if CNN was really offended by the joke: "Don't tell me you guys got all sensitive?"
"It was all in good fun," he continued, as the White House press corps laughed.
"OK, so he doesn't think that CNN has a problem journalistically?" Kosinski pressed.
Earnest assured the CNN host that the president has no problem with CNN or its reporters.
The joke that sparked Kosinski's question was one Obama made Saturday at CNN anchor Jake Tapper.
"I won't lie—look, this is a tough transition — it's hard," Obama said as his eighth and final White House Correspondents Dinner. "Key staff are now starting to leave the White House. Even reporters have left me: Savannah Guthrie, she's left the White House press corps to host the 'Today' show. Norah O'Donnell left the briefing room to host 'CBS This Morning.' Jake Tapper left journalism to join CNN."
Before joining CNN, Tapper worked as ABC News' senior White House correspondent, a position for which he received the Merriman Smith Memorial Award for broadcast journalism three times in a row.
—
Follow the author of this story on Twitter:
Want to leave a tip?
We answer to you. Help keep our content free of advertisers and big tech censorship by leaving a tip today.
more stories
Sign up for the Blaze newsletter
By signing up, you agree to our
Privacy Policy
and
Terms of Use
, and agree to receive content that may sometimes include advertisements. You may opt out at any time.