Raw video showing a weekend altercation that occurred between two journalists at a party following the annual White House Correspondents' Dinner was published by The Huffington Post Monday evening.
The footage offered the first look at the moments leading up to a physical confrontation between Fox News Channel "ambush" reporter Jesse Watters and Huffington Post Washington Bureau Chief Ryan Grim.
Grim can be seen in the video initially asking Watters to apologize for ambushing Huffington Post reporter Amanda Terkel in 2009 over a blog post she wrote for Think Progress.
"Let's make up. Amanda!" Grim said, shouting Terkel's name in an effort to convince her to walk over and mend things with Watters.
"Yeah, let's make up," Watters agreed.
When Terkel failed to walk over, Grim went over to her. Terkel said there was "absolutely no way" she would approach Watters, but that didn't stop Grim's efforts to get the two to squash the beef.
"She's saying there's no way it's going to happen unless you totally grovel and apologize," Grim told Watters.
"Bring her over, I'll apologize," Watters replied. "Tell her to come over, I'll apologize."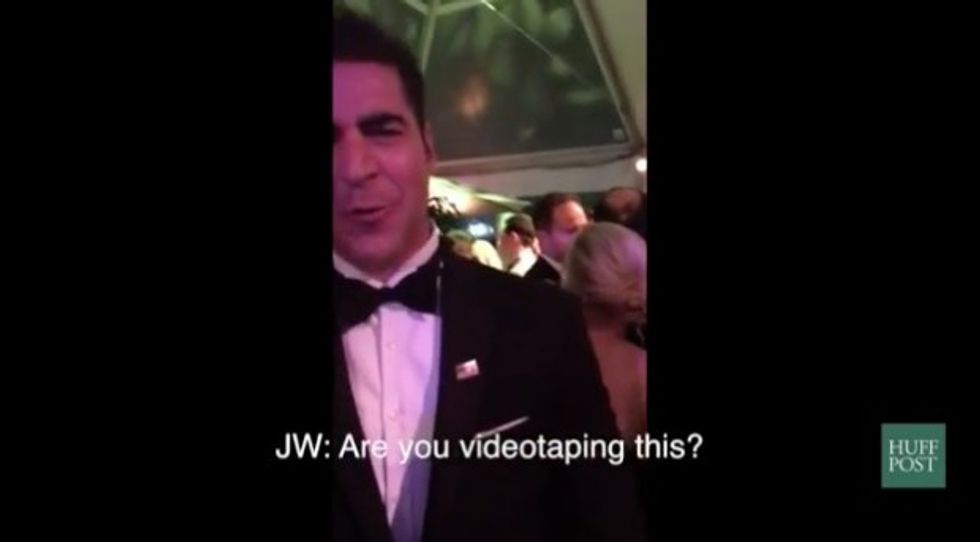 Image source: Screen grab
But, despite his initial willingness to apologize, Watters refused to walk over to Terkel. He then appeared to retract his offer to apologize, but said Terkel was a "good girl."
Moments later, the Fox News Channel star seemed to notice Grim had been filming him.
"Are you videotaping this?" he asked.
"I am! Of course I'm videotaping this," Grim replied.
"Get out of here," Watters said.
Footage captured Watters appear to grab and toss Grim's phone seconds later. Grim retrieved the phone and then walked up to Watters, asking if he had "second thoughts" about apologizing.
Watters then appeared to have reached out, grabbed the phone again and pocketed it. The device continued to record audio. Much of what was recorded was inaudible, but it did capture an exchange between Watters and Grim.
"Take it back," Watters told Grim.
"Where'd you put it," Grim asked Watters about the location of his phone.
The confrontation continued to escalate.
"You think I'm walking out here without my phone?" Grim asked.
"When I'm ready, I'll give it to you. I might throw it out the window," Watters said.
"Are you joking?" Grim asked.
"Does it look like I'm joking? I do this for a living," Watters shot back.
Audio captured what appeared to be the final moments before the physical confrontation.
"You're getting a little too close," Watters told Grim. "Back off me. Back up off me."
"Where's the phone? Where's the phone?" Grim asked.
The altercation was quickly broken up by bystanders, but one witness told The Washington Post "punches were definitely thrown." According to one report, Watters tried to delete the video before Grim had it back in his custody.
A Fox News spokesperson said that Watters planned to address the incident on "The O'Reilly Factor" Monday.
—
Follow the author of this story on Twitter and Facebook: