SEATTLE (TheBlaze/AP) -- Seattle police used pepper spray to disperse black-clad anti-capitalist protesters authorities say threw rocks, flares, bricks and Molotov cocktails at officers during a rowdy May Day gathering.
At least nine people were arrested Sunday evening. Authorities said five officers were hurt, none seriously.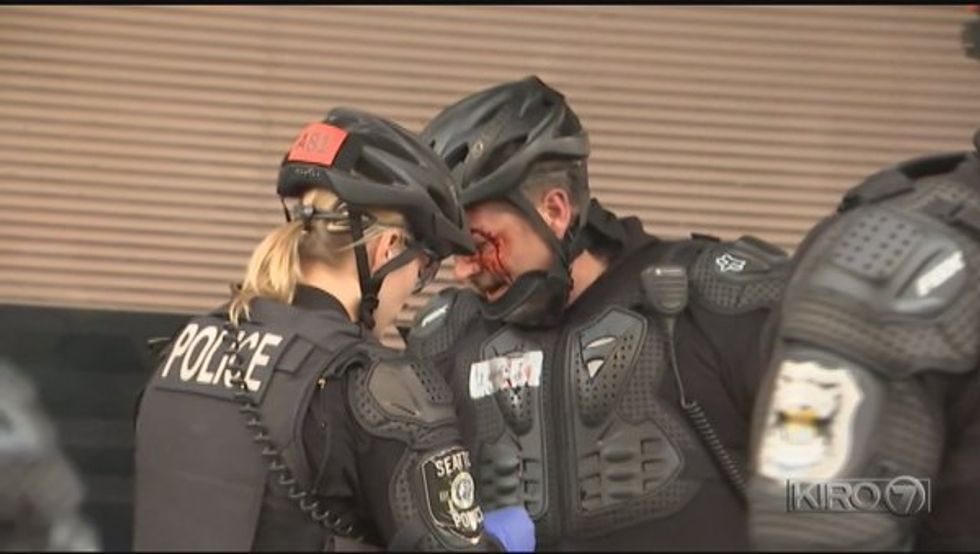 Image source: KIRO-TV
The clashes in Seattle followed a peaceful march in the city earlier in the day by advocates for workers and immigrants, just one of several events in cities nationwide Sunday to call for better wages for workers, an end to deportations and support for an Obama administration plan to give work permits to immigrants in the country illegally whose children are American citizens.
In Los Angeles hundreds of May Day marchers took to the streets chanting slogans and carrying signs - and at least one Donald Trump piñata.
"We want them to hear our voices, to know that we are here and that we want a better life, with jobs," said Norberto Guiterrez, a 46-year-old immigrant from Mexico who joined families, union members and students who marched through downtown.
Demonstrators repeatedly called out Trump for his remarks about immigrants, workers and women. The leading Republican presidential contender has called for a wall on the border with Mexico and chided Democratic hopeful Hillary Clinton for playing the so-called "woman card."
"In addition to fighting for workers' rights, we are fighting for our dignity this time around, our self-respect," said Jorge-Mario Cabrera, a spokesman for the Coalition for Humane Immigrant Rights of Los Angeles.
"We can certainly encourage folks to look at what they're watching, what they're hearing and have them represent themselves and their families - whether they can vote or not - and say, 'We are not the rapists. We are not the criminals you are talking about. And we are quite good for this country,'" Cabrera said.
Trump says he is not racist or anti-immigrant; he simply wants the U.S. to stop illegal immigration and control its borders.
Around the world, union members have traditionally marched on May 1 for workers' rights. In the United States, the annual events have become a rallying point for immigrants and their supporters since massive demonstrations in 2006 against a proposed immigration enforcement bill.
In recent years, the marches have waned in size in U.S. cities, but the tradition has continued.
In Seattle dozens of people dressed in black had gathered at a downtown park following the earlier, peaceful march. The anti-capitalist demonstrators, who didn't have a permit from city officials, then started marching through the streets. They carried signs including one that said, "We Are Ungovernable."
They chanted things like "No justice, no peace," according to KIRO-TV.
Some downtown businesses had earlier boarded up storefronts, anticipating violence. Police said there was some property damage, including broken windows at a residential building.
#BREAKING: Broken window at 4th and Pine St. Avoid the area if you can. https://t.co/o9CGTdMAkX #MayDaySea pic.twitter.com/NSBFNJyI2Y

— KIRO 7 (@KIRO7Seattle) May 2, 2016
Smoke bombs and "other items of that nature" were recovered by Seattle Police, KIRO-TV reported.
"Unfortunately tonight we had some violence," said Seattle Police Chief Kathleen O'Toole. "Thankfully there were no serious injuries."
One local television news reporter there to cover the demonstrations was "tagged" with paint on the back of his shirt.
"Watch your back!" Anarchists tagged the back of @HenryKIRO7 's shirt tonight #MayDaySea pic.twitter.com/DfcBV8faZe

— Bill Skok (@BillKIRO7) May 2, 2016
Another man who claimed to be a photojournalist was not identified, but was reportedly pepper sprayed.
Photojournalist pepper-sprayed amid #MayDaySea chaos. #MayDaySea

The latest >> https://t.co/k7Dwk7yAJZ pic.twitter.com/ZyJ0Leq1EW

— KIRO 7 (@KIRO7Seattle) May 2, 2016
Authorities said eight males and one juvenile female were arrested Sunday evening. One person was arrested on a property destruction charges, five for obstruction and three on assault charges.
Police also said one officer suffered a head laceration after being struck by a rock, one was hit by a Molotv cocktail and hurt but not burned and another officer was bitten. Details on the other two injuries were not immediately available.
Bicycle police in riot gear pushed the protesters south past the city's sports stadiums to a Costco parking lot. Police said they then allowed small groups to disperse.
Anarchist protesters now outside Seattle Costco pic.twitter.com/1SClYettZS

— Dave Wagner (@DaveKIRO7) May 2, 2016
Seattle traditionally sees large, disruptive May Day gatherings. Last year police arrested 16 people during demonstrations and in 2014 10 people were arrested. In 2013, police arrested 18 people from a crowd that pelted them with rocks and bottles. Storefronts in downtown Seattle have also been smashed in previous protests.
In San Francisco, hundreds of marchers rallied at Fisherman's Wharf for immigrant and workers' rights and to demand justice for several men fatally shot by city police.
Across the bay in Oakland, close to 1,000 people marched in the Fruitvale district to raise awareness for workers, housing and immigrant rights and denounce Trump.
Meanwhile, social justice advocates in Durham, New Hampshire, made the rejection of racism, xenophobia and anti-Muslim sentiment the themes of their annual rally.
–