Many have been getting a kick out of an Ohio police bodycam video featuring a shirtless man sitting on his front steps and getting a cop to help him find his missing weed.
"I'm not going to lie," Dennis Wagner was heard telling the officer. "I lost a little bit of marijuana."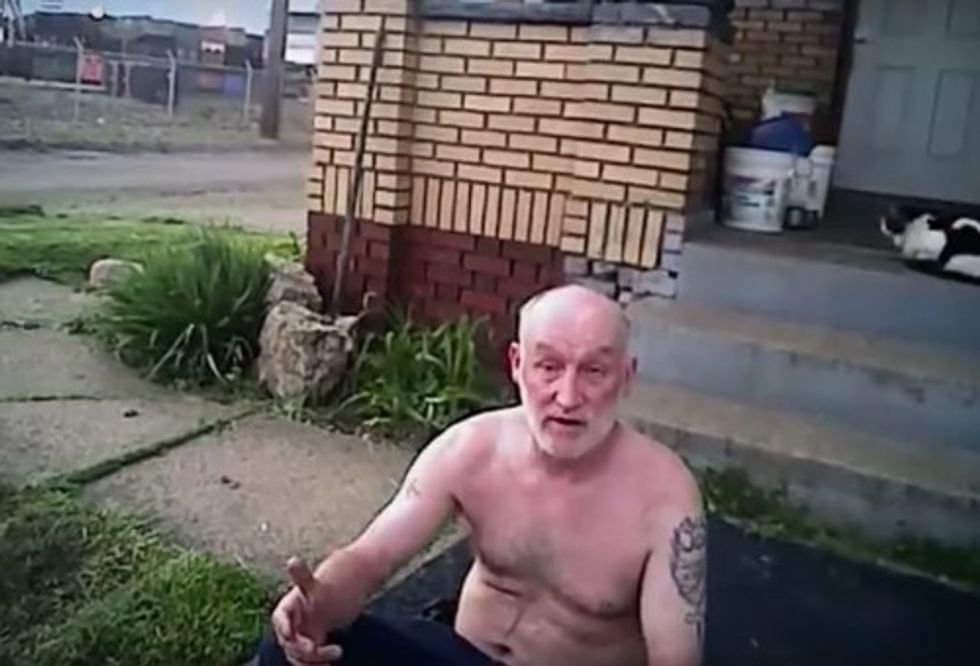 Image source: Facebook video screenshot
But as is usually the case, a person's story runs deeper than what we watch on a 49-second video.
The officer noticed Wagner stumbling on the road late last month and wanted to make sure he got home safely, which is when the brief bodycam chat took place, the Akron Beacon Journal reported.
The officer found the marijuana — and then gave Wagner a court summons. He was charged with misdemeanor drug abuse and pleaded not guilty Friday, authorities told the Beacon Journal.
Thing is, after the clip was posted to the Alliance Police Department Facebook page — which characterized Wagner as "intoxicated" at the time — some commenters took issue with police airing the man's dirty laundry for a relatively minor offense. Others disagreed, saying such an infraction has always been part of the public record.
Wagner has a history of alcohol-related arrests, including for disorderly conduct and drunken-driving, the Beacon Journal reported, citing Alliance Municipal Court records.
"We're not trying to pick on him or anything like that," Capt. James Hilles told the Beacon Journal regarding the video, which has received nearly 72,000 views as of Tuesday afternoon. "It was supposed to be lighthearted."
Wagner wasn't feeling similarly. He wondered on his own Facebook page Sunday, "Why does everybody have to post smart ass comments about me when they don't know me ... nobody has a right to judge me."
By Monday he seemed to grow more serious, writing that he hasn't seen the bodycam video "but I am hearing all about it and now I'm not feeling too good about it."
Then just after midnight Tuesday, Wagner posted a broken, fervent prayer, asking God if he can still go to heaven and that his sins be taken away.
"I want to go to heaven can you still take me lord please God I plead the 5 askew in your father's name please Redeemer my punishments that I am insane all the wrong that I have done please wash it away wash all my sins away," he wrote.
Wagner's friends were sticking by him.
"Hang in there man! God will hear your prayers," one commented. "Prayers for you and your family!"
Another replied: "Stay strong it will get better. You have family n friends who love you. God hears your cries."