At least one person is dead after police say a man hijacked a Metrobus in Washington, D.C., after stabbing the driver with a pair of pliers.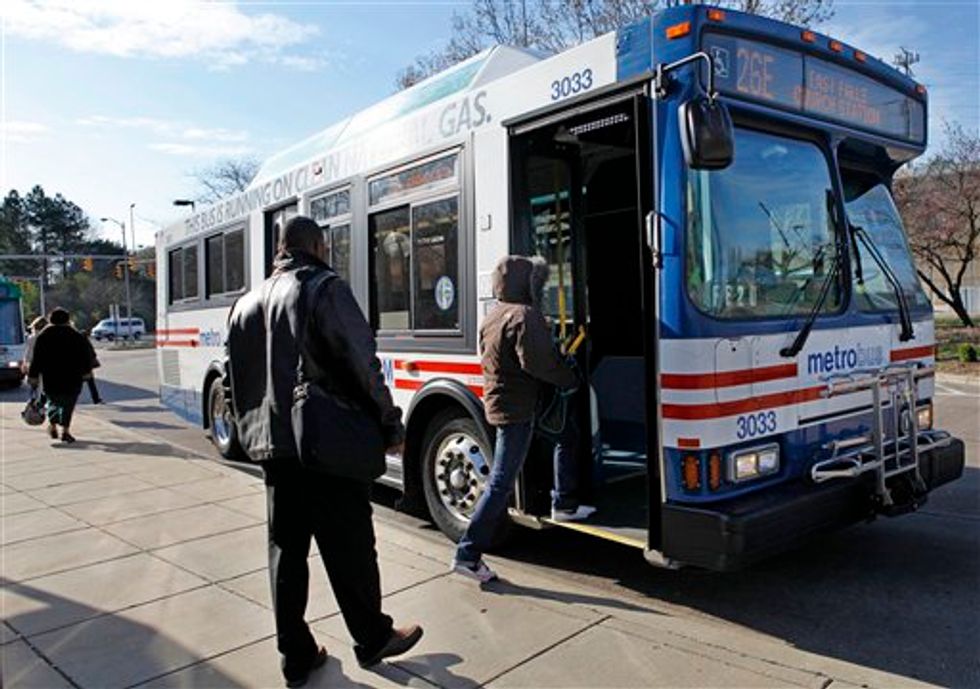 A Washington, D.C., Metrobus drops off passengers in Arlington, Virginia. (AP Photo/Jacquelyn Martin)
"It's a bizarre incident, very uncharacteristic for someone to take a bus and attack a bus driver," Metro Police Chief Cathy Lanier told The Hill.
Police described the unidentified suspect, who is now in custody, as a "very distraught and violent" adult male. Lanier confirmed that "he did have a weapon of some sort."
The incident happened just before 11 a.m. Tuesday and lasted less than three minutes, WRC-TV reported.
Police say the man got on the bus at one stop and then waited until the next stop to try to stab the bus driver with pliers and gain control of the wheel.
The driver and other passengers managed to get off the bus. The driver suffered a back injury and was expected to survive. There were no known injuries to the other passengers, according to Metro Transit Police.
Busjacking: U6 rte to Lincoln Heights. No injuries to passengers. Bus operator injured but non life threatening. MPD handling investigation.

— Metro Transit Police (@MetroTransitPD) May 3, 2016
The accused hijacker eventually crashed the bus near a gas station after causing several accidents and striking at least one pedestrian along the way, WRC-TV reported.
The pedestrian, whose identity was not disclosed, later died, according to multiple outlets.
– 
Follow the author of this story on Twitter and Facebook: