For the first time, scientists have grown a human embryo in a laboratory for 13 days, breaking the previous record of nine days.
Professor Magdalena Zernicka-Goetz, a developmental biologist at the University of Cambridge in the United Kingdom, called the recent scientific breakthrough "absolutely unbelievable," according to the Independent.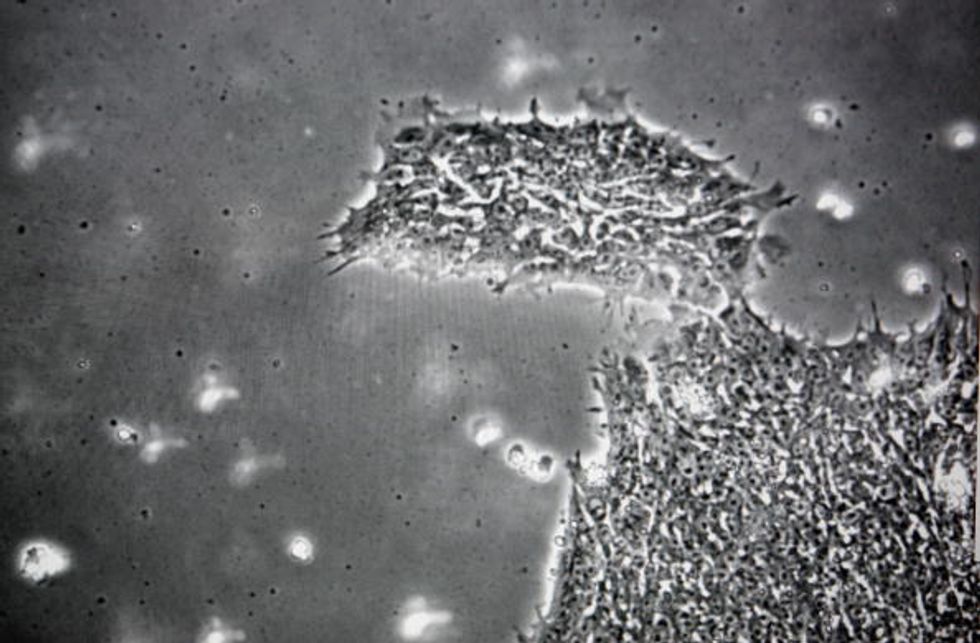 A colony of human embryonic stem cells is seen on a computer monitor hooked up to a microscope at the Wisconsin National Primate Research Center at University Wisconsin-Madison. (Darren Hauck/Getty Images)
"We can now, for the very first time, study human development at this very critical time, the time of implantation," Zernicka-Goetz said. "It is really most enigmatic and mysterious stage of our own development.
The record is just short of the current legal limit of 14 days, or the point at which a number of scientists believe significant biological changes begin at the most early stages in human life.
"It is also the stage of pregnancy at which many developmental defects can become acquired. But until now, it has been impossible to study this in human embryos," Zernicka-Goetz said.
The University of Cambridge professor said the development offers a "unique opportunity" to better understand human development at these early stages and possibly even how to prevent, or at least minimize, unwanted events such as miscarriages.
But Zernicka-Goetz acknowledges that even as scientists now know how to grow a human embryo for a longer period of time, that doesn't necessarily mean they should.
"Even if I believe there's a scientific case for it, [the decision] should be taken with other scientists, ethicists and the general public," Zernicka-Goetz said.
Sheffield University professor Allan Pacey, who did not participate in the research, told Nature: "This is not the dawn of a Brave New World scenario. It will not open the door to couples being able to grow babies in the laboratory."
Pacey, however, said it does present new opportunities to understand how many human diseases develop.
"It's really embarrassing at the beginning of the twenty-first century that we know more about fish and mice and frogs than we know about ourselves," Ali Brivanlou, a developmental biologist at the Rockefeller University in New York City, said.
Meanwhile, geneticist Robin Lovell-Badge is advocating to extend the current 14-day legal limit by a "few days."
"We don't need to take it beyond that, but just that few days [after 14] would be useful," Lovell-Badge said. "I think you could do a lot of valuable research."
(H/T: Independent)
–
Follow the author of this story on Twitter and Facebook: