Bruce Ashford, an author and the provost of Southeastern Baptist Theological Seminary in Wake Forest, North Carolina, is responding to the reality that Republican presidential candidate Donald Trump is now the presumptive GOP nominee by offering up some advice to evangelicals.
While he said that he's a life-long, registered Republican and has voted as such in every election, Ashford — who recently co-authored the book, "One Nation Under God: A Christian Hope for American Politics" alongside Chris Pappalardo — believes that Christians must no longer be seen as the "religious special interest arm of the Republican Party."
"I am a registered Republican. I've voted Republican in every election. But first and foremost, I am a Christian," he wrote in an op-ed published on FoxNews.com. "My allegiance to Christ and the gospel transcends my allegiance to the Republican Party; if and when the GOP's platform or politicians are at odds with my Christian convictions, I will leverage my Christianity to criticize the party."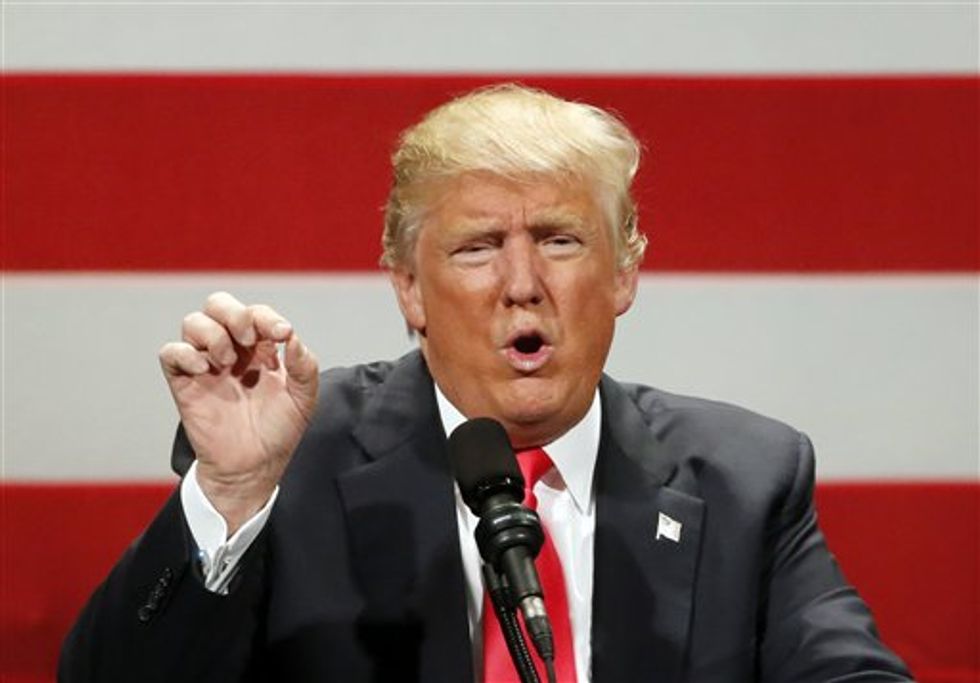 Republican presidential candidate Donald Trump speaks at a rally at the Milwaukee Theatre Monday, April 4, 2016, in Milwaukee. (AP Photo/Charles Rex Arbogast)
As for Trump's rise and likely nomination, Ashford encouraged his fellow evangelicals not to despair, saying that there is an unprecedented opportunity available to "regain our evangelical witness."
He proceeded to say that many evangelicals "had already slipped up" by supporting Trump's campaign in the first place, and that — even if Trump ended up losing during a contested convention — the damage to the evangelical brand would have already been done.
Ashford then proceeded to list out negative perceptions surrounding Trump's candidacy, including his campaign's "overheated ethno-nationalistic aggression" and Trump's purported quest to "curb free speech" and concluded: "In spite of these things, a certain sector of the Evangelical world — let's call them Trumpangelicals — support his candidacy."
Listen to Ashford discuss balancing the gospel with modern-day politics during a recent episode of The Church Boys below:
As for evangelicals who find themselves saddened by Trump's likely nomination, Ashford argued that the campaign actually offers evangelicals "an almost-irreplaceable opportunity ... to redefine ourselves and regain our witness."
His recommendations? Ashford urged evangelicals to start questioning the candidates associated with both political parties to avoid being looked at as a "special interest wing" of one party over another, to speak more broadly on policy subjects and to "help provide healing for the unhealthy and even toxic nature of American politics and public life."
Read the piece in its entirety here.
--
Editor's note: The author of this piece is a student at Southeastern Baptist Theological Seminary.
--
Follow the author of this story on Twitter and Facebook: