Can one be both a faithful Catholic and a good citizen of the United States? The relationship between those two roles has been a source of "tension" for American Catholics, Stephen White, a fellow in the Catholic Studies program at the Ethics & Public Policy Center, said during a panel discussion at the American Enterprise Institute Wednesday.
"Catholics — Christians — are supposed to be in the world but not of the world," White, author of "Red, White, Blue, and Catholic," told TheBlaze. "And going back in American Christian history, Catholics have never quite fit in, they've always been outsiders in a certain sense, because they don't acknowledge politics as the ultimate horizon of the human experience."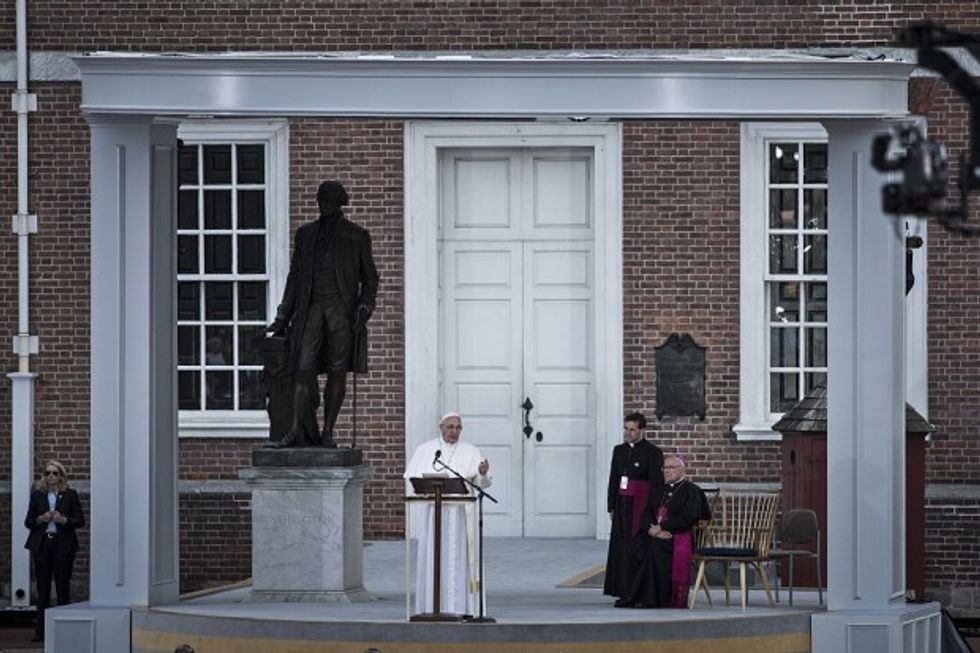 Pope Francis speaks at Independence Hall Sept. 26 in Philadelphia. (Brendan Smialowski/AFP/Getty Images)
There have been moments in American history where that tension was even more pronounced, White said, such as the rise of a political movement called the Know-Nothings that largely started as an effort to keep Catholics (and foreigners) out of the United States.
White noted that today Catholic teaching does not coincide fully with either political party. And in his book, he examines being both a faithful Catholic and a good citizen.
"Basically, the Christian response is, we might look like bad citizens from the point of view of this limited, partial good, but we point to higher truths than simple political facts," White said. "Christians, in fact, make the best citizens."
During his remarks, White briefly addressed the 2016 election: "Despair does nothing for us. Despair is a sin."
Watch the discussion below, courtesy of AEI:
—
Follow Kate Scanlon (@kgscanlon) on Twitter