When LaVern Vivio, a former commercial personality for TheBlaze TV and a longtime radio reporter, published an incredibly personal article last year admitting that, for much of her early life, she wished that she had been born a boy, she ignited a massive conversation.
LaVern Vivio as a child (LaVern Vivio)
This week, Vivio continued to share her views on gender identity in a post titled, "I Wished I Had Been Born a Boy Part II" — a follow up to her original article that described the difficulties she faced as a young person who felt more like a boy than a girl before finding her identity in her Christian faith and coming to terms with being a tomboy.
At the center of her new blog post was a key question: "Have we lost our minds?"
Before asking this question, though, Vivio recapped her own journey, saying that she is thankful that she was raised decades ago rather than in today's current culture.
"As a child — possibly throughout my entire adolescence I had wished — special emphasis on the word 'wished' I had been born a boy," she wrote in her most recent piece. "I don't still wish this — I wished it back when I also wished I could be a veterinarian, a fireman, a cowboy or the next 'Tanya Tucker.' when I grew up."
Vivio continued, "I was thankful to have grown up then — rather than now. So I had the chance to not only choose between a career as a cowboy or fireman but to grow through the awkwardness of adolescence without being assaulted by the psychopathic motives of gender activism."
She said that many people have reached out to her since her original story was published to share their own experiences, noting that the conversation that she started has continued since her decision to speak out on the topic. It's a conversation that she is clearly interested in continuing, especially as the debate over transgender bathroom laws seems to be ramping up.
Listen to Vivio discuss her personal journey on an episode of The Church Boys podcast last year:
"Do we honestly think transgender laws and restrooms will compensate for the deafening cry to be noticed / cared about / loved / and dare I say it? To know God and gain an understanding of why any of us are here in the first place?" Vivio wrote. "If you are someone struggling with gender issues I will pray for you — I will be your friend — I will help you all I can."
She said that she applauds the fact that anyone in America can be whomever they wish, saying that she will always love and respect every individual, regardless of what they choose. But Vivio believes that respect is a two-way street.
"I simply can't imagine that forcing me to go to the bathroom with a guy that is not comfortable being a guy is going to make things any better for you — and how dare you ask me to try and explain that to a child," Vivio continued. "Just as I will love and respect you I ask you to love and respect me."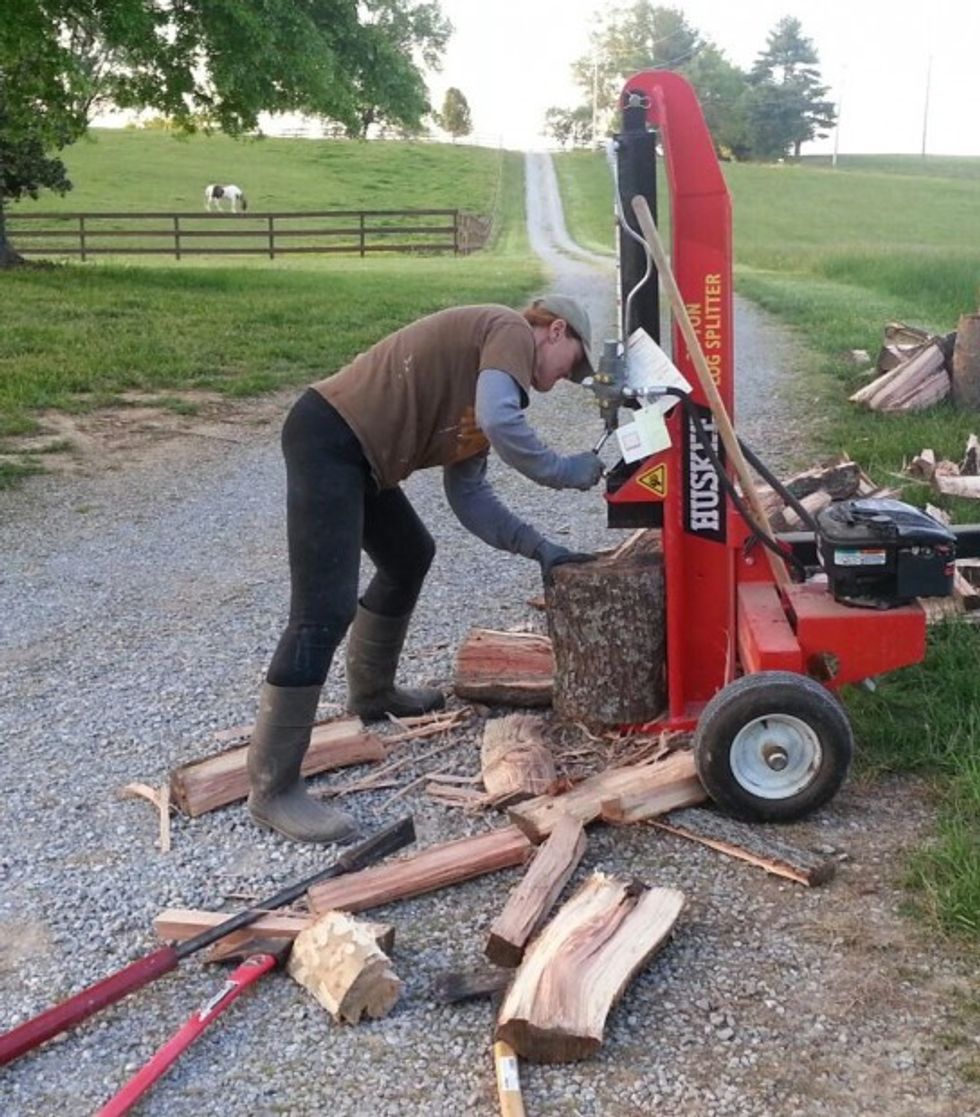 LaVern Vivio working outdoors (LaVern Vivio)
As TheBlaze previously reported, Vivio shared in her original op-ed that she once had "trouble finding comfort in what God made [her] to be," telling The Church Boys how her sister gravitated toward her mother and how she gravitated toward her father as a child, learning at a young age that she was far more interested in activities that she said were more common among boys than girls.
"I just naturally kind of gravitated to the tomboy kind of way of life," she said. "Playing in the dirt, playing in the mud, just doing anything that was anti-girl."
But it wasn't only her activities. Vivio said that she always felt more comfortable spending time with men and that, over time, she diligently began to hope that puberty wouldn't come, and that she would be able to stop her eventual development into a grown woman.
"Growing up I thought … 'Maybe God's got this whole thing mixed up,'" Vivio said. "I told my mother I was never going to grow into a woman … I thought I could will it not to happen."
Read Vivio's new blog post in its entirety here.
--
Follow the author of this story on Twitter and Facebook: