The chief strategist of a pro-Trump super PAC was convicted Thursday on felony charges for campaign finance violations.
Jesse Benton, a former aide to Texas Rep. Ron Paul (R), was convicted of falsifying campaign records for attempting to conceal the use of campaign funds to secure the endorsement of an Iowa state senator during Paul's 2012 campaign.
Benton, now the chief strategist of Great America PAC, which backs Trump's campaign, was convicted alongside John Tate and Dimitrios Kesari — both former aides to Paul.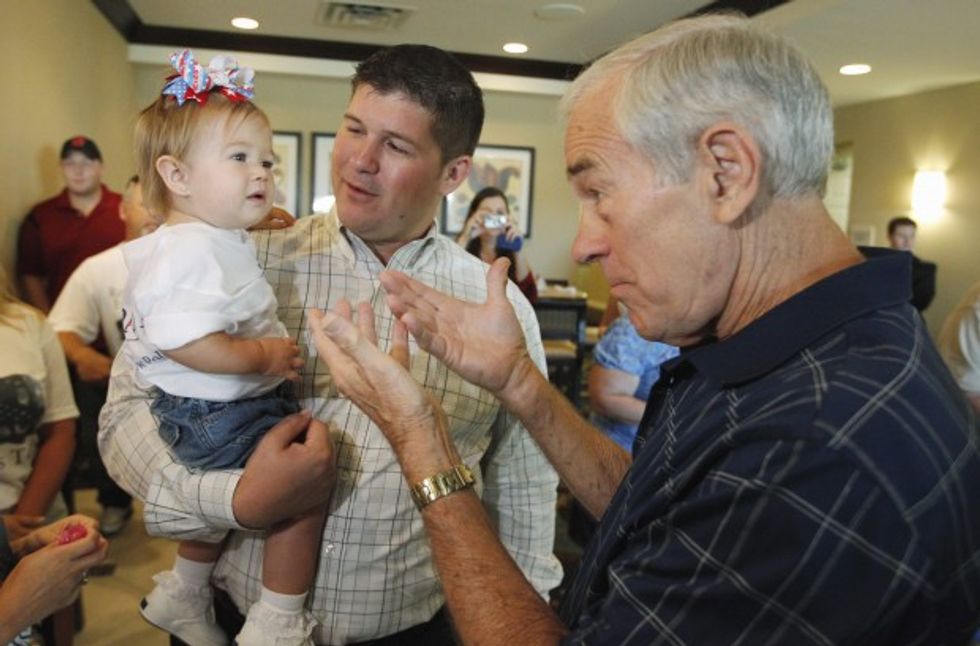 Former Rep. Ron Paul (R-Texas) reaches out toward Caroline, daughter of campaign manager Jesse Benton, center, before speaking at a 2011 campaign event in Ames, Iowa. (AP Photo/Charles Dharapak)
According to CBS News, prosecutors said the three former Paul aides falsified campaign finance records when they used $73,000 to bribe Iowa state Sen. Kent Sorenson to drop his support for former Rep. Michele Bachmann (Minn.) and switch his support to Paul shortly before the 2012 Iowa caucuses. The aides argued that they broke no laws and were being "targeted because of their conservative politics" and that campaigns don't typically itemize payments made to "subcontractors of vendors."
According to CNN, Benton also worked for the 2014 re-election campaign of Senate Majority Leader Mitch McConnell (R-Ky.) and for a super PAC that backed the presidential campaign of Sen. Rand Paul (R-Ky.). Benton began working for Great America PAC in March.