The long-suffering investigation into Democratic front-runner Hillary Clinton's email scandal is getting close to home.
Some of Clinton's closest aides, including her longtime personal advisor Huma Abedin, have been interviewed by federal investigators as part of the FBI's probe into the security of the former secretary of state's private email server, according to CNN.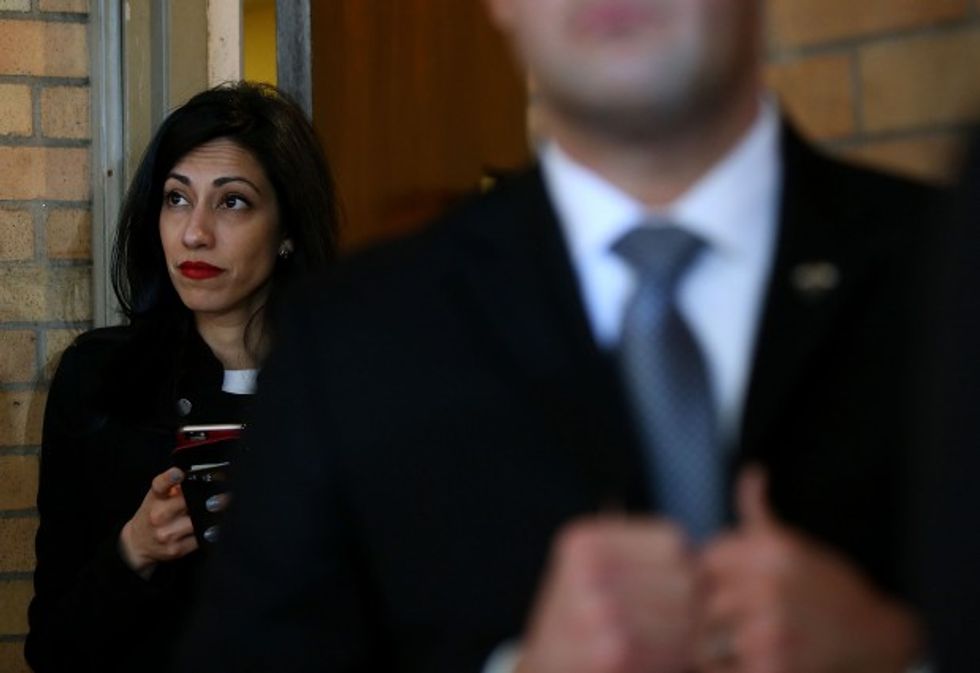 Huma Abedin, aide to Democratic presidential candidate Hillary Clinton, looks on during a canvas kickoff event at the YWCA of Manchester on February 5, 2016 in Manchester, New Hampshire. (Photo by Justin Sullivan/Getty Images)
The investigation is nearing completion, but remains ongoing. So far, investigators have found no evidence to suggest Clinton willfully violated the law, U.S. officials said Thursday.
But that does not necessarily matter. According to 18 U.S. Code 793(f), Clinton could have broken the law, regardless of whether or not it was her intention. According to the code, evidence of "negligence" is all that is required.
Multiple Clinton aides have been interviewed in recent weeks. However, an FBI interview with the Democratic front-runner has not yet been set, but it is expected to take place in the near future, officials confirmed. Abedin, the FBI said, has cooperated with the probe. Her lawyers declined to comment.
According to officials close to the investigation, the probe has remained solely focused on the security of Clinton's server and her handling of classified information, and has not expanded into other issues.
FBI officials said they plan to conclude their investigation in the next few weeks, at which time they will turn their findings over to the U.S. Justice Department, where a final decision will be made about potential charges against anyone. Prosecutors from the Justice Department's national security division and from the U.S. Attorney's office in Alexandria, Virginia, have assisted the FBI with its investigation.
Clearly, the most high profile interview would be with Clinton. As a leading presidential candidate, who is actively campaigning, there are some logistical hurdles for the FBI, which has been fairly hushed about its interviews thus far.
The FBI plans to coordinate with Clinton's legal team and her U.S. Secret Service entourage in an effort to ensure the interview can be conducted privately.
This comes one day after a notorious hacker claimed to have infiltrated Clinton's server, but law enforcement officials said the FBI's probe into "Guccifer" have found no signs he actually breached the private server.
—
Follow the author of this story on Twitter: