In an open letter to "the majority of America" posted on his Facebook page on Wednesday evening, Sen. Ben Sasse (R-Neb.) expressed dissatisfaction with the nominees of each party and called for a third option to enter the race for the White House.
The Nebraska Republican has maintained that he will not support Donald Trump as the Republican presidential nominee, nor will he cast a vote for Democratic presidential candidate Hillary Clinton.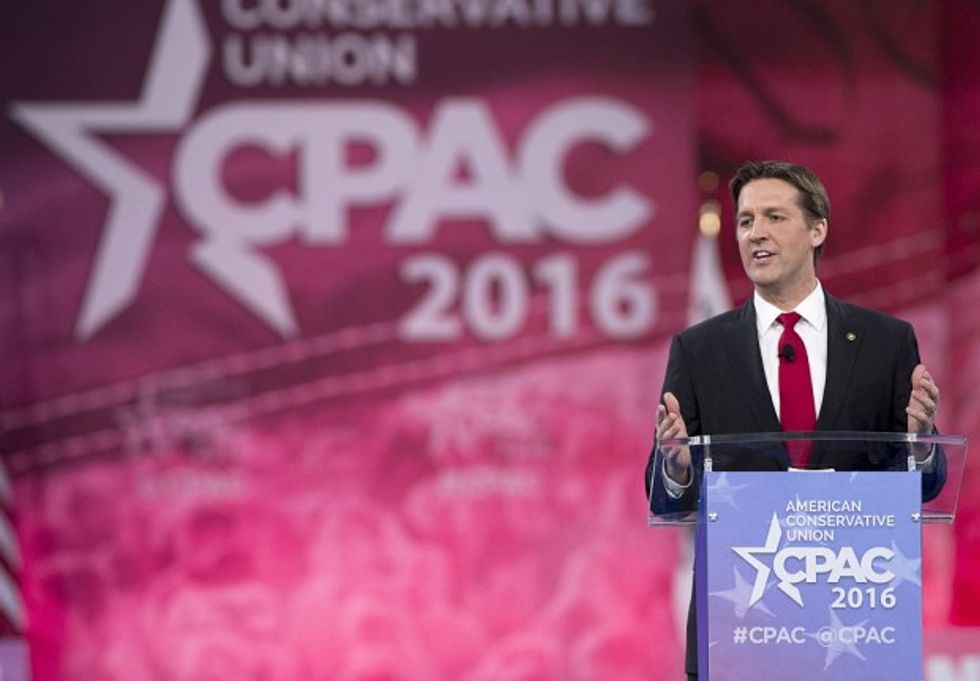 Sen. Ben Sasse (R-Neb.) speaks during the annual Conservative Political Action Conference (CPAC) 2016 at National Harbor in Oxon Hill, Maryland, outside Washington, March 3, 2016. (Photo: SAUL LOEB/AFP/Getty Images)
"If you are one of those rare souls who genuinely believe Hillary Clinton and Donald Trump are honorable people – if they are the role models you want for your kids – then this letter is not for you," Sasse wrote. "Instead, this letter is for the majority of Americans who wonder why the nation that put a man on the moon can't find a healthy leader who can take us forward together."
I assume this is a parody account? https://t.co/kPOoDpVmU7

— Ben Sasse (@Ben Sasse) 1462403434.0
Sasse wrote that a series of discussions with his constituents at the Fremont Walmart lead him to reflect on "the great gap between what folks in my town are talking about, and what folks in the DC bubble are talking about."
I don't think the people of my town are wrong: They deserve better choices than Hillary or Trump. An Open Letter: https://t.co/8hXYkGIWut

— Ben Sasse (@Ben Sasse) 1462420312.0
"In the history of polling, we've basically never had a candidate viewed negatively by half of the electorate," he added. "This year, we have two. In fact, we now have the two most unpopular candidates ever – Hillary by a little, and Trump by miles (including now 3 out of 4 women – who vote more and influence more votes than men). There are dumpster fires in my town more popular than these two 'leaders.'"
Sasse rejected the notion that American voters should be limited to only two options from the major political parties for president.
"I've ignored my phone most of today, but the voicemail is overflowing with party bosses and politicos telling me that 'although Trump is terrible,' we 'have to' support him, 'because the only choice is Trump or Hillary,'" Sasse wrote. "This open letter aims simply to ask 'WHY is that the only choice?'"
"With Clinton and Trump, the fix is in. Heads, they win; tails, you lose," he continued. "Why are we confined to these two terrible options? This is America. If both choices stink, we reject them and go bigger. That's what we do. Remember: our Founders didn't want entrenched political parties. So why should we accept this terrible choice?"
Of course, critics will say the obvious downside of running a third party candidate is the likely reality of splitting the Republican vote and handing the election to Clinton.
The implications of such a move are significant as there seems to be enough GOP voters who adamantly support Trump and passionately oppose him to significantly alter the outcome of the general election.
Sasse outlined what he believes a "consensus candidate" should focus on, including devising a "national security strategy for the age of cyber and jihad," "honest budgeting/entitlement reform," "empowering states and local governments" to improve K-12 education and "retiring career politicians."
The people deserve better than these two terrible choices. They want more choices. They're right. #WeCanDoBetter https://t.co/PHKoF73xZf

— Ben Sasse (@Ben Sasse) 1462420145.0
"This really shouldn't be that hard," Sasse continued. "The oath I took is to preserve, protect, and defend the Constitution. In brief, that means I'm for limited government. And there is no reason to believe that either of these two national frontrunners believe in limiting anything about DC's power."
Sasse added that Americans "deserve better."
"They deserve a Congress that tackles the biggest policy problems facing the nation. And they deserve a president who knows that his or her job is not to 'reign,' but to serve as commander-in-chief and to 'faithfully execute' the laws – not to claim imperial powers to rewrite them with his pen and phone."
There are literally dumpster fires in my town tonight more popular than either Trump or Clinton. https://t.co/SLBef47RiG

— Ben Sasse (@Ben Sasse) 1462417683.0
Rep. Justin Amash also fueled speculation of behind-the-scenes plans to mount a third party run in 2016 with a cryptic tweet on Tuesday.
In January, Sasse ignited a Twitter controversy with a series of tweets questioning Trump. Trump retaliated by calling the senator a "gym rat."
Sasse is not the only conservative to express opposition to Trump as the Republican nominee. Leaders of the #NeverTrump movement told TheBlaze that they will continue their effort.
Conservative radio show host and Resurgent writer Erick Erickson told CNN that he's "had a number of conversations" about seeking a third option for president and "We will begin now laying the groundwork for an exit strategy from Donald Trump's Republican Party."
"Donald Trump cannot consolidate the Republican base and many Republicans cannot accept a Hillary Clinton donor as the Republican nominee," Erickson said. "If the delegates ratify this madness in Cleveland, many of us will look elsewhere for a credible candidate to oppose both Trump and Clinton."
Read Sasse's full letter below:
—
Follow Kate Scanlon (@kgscanlon) on Twitter