LONDON (AP) -- Londoners cast votes Thursday in an election that could give the city its first Muslim mayor, while voters elsewhere in Britain were expected to punish the main opposition Labour Party in local and regional polls.
Sadiq Khan, a 45-year-old Labour lawmaker, is favorite to replace flamboyant Conservative Boris Johnson as London mayor, after a race marred by allegations of extremism and fear-mongering.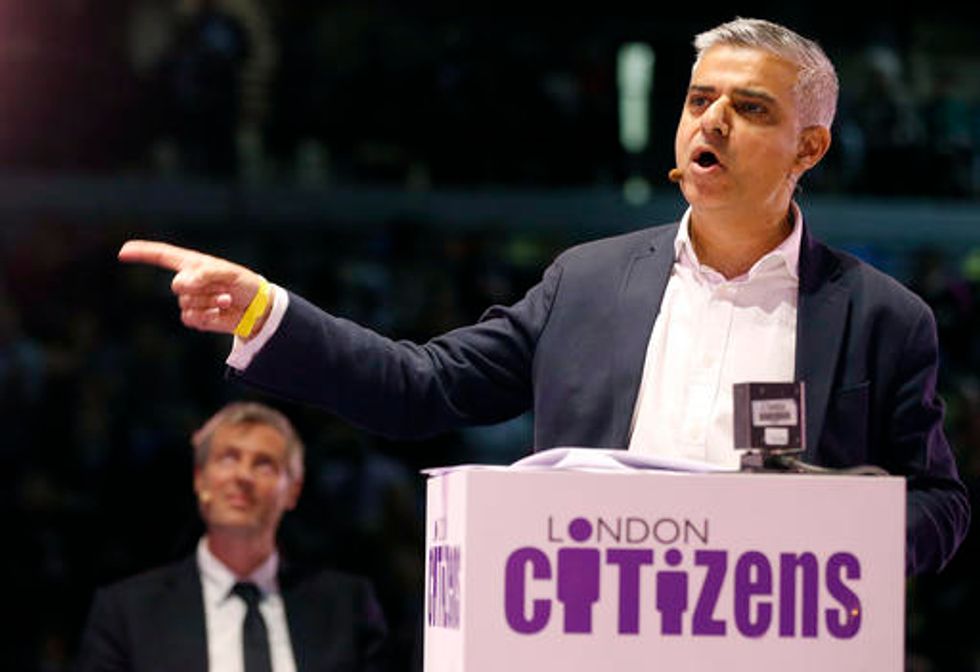 Candidate for London Mayor Sadiq Khan speaks while Zac Goldsmith, left, listens during an assembly at the London Mayor election event of London Citizens in London, Thursday, April 28, 2016. Over 6,000 community leaders and members of London Citizens' member institutions including churches, synagogues, mosques, trades unions, schools and charities gather to meet with mayoral candidates Zac Goldsmith and Sadiq Khan.(AP Photo/Frank Augstein)
Conservative mayoral candidate Zac Goldsmith used words such as "radical" and "dangerous" to describe Khan, and accused his opponent of giving "platforms, oxygen and even cover" to Islamic extremists -a charge repeated by Prime Minister David Cameron and other senior Conservatives.
Khan, a former human rights lawyer and the son of a bus driver from Pakistan, styled himself "the British Muslim who takes the fight to the extremists." He accused Goldsmith, a wealthy environmentalist, of trying to divide voters in one of the world's most multicultural cities, home to 8.6 million people - more than 1 million of them Muslims.
In an election-eve message, Khan promised to be "a mayor for all Londoners."
"I urge Londoners to choose hope over fear," he said.
Tony Travers, a local government expert at the London School of Economics, said the introduction of a directly elected London mayor 16 years ago has "brought into politics an American form of government" that differs from traditional British parliamentary and local government structures.
"Now intriguingly this time - and we've seen a bit of it before - it appears to have brought with it some of the harder American campaign tactics," he said.
Voters are electing a Scottish Parliament and legislatures in Wales and Northern Ireland, as well as choosing members of many English local authorities.
A victory for Khan would be a bright spot in what looks set to be a grim day for Labour, which has been out of office nationally since 2010.
Opposition parties usually gain seats in mid-term elections as voters punish the sitting government. But Labour under left-wing leader Jeremy Corbyn is divided and beset by a controversy over allegations of anti-Semitism within its ranks. The claims gained new momentum when former London Mayor Ken Livingstone - a Corbyn ally - claimed that Adolf Hitler had supported Zionism before he came to power.
Livingstone, Labour lawmaker Naz Shah and several local party officials have been suspended over comments or social media posts about Israel, and Corbyn has faced renewed pressure over his links to pro-Palestinian groups.
About 2,700 local council seats are up for grabs, and Corbyn predicted last week that Labour wouldn't lose ground - but later said that "predictions are not that important."
A poor showing would bolster discontented Labour lawmakers who believe the party is heading for a third straight general election defeat in 2020 if Corbyn - a rumpled life-long socialist with strong support among the party's grass roots - is not replaced.
Some voters were turned away from polling stations in the north London borough of Barnet early Friday after being told their names did not appear on a list of electors. The council said the problem had been fixed by late morning, and urged voters who had been turned away to try again or apply for an emergency proxy vote.
Among those turned away were British Chief Rabbi Ephraim Mirvis and his wife Valerie, Mirvis' office said.
Sophie Walker, mayoral candidate for the Women's Equality Party, said some voters would be unable to return, and she would make a formal complaint about the glitch.
"These are vital votes, particularly for smaller parties," she said.
In Scotland, the pro-independence Scottish National Party is on course to win a majority of seats in the Edinburgh-based parliament and retain governmental power, with Labour at risk of sinking to third place behind the Conservatives.
The SNP oversaw an unsuccessful 2014 referendum on leaving the U.K., but has said it could make a fresh independence bid if British voters choose to leave the European Union in a June 23 poll.
In Northern Ireland, which has its own set of political parties reflecting the Catholic-Protestant divide, rivals are competing to see whether the Catholic side can overtake the territory's dwindling Protestant majority for the first time.
The outcome of the Northern Ireland Assembly election will determine who serves as first minister atop the surprisingly durable, nine-year-old coalition government, which has overseen relative calm following four decades of conflict that claimed 3,700 lives.
The party with the most assembly seats always receives the top post. The incumbent is Democratic Unionist leader Arlene Foster, Northern Ireland's first female leader. Polls suggest the Irish nationalists of Sinn Fein will narrow the gap with the Democratic Unionists, but fall short of overtaking the Protestant side of the house.
Polls are open until 10 p.m. (2100 GMT, 5 p.m. EDT), and results of all the races are due Friday.
–