The U.S. Justice Department said Wednesday that North Carolina's controversial "bathroom law" violates federal civil rights laws, but the Tar Heel State appears to be digging its heels in.
State House Speaker Tim Moore (R) told reporters Thursday that North Carolina would not be "bullied" by the Justice Department into meeting a Monday deadline to change the new law, which regulates which bathrooms transgender people are allowed to use.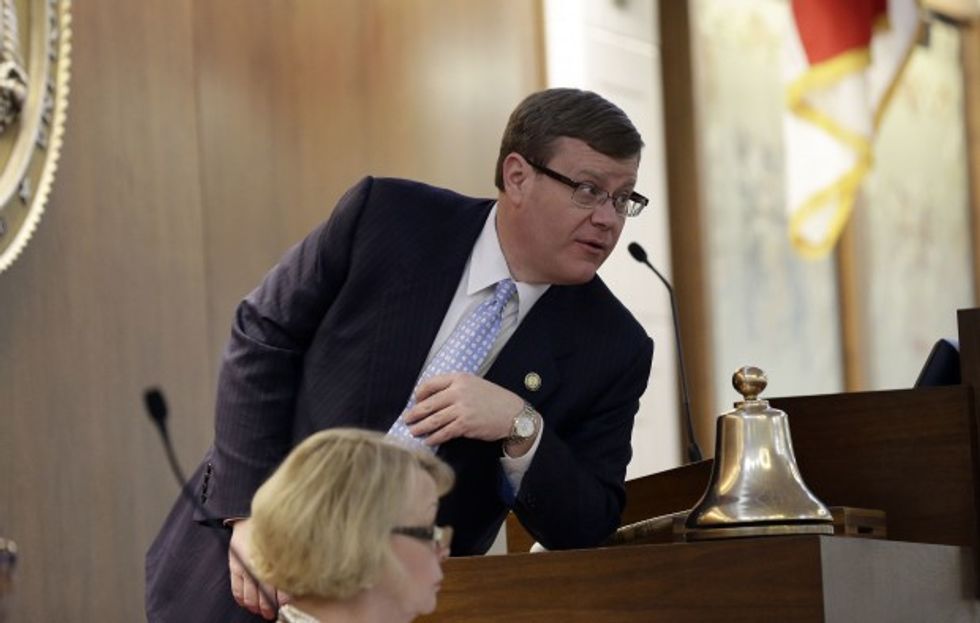 House Speaker Tim Moore, R-Cleveland, addresses members of the House as North Carolina lawmakers gather for a special session Wednesday, March 23, 2016 in Raleigh, N.C. (AP Photo/Gerry Broome)
"We will take no action by Monday," Moore said the day after the federal government determined the state's legislation to be in contradiction with the U.S. Civil Rights Act.
The bill requires transgender people to use the bathroom that correlates with the sex listed on their birth certificates, rather than their identified sex. The Justice Department said the rule is "facially discriminatory" to transgender people "because it treats transgender employees, whose gender identity does not match their biological sex, as defined by HB2, differently from similarly situated non transgender employees."
The department then gave North Carolina legislators until Monday to remedy the issues it has with the bill. Should North Carolina Gov. Pat McCrory (R) stand his ground, the Justice Department's civil rights division could push for a court order and, if the court sides with the Justice Department, the state will be forced to comply or face restrictions of federal funds.
In response to the ultimatum, Moore said the federal agency is being unreasonable and inappropriate.
"Obviously we don't ever want to lose any money, but we're not going to get bullied by the Obama administration to take action prior to Monday's date," he said. "That's not how this works."
A Justice Department spokesperson would not say Thursday whether or not the agency would pursue legal action against North Carolina or what finances might be restricted should they do so.
—
Follow the author of this story on Twitter: