Israeli Prime Minister Benjamin Netanyahu on Wednesday evening criticized what he called "odd combinations" of progressive "elites" and radical Islamists working together to vilify Jews.
"I must say that anti-Semitism in our days is creating odd combinations — the elites who allegedly represent human progress joining up with the worst barbarians on Earth, those who chop off heads, persecute women, oppress gays, destroy cultural treasures," Netanyahu said, describing acts committed recently by the Islamic State group.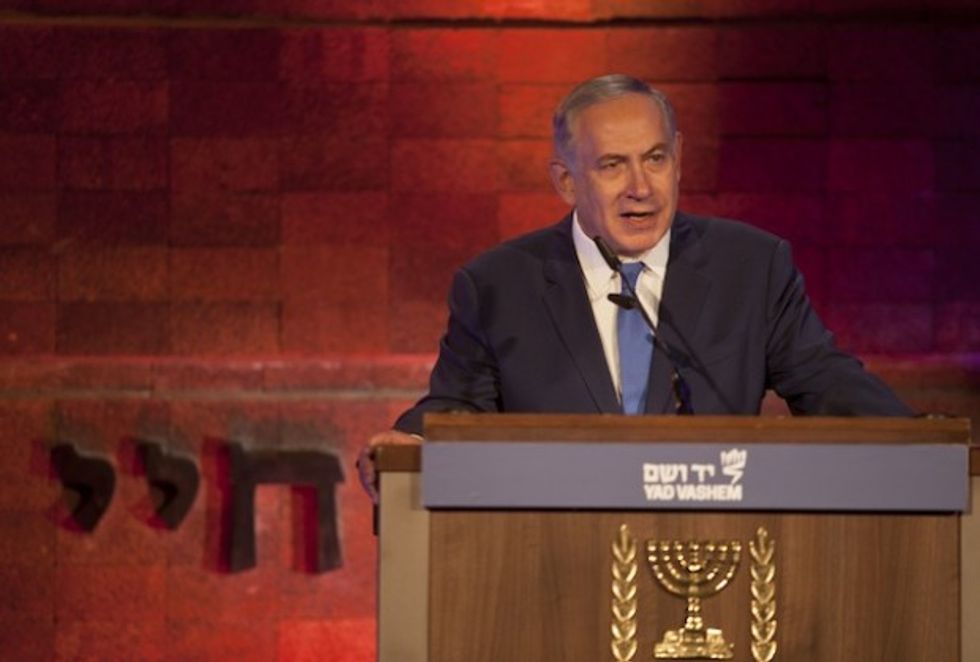 Israeli Prime Minister Benjamin Netanyahu speaks at the opening ceremony of the Holocaust Remembrance Day at the Yad Vashem Holocaust Memorial in Jerusalem Wednesday. (AP Photo/Dan Balilty)
The Israeli leader said at a ceremony on the eve of Holocaust Remembrance Day — observed Thursday in Israel — that anti-Jewish incitement that is rampant in the Muslim world has more recently spread to European intellectual and political leaders.
"Slander comes before destruction. Today millions in the Muslim world read and hear threatening lies about the Jewish people. They say Jews are the descendants of monkeys and pigs, they say Jews drink the blood of their enemies," Netanyahu said, according to the Times of Israel.
"This incitement comes from Islamic extremism and the Arab world. But in the last years, it has been joined by incitement no less destructive from the Western world. British parliamentarians, Swedish officials and French thought leaders," he said.
He posited out that even Adolf Hitler and Nazi propaganda chief Joseph Goebbels could never have imagined how hatred is spread today on social media.
Netanyahu vowed to fight what he described as lies being spread about Israel.
"We must mobilize to spread the truth with the same passion our enemies are mobilizing to spread lies," Netanyahu said.