A new video purportedly shows the firefight with Islamic State militants in northern Iraq that left a Navy SEAL dead Tuesday.
Navy Petty Officer 1st Class Charles Keating IV died from an apparent sniper shot to his side, CBS News reported, as his quick reaction team was on its way to help other elite forces in the ancient Christian town of Tel Asqof after about 100 militants launched a surprise attack there.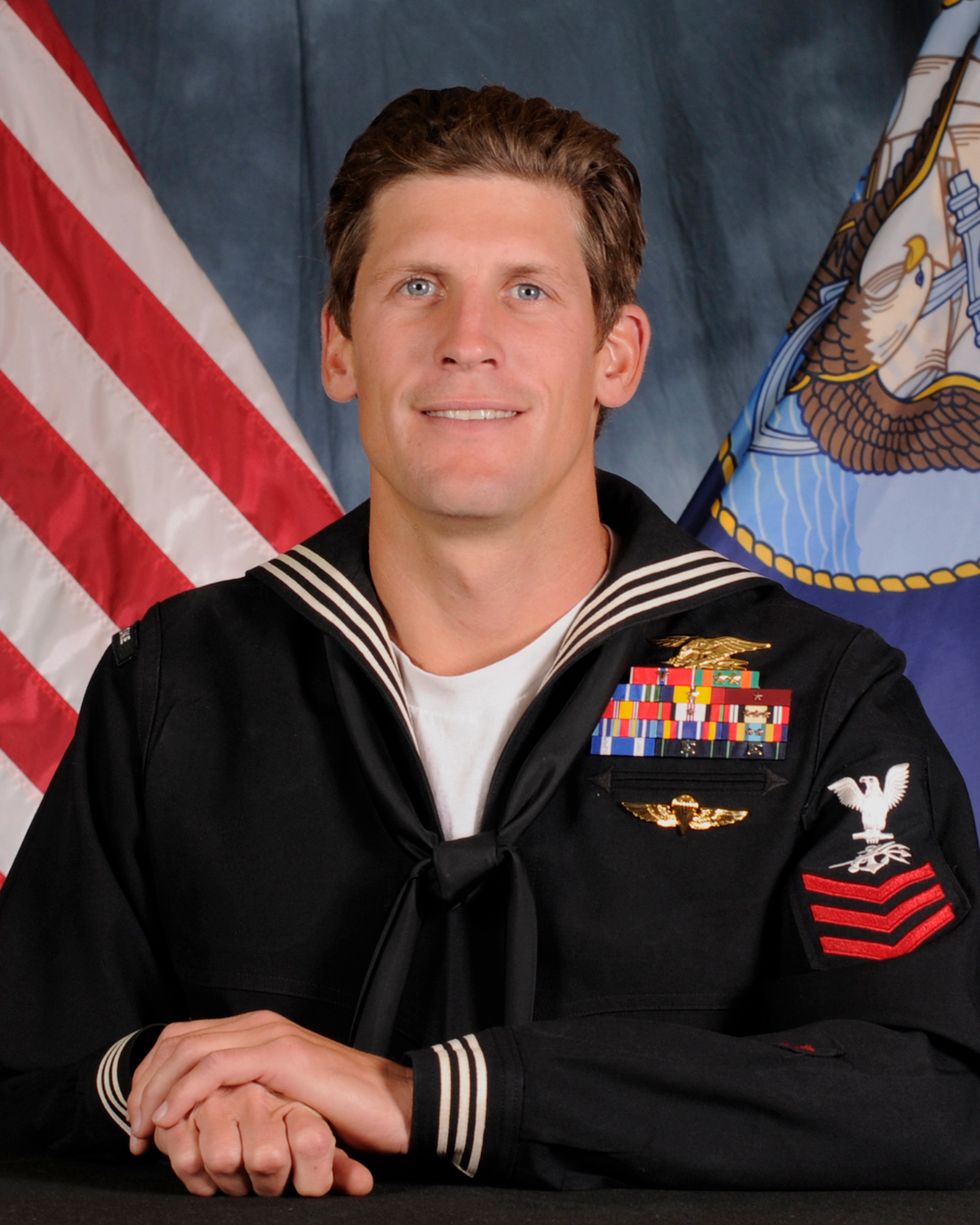 U.S. Navy, Special Warfare Operator 1st Class Charles Keating IV. (U.S. Navy via AP)
The Pentagon said U.S. military advisors — also SEALs, the New York Times said — were meeting with Kurdish peshmerga commanders in the town when the battle began, CBS News said.
The new clip was first obtained Thursday by the U.K.'s Guardian newspaper and seems to show a convoy of American troops in battle alongside peshmerga fighters. CBS News said the video was shot by peshmerga forces.
A U.S. Black Hawk helicopter is seen apparently also sweeping above the battle.
Here's the full clip. (Content warning: Rough language)
Army Col. Steve Warren said Keating was hit at around 9:30 a.m. — about two hours after the large, complex attack began — and was evacuated for medical treatment, but "his wound was not survivable."
He said Keating was taken to a medical facility in Irbil and that both of the Black Hawk medical evacuation helicopters were hit by small arms fire. Keating, 31, was the third American serviceman to die in combat in Iraq since the U.S.-led coalition launched its campaign against the Islamic State nearly two years ago, military officials said.
Warren, a U.S. military spokesman in Iraq, told Pentagon reporters that U.S. advisers were less than two miles behind the front lines and called for help just before 8 a.m. The quick reaction force went in to get the American forces out.
CBS News said both SEAL teams withdrew when they ran out of ammunition, citing the New York Times report, but peshmerga and other local militias soon encircled the town and forced out the Islamic State militants. Warren said as many as 60 militants died, CBS News added.
Warren said it was one of the largest attacks that the Islamic State group has launched in recent months — with armored Humvees and bulldozers that broke through the front lines — and it came in the wake of several recent defeats of the militants in the region.
Keating decided at a young age he wanted to be in the Navy, hanging a SEAL poster on his bedroom wall when he was 8 or 9, said his mother, Krista Joseph, of Jacksonville, Florida. Though known for his family name — he's the grandson of an Arizona financier involved in the 1980s savings and loan scandal — Keating achieved his own status as a track and cross-country champion.
"He was my number one runner all four years, but he was always there cheering on and pushing the other runners," said Rob Reniewicki, Keating's former track coach at Arcadia High School in Phoenix.
Reniewicki recalled returning to school from running practice with Keating on Sept. 11, 2001. The terror attacks had a profound effect on Keating and the other high school sophomores.
"It kind of unfolded as time went by, but they really wanted to do something, they wanted to help out," Reniewicki said.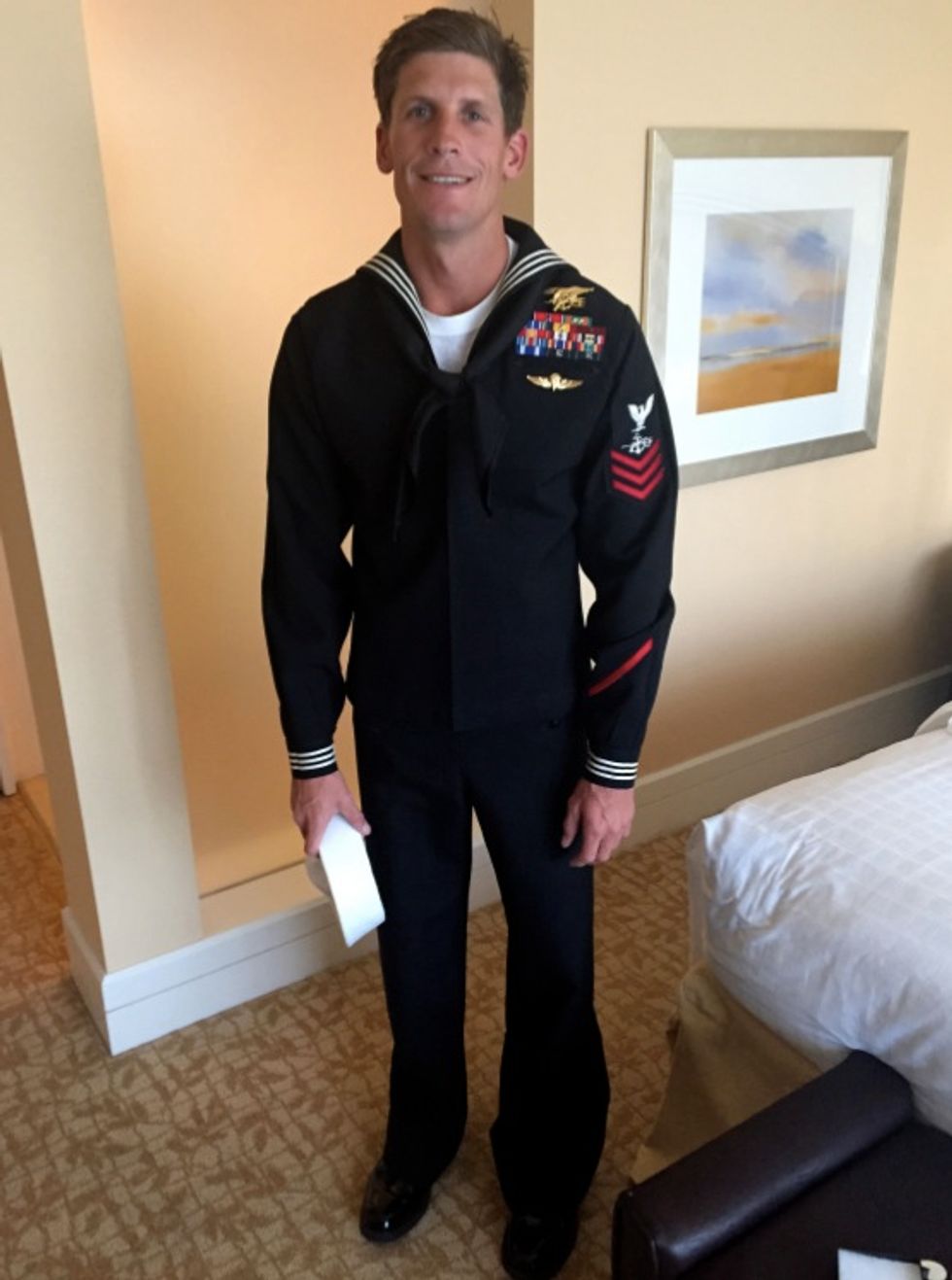 Navy SEAL Charles Keating IV died Tuesday in Iraq in an Islamic State group attack near the city of Irbil. (Krista Joseph/Bascom Communications & Consulting, LLC via AP)
Keating began SEAL training in 2007 and graduated the next year. He deployed twice in Iraq and once in Afghanistan, before serving as the leading petty officer of a sniper training cell. Keating was awarded several honors in his time in the Navy, including a Bronze Star, a Marine Corps Achievement Medal and an Army Achievement Medal.
"He was our golden boy, and he had a million-dollar smile," his mother said. "And he had the best luck in the world, and he always made it through everything, so that's why this is so shocking."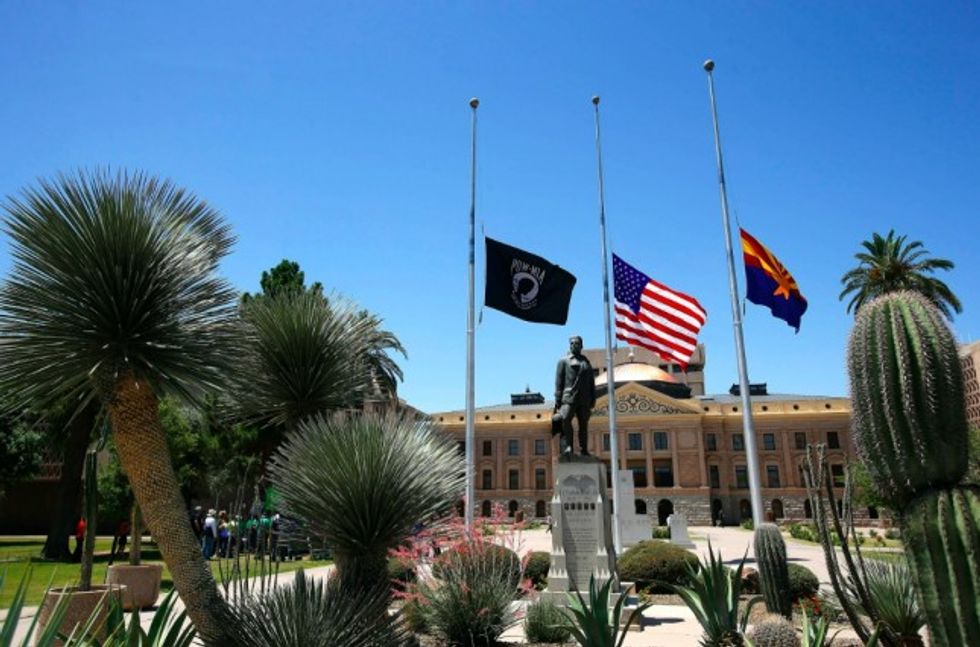 Flags fly at half-staff in remembrance of Arizona native U.S. Navy Petty Officer 1st Class Charles Keating IV at the Arizona Capitol Wednesday. (AP Photo/Ross D. Franklin)
Keating and his fiancée had already sent out invitations to their wedding.
"I have his wedding invitation on my refrigerator," Reniewicki said. "I was just going to get to see him, because I haven't seen him in a while because he's been overseas, and that was just devastating."
The Associated Press contributed to this story.