A North Carolina tow truck driver recently took a controversial stand after he was dispatched to pick up a woman stranded on the side of I-26 in Asheville, but there was just one problem for the tow truck driver — the car was covered in stickers supporting Vermont Sen. Bernie Sanders.
According to WHNS-TV, Kenneth Shupe, a self-described "conservative Christian" who supports presumptive Republican nominee Donald Trump, was sent to give the unidentified woman a ride Monday, but once he arrived at her location and saw that her car was covered with "a bunch of Bernie Sanders stuff," Shupe politely told the woman that she was "obviously a socialist" and encouraged her to "call the government" for a tow instead.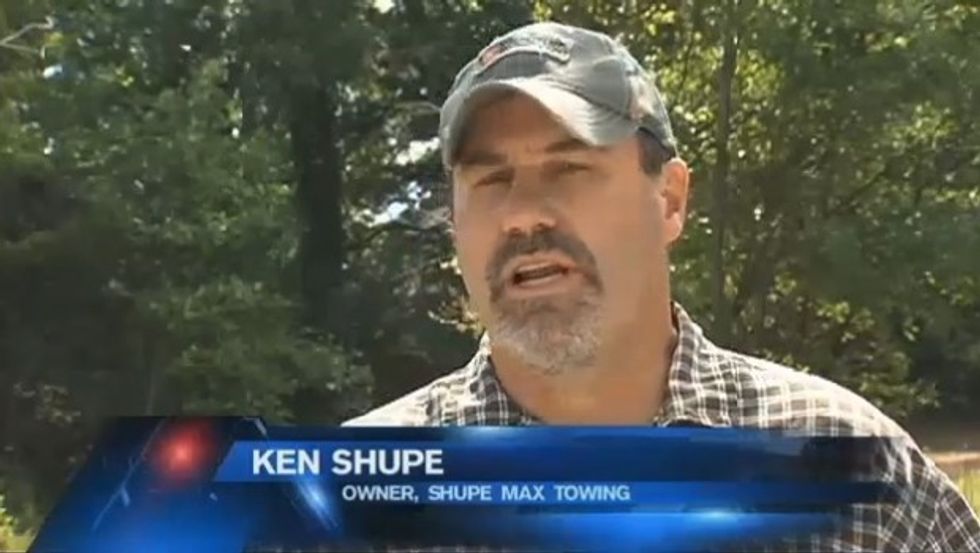 Image source: WHNS-TV
"Every business dealing in recent history with a socialist-minded person I have not gotten paid," Shupe told WHNS. "Every time I deal with these people I get 'Berned' with an 'e' not a 'u.'"
Shupe told the news station that because of Sanders' socialist views, he decided long ago not to do business with any of his supporters. Still, Shupe said that he respects a person's choice to support whomever they want.
"I respect their beliefs, and I hope they respect my views," he said.
However, Shupe's decision did not go over well with some people, particularly the woman's mother, Kelle McWade. She later wrote a scathing Facebook post blasting Shupe for his decision, while labeling him a "bigot," according to WHNS:
Heads up, friends.... Cass had a wreck in Asheville yesterday. She is fine, but the car was not driveable. We called our mechanic who was tied up in Easley at the time, so he sent ShupeeMax Towing to get her. Kenneth Shupee drove from Travelers Rest to Asheville, hooked up her car, and when he went around to the back, he came back and told her that he wouldn't tow her because she had a Bernie sticker on the back of the car. HE LEFT HER ON THE SIDE OF THE INTERSTATE IN NC, and DROVE AWAY. Spread this bigot's story far & wide. Btw, I'm guessing he's a Trump supporter. The only difference is that the Don would have taken the money, because he at least realizes that liberals' money spends just the same as anyone else's. Dumb (expletive) cost himself money driving all the way to Asheville & back for nothing. (Expletive).
While some are upset over Shupe's decision, he did not do anything illegal, according to Greenville, South Carolina, attorney Steve Sumner. Summer told WHNS that unlike race, religion and sexuality, political affiliation is not a protected class.
"We may not like it and we may not agree with it, but I don't believe any laws were broken," Summer said. "As long as there is no contract between the driver and the tow truck company, then there is no legal obligation for the tow truck company to pick her up."
—
Follow the author of this story on Twitter and Facebook:
[facebook //www.facebook.com/plugins/like.php?href=