Presumptive Republican presidential nominee Donald Trump set his sights on conservative critics who condemn his positions on trade during a rally in West Virginia Thursday.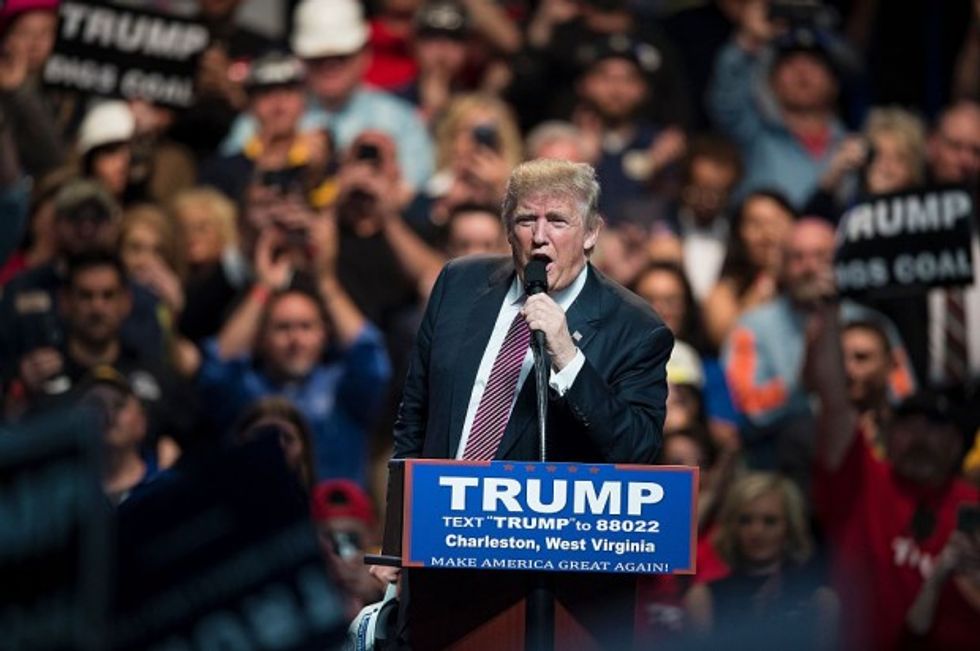 US Republican presidential candidate Donald Trump speaks during a rally May 5, 2016 in Charleston, West Virginia. / AFP / Brendan Smialowski (BRENDAN SMIALOWSKI/AFP/Getty Images)
"I'm a conservative, but the conservatives hate me for suggesting I would dare tax somebody," Trump said after promising he would punish companies that move overseas with high tariffs when they try to ship products back into the United States.
Trump — speaking to a crowd of mostly coalminers — spent most of his speech talking about jobs. At one point, the presumptive nominee put on a hard hat given to him by a miners' union and mimicked a shoveling action.
Donald Trump just pantomimed shoveling coal pic.twitter.com/fu7BlE2gDC

— Brandon Wall (@Walldo) May 5, 2016
"Our jobs are going to everyone else but us," he told the enthusiastic crowd. "We're sending our jobs to Mexico, China is taking our jobs, Japan."
Trump — pointing to a sign in the arena that read "Trump digs coal" — told the West Virginians he is "gonna open up the mines" if he's elected president this fall.
"We're gonna bring those miners back, you're gonna be so proud of your president," he said.
The billionaire businessman has been frequently criticized by conservative free trade advocates for vowing to punish companies with foreign-made products with a 35 percent tax. In defense of the policy, Trump says it will keep jobs inside the U.S. borders.
But his dissenters claim such a policy will increase the price tag for American consumers and could ultimately lead to a global trade war. Regardless, Trump stands by his proposal.
—
Follow the author of this story on Twitter: