Just two days after being declared the Republican Party's presumptive 2016 nominee, businessman Donald Trump has already signaled a change of heart on two important issues: taxes and wages.
According to MSNBC, prior to becoming the clear GOP front-runner, Trump declared last September that, when it comes to taxes, he fights "like hell to pay as little as possible."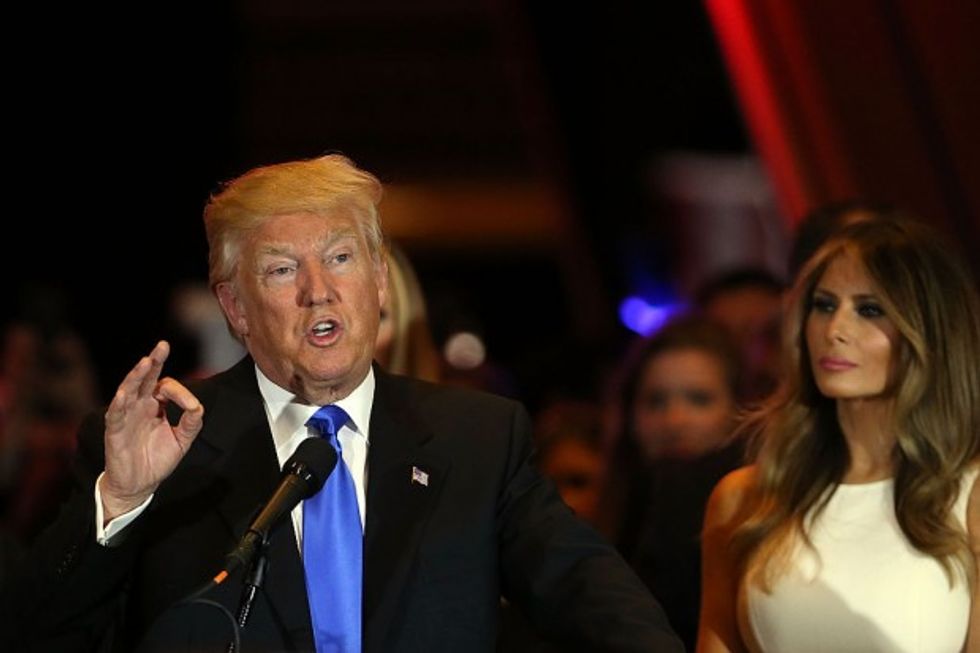 Spencer Platt/Getty Images
More from MSNBC on Trump's tax plan:
Trump put out a tax plan last year that included major cuts to income, estate and business taxes for the ultra-wealthy along with far less generous cuts for the middle class. The nonpartisan Tax Policy Center estimated his plan would cut the tax bill for the top 1 percent of earners by about $275,000 a year on average and for the top 0.1 percent by $1.3 million. The overall cost would be $9.5 trillion over a decade.
But on Thursday, the Manhattan mogul sang a different tune, telling CNBC in an interview that tax breaks for the wealthy are not his No. 1 priority: "I am not necessarily a huge fan of that," he said, according to MSNBC. "I am so much more into the middle class who have just been absolutely forgotten in our country."
Trump also described his detailed tax proposal as more of the starting point to a negotiation.
"You know, when you put out a tax plan, you are going to start negotiating," he said. "You don't say, 'OK, this is our tax plan, lots of luck, folks.' There will be negotiation back and forth. And I can see that going up, to be honest with you."
And on wages, Trump previously said at many different times during the GOP primaries that raising the minimum wage would kill American production and send jobs overseas to countries like China. At one point, Trump even argued that the wages in the United States are too high: "Taxes too high, wages too high, we're not going to be able to compete against the world," he said during the Fox Business debate in November, MSNBC reported.
Though he later clarified his stance, saying that he doesn't believe wages in the U.S. are too high, Trump made it clear that he was not for increasing the minimum wage because it would make it harder to compete — on a trade level — with other countries.
"We were talking about the minimum wage, and they said, 'Should we increase the minimum wage?'" Trump told Fox News. "And I'm saying that, if we're going to compete with other countries, we can't do that because the wages would be too high."
But during an interview with CNN Wednesday, Trump said that he is "looking at" possibly supporting a hike in the federal minimum wage.
"I'm looking at that, I'm very different from most Republicans," Trump told CNN, according to The Hill.
He added, "You have to have something you can live on. But what I 'm really looking to do is get people great jobs so they make much more money than that, much more money than the $15."
Donald Trump: I'm open to doing something on the minimum wage https://t.co/6OZtrfIwim https://t.co/pWIfjE8MhH

— CNN Politics (@CNNPolitics) May 4, 2016
—
Follow the author of this story on Twitter and Facebook:
[facebook //www.facebook.com/plugins/like.php?href=