Donald Trump may be the presumptive Republican nominee for president, but the Never Trump movement marches on.
Though he has insisted he's uninterested in a third party candidacy, former Massachusetts Gov. Mitt Romney is being courted by Weekly Standard editor Bill Kristol, a prominent Republican leader and outspoken Never-Trumper, to reconsider, and launch an independent campaign for the White House, the Washington Post reported Friday.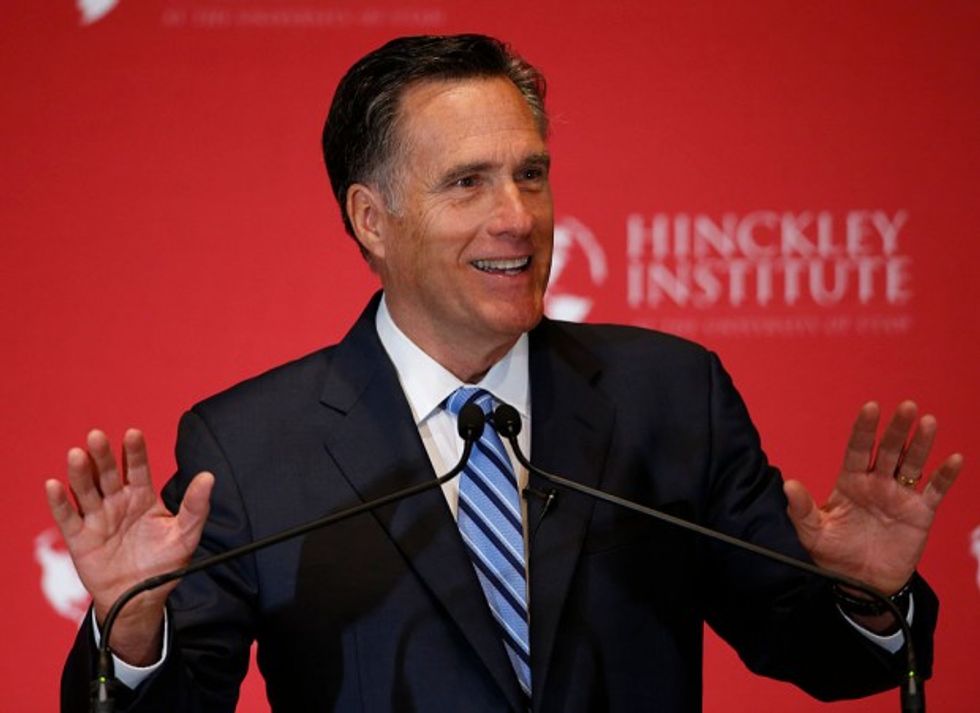 Photo by George Frey/Getty Images
Kristol and Romney met Thursday afternoon to discuss not only the viability — and likelihood — of an independent presidential bid.
"He came pretty close to being elected president so I thought he may consider doing it, especially since he has been very forthright in explaining why Donald Trump and Hillary Clinton should not be president of the United States," Kristol said, confirming he and Romney had a "little meeting in Washington."
Aware of Romney's reluctance to enter the tumultuous 2016 presidential cycle, Kristol told the 2012 Republican nominee that, if he remains unwilling to run, many leading conservatives would be happy to have his support for another third party candidate, should one emerge.
"Obviously, if there were to be an independent candidacy," Kristol said, "Romney's support would be very important. I wanted to get his wisdom on whether it was more or less doable than I thought."
Kristol, who first requested the sit-down, went on to say he didn't "presume" Romney would be interested in running, but he hopes the meeting encourages him to "think about it a little more."
The secret discussion was held over glasses of water at the J.W. Marriott hotel just a few blocks away from the White House. The talk was just one of many steps the Weekly Standard editor has taken to drum up support for an alternative to both Trump and likely Democratic nominee Hillary Clinton.
Kristol is seeking out a prominent political figure or military leader who could serve as the third party candidate in the general election. One of those leaders was retired Marines Corps Gen. James N. Mattis, who recently declined a request to run.
After their meeting, Romney and Kristol attended an awards ceremony for American Friends of the Hebrew University, where many urged the former Massachusetts governor to launch a 2016 campaign for president. But Romney continued to decline.
"No, I'm certainly going to be hoping that we find someone who I have my confidence in who becomes nominee. I don't intend on supporting either of the major party candidates at this point," he told the crowd. "I am dismayed at where we are now, I wish we had better choices, and I keep hoping that somehow things will get better, and I just don't see an easy answer from where we are."
—
Follow the author of this story on Twitter: