© 2023 Blaze Media LLC. All rights reserved.
Why Did God Create Adam Before He Made Eve in the Bible? Famed Pastor Says These Verses Reveal the Answer
"God wired it this way. God thought up gender. God thought up sex. And God thought up marriage."
Pastor Rick Warren of Saddleback Church in Lake Forest, California, revealed in a devotional published to his website this week why he believes God created Adam before Eve, appealing to Jesus words in the Bible to break down his theological views on gender and marriage.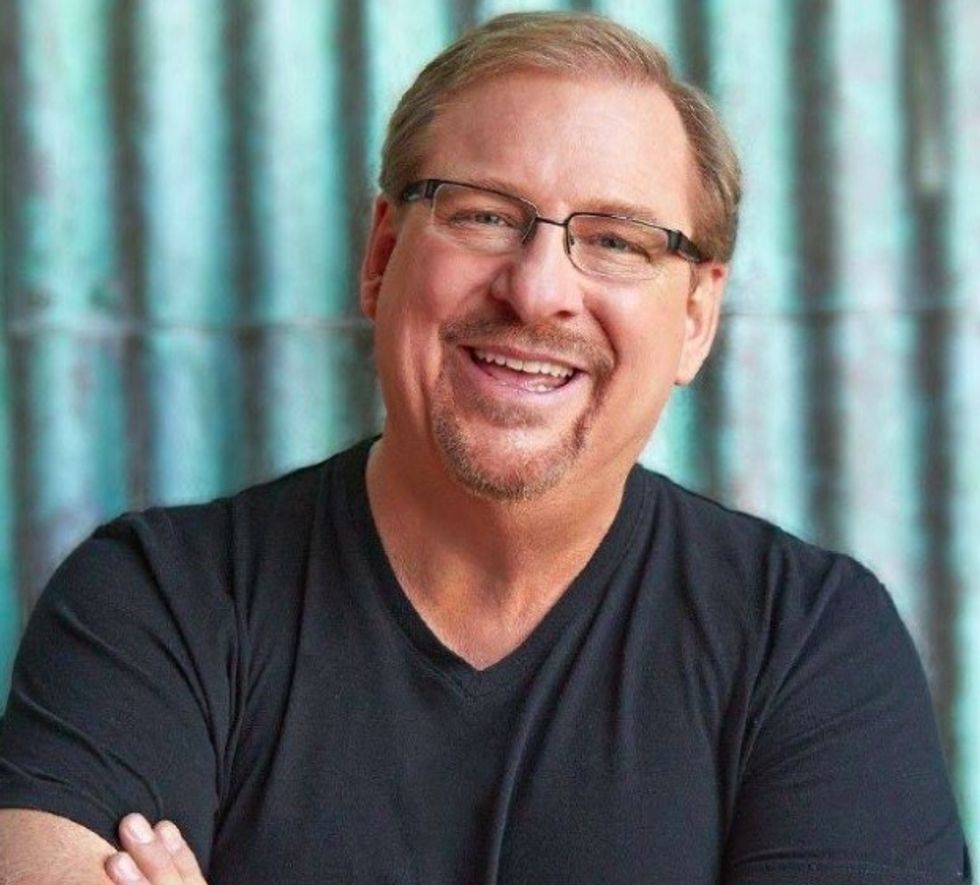 Pastor Rick Warren (Facebook)
"Did you ever wonder why God made man and then woman a little bit later? Why didn't he make them both at the same time?" Warren asked. "I think he did it for Adam's benefit. I think he wanted Adam to realize how much he needed women in his life."
From there, Warren cited Genesis 2:18, which reads, "The Lord God said, 'It is not good for the man to be alone. I will make a helper suitable for him," arguing that companionship is needed in certain areas of life, and that marriage is a monumental gift from God.
Warren then invoked Jesus' words in Mark 10:6-9 — statements that discuss the topics of both marriage and gender more broadly. Jesus said, "But at the beginning of creation God 'made them male and female.' 'For this reason a man will leave his father and mother and be united to his wife, and the two will become one flesh.' So they are no longer two, but one flesh. Therefore what God has joined together, let no one separate."
The famed preacher also pointed to 1 Corinthians 11, which proclaims that men and women need one another, saying that both genders possess attributes of God and offer a much-needed balance, detailing his belief that God created marriage to connect men and women.
"Whether or not you get married, if you're a woman, you need men in your life. If you're a man, you need women in your life," Warren continued. "Why? Because nobody holds the full image of God. Women get part of it, men get part of it, and we need each other."
He continued, "God wired it this way. God thought up gender. God thought up sex. And God thought up marriage. What a God!"
Saddleback Church founder and senior pastor,Rick Warren  (AP Photo/Nick Ut )
In the end, Warren said that Jesus' words in Mark 10:6-9 should lead people to conclude that marriage is part of God's plan, and that marriage is a permanent institution between one man and one woman.
Read Warren's entire commentary here.
(H/T: Christian Today)
--
Follow the author of this story on Twitter and Facebook:
Want to leave a tip?
We answer to you. Help keep our content free of advertisers and big tech censorship by leaving a tip today.
more stories
Sign up for the Blaze newsletter
By signing up, you agree to our
Privacy Policy
and
Terms of Use
, and agree to receive content that may sometimes include advertisements. You may opt out at any time.