Former President Bill Clinton isn't running for office, but that didn't stop presumptive GOP nominee Donald Trump from using the former president's history to go after Democratic front-runner Hillary Clinton on Friday.
"Nobody in this country, and maybe in the history of the country, politically, was worse than Bill Clinton with women," Trump said at a rally in Eugene, Oregon.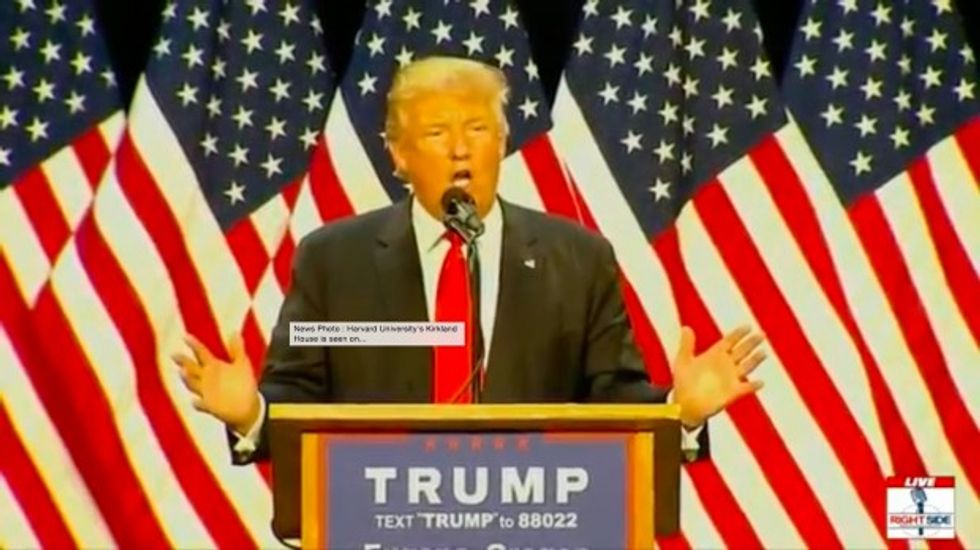 Image source: YouTube/RightSide Broadcasting
"He was a disaster," the billionaire businessman continued. "I mean, there's never been anybody like this."
Trump described Hillary as a "total enabler," offering yet another glimpse into the way he will campaign against his likely Democratic opponent in the general election.
Trump said Hillary would viciously "go after" the women with whom her husband was involved and, ultimately, "destroy their lives."  Perhaps most notably, as first lady, Hillary described Monica Lewinsky — arguably Bill Clinton's most high-profile mistress — as a "narcissistic loony toon," upon learning of the affair.
Another alleged mistress, former Miss Arkansas Sally Miller, who claims Hillary Clinton is a lesbian, said earlier this year that she is so afraid of the former secretary of state that she sleeps with a loaded gun under her pillow, adding that if reports ever surface that she committed suicide, "don't believe it."
"Have you ever read what Hillary Clinton did to the women that Bill Clinton had affairs with?" Trump asked. "And they're going after me with women?"
"Give me a break, folks," he bemoaned to an uproarious crowd of supporters. "Give me a break!"
Trump went on to say that, if he "had known" he planned to run for the presidency, he would not have ever gone on Howard Stern's radio show in the late 1990s and early 2000s, where he frequently discussed women in very vulgar terms.
"We wouldn't have had fun," Trump said of his past talks with Stern. "I would've said, 'Howard, we cannot discuss this subject. I, someday, in 20 years, will run for president, and therefore ... Honestly, folks, I never thought I'd be doing this."
"Bill Clinton was the worst in history, and I have to listen to her talk about it?" he continued. "Just remember this: she was an unbelievably nasty, mean enabler, and what she did to a lot of those women is disgraceful, so put that in her bonnet, and let's see what happens."
—
Follow the author of this story on Twitter: