Gov. Pat McCrory (R-NC) told Fox's Chris Wallace Sunday morning that the bathroom bill battle in his state "...is no longer just a North Carolina issue," but a nationwide affair. McCrory's statement came after the Justice Department announced earlier this week that the state's controversial House Bill 2 violates federal civil rights laws.
The Justice Department stated Wednesday that it informed McCrory and other state officials that they have until Monday to "confirm [sic] that the State will not comply with or implement HB2." McCrory called the deadline "unrealistic."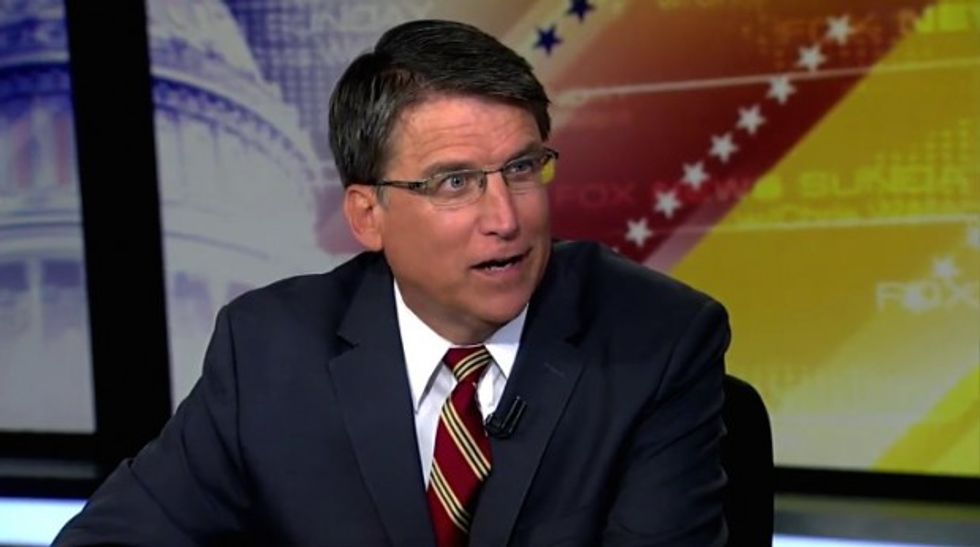 Image source: "Fox News Sunday"
"This order, this letter by the Justice Department, is saying that every company in the United States of America that has over 15 employees [is] going to have to abide by the federal government's regulation on bathrooms," McCrory said Sunday.
He views the Justice Department's move to mandate that all states allow transgender individuals to enter the bathrooms and changing facilities of their choice is a clear example of political overreach.
"So now the federal government is gonna tell almost every private sector company in the United State who can and who cannot come into their bathrooms, their restrooms, their shower facilities," he said.
McCrory also shot down the common argument that race and gender are comparable when it comes to matters that deal with civil rights.
.@PatMcCroryNC: We can definitely define race. Gender is different. #FNS

— FoxNewsSunday (@FoxNewsSunday) 1462714533.0
The North Carolina governor added that the new order would also dictate policy regarding transgender people at universities and colleges that accept federal funding.
"Boys who may think that they're a girl can go into a girls locker room, or restroom, or shower facility," he said.
Watch: