Three months after a machete attack at the Nazareth Restaurant and Deli in Columbus, the establishment's owner expressed frustration at the FBI for seeming to avoid labeling the event as a terrorist attack. Hany Baransi also questioned President Barack Obama's repeated assertions that Islam promotes peace.
"There is a problem in the U.S. to mention terrorism or Islamic extremism. Obama talks about how Muslims are peace-loving. I didn't come to America to have the president preach about Islam," Baransi, a Christian Arab, told the Times of Israel while on a visit to Israel, where he was born and grew up before moving to the U.S.
After the Feb. 11 attack by Mohamed Barry, a Muslim from Guinea, the FBI called it a "heinous act," but did not label it as terrorism. Four people were injured.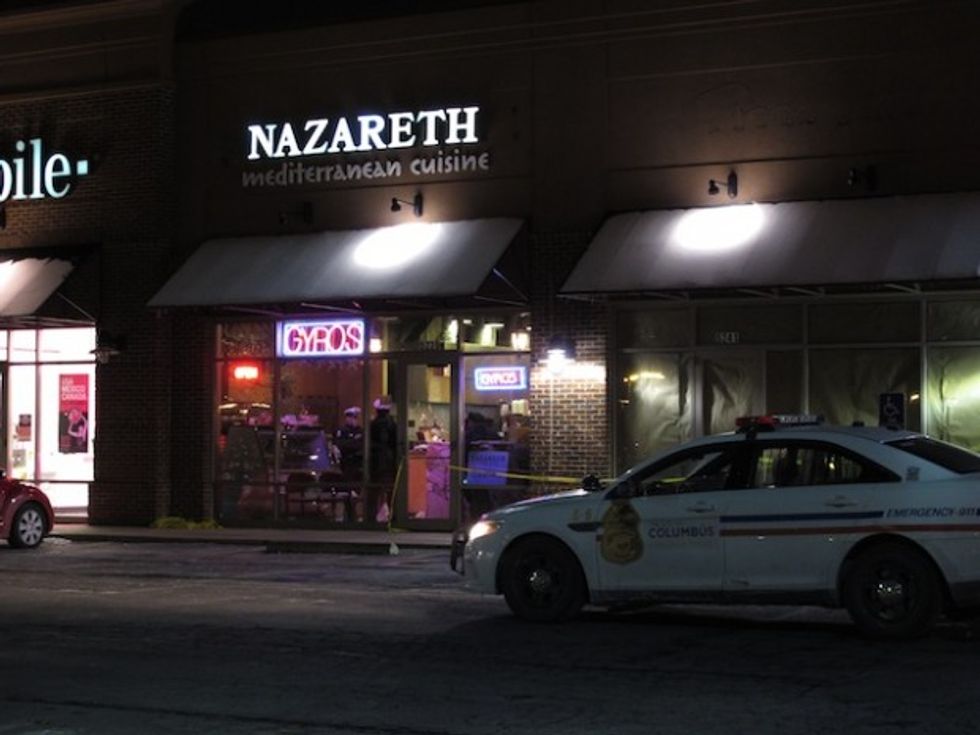 Police talk inside the Columbus, Ohio, restaurant where they say a man attacked several people with a machete on Thursday, Feb. 11, 2016. They say the man fled the scene and was later fatally shot by police. (AP Photo/Kantele Franko)
The restaurant owner Baransi asserted last week that the FBI has not responded to his recent requests for updates on the investigation.
In the last public statement posted on its website on Feb. 24, the FBI's Cincinnati Division wrote, "At this point in the investigation, we have developed no information that Mohamed Barry was working with or directed by anyone in conducting this attack. We will continue to work with our partners to gather information about Barry's life and any motives behind this heinous act."
Barry was later killed by police after he "lunged" at them with a machete and a knife, police said then.
Baransi is certain he was being targeted by a terrorist, because of his Israeli background and because he displays an Israeli flag at the restaurant. He was not at the restaurant when the assailant struck.
Baransi told the Times of Israel that Barry first visited the restaurant to ask about the owner's nationality. When employees told him their boss was from Israel, Barry left and returned about half an hour later with a machete, Baransi said.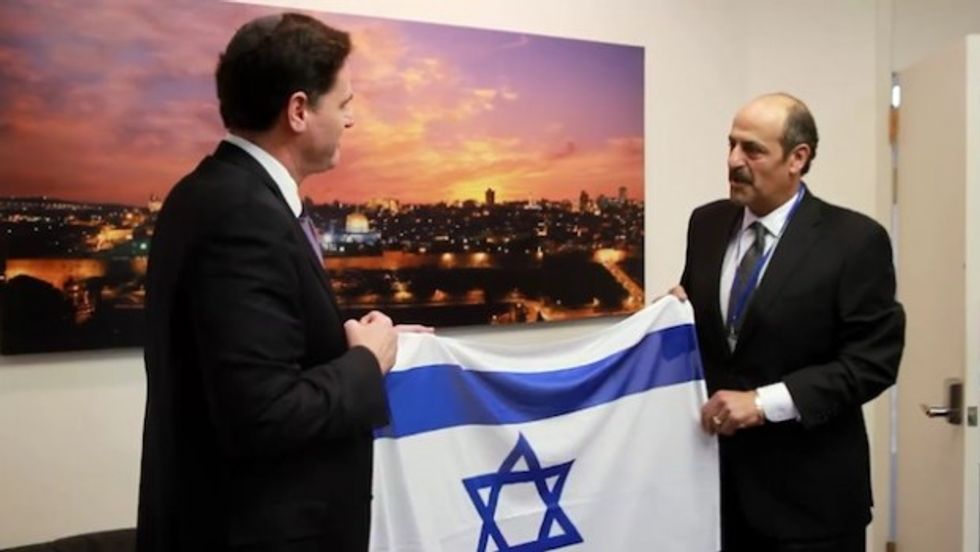 Israeli Ambassador to the U.S. Ron Dermer (L) gave Hani Baransi an Israeli flag to honor his resilience after the attack. "Thank you, Hany, for making all of us proud," Dermer said. (Image source: Facebook/Ambassador Ron Dermer)
"I am sure it was an assassination attempt. I was the target. Why else would the Nazareth have been targeted? It wasn't a random attack. Mine is the only restaurant in Columbus that displays an Israeli flag," Baransi said.
NBC News reported in February that the machete assailant had come to the attention of the FBI four years ago over unspecified radical comments.
Quoting law enforcement officials, NBC reported that agents looked briefly at Barry but then moved on.
Baransi told the Israeli publication that he obtained a concealed carry permit six years ago but only recently began carrying a gun regularly.
Even so, he relies ultimately on a higher power for protection.
"We'll let God take care of us, just as he always has," he said.