The Christian Israeli owner of the Ohio restaurant attacked last week by a machete-wielding assailant shouting "Allahu akbar" says his answer to the attack is to put up an even larger flag than the one he normally has displayed from his motherland bearing the Star of David.
"Actually, I have another flag, and I am going to get a bigger flag, and I am going to get a Star of David necklace and put it on my chest, and I am going to get a tattoo," Hany Baransi — who describes himself as an Israeli Christian Arab — told The Tower, a publication that covers issues related to the Middle East.
"Honest to God, I am not kidding. They don't scare me. We are Israelis. We are Israelis. We are resilient, we fight back," the restaurateur said. "We are used to these bastards."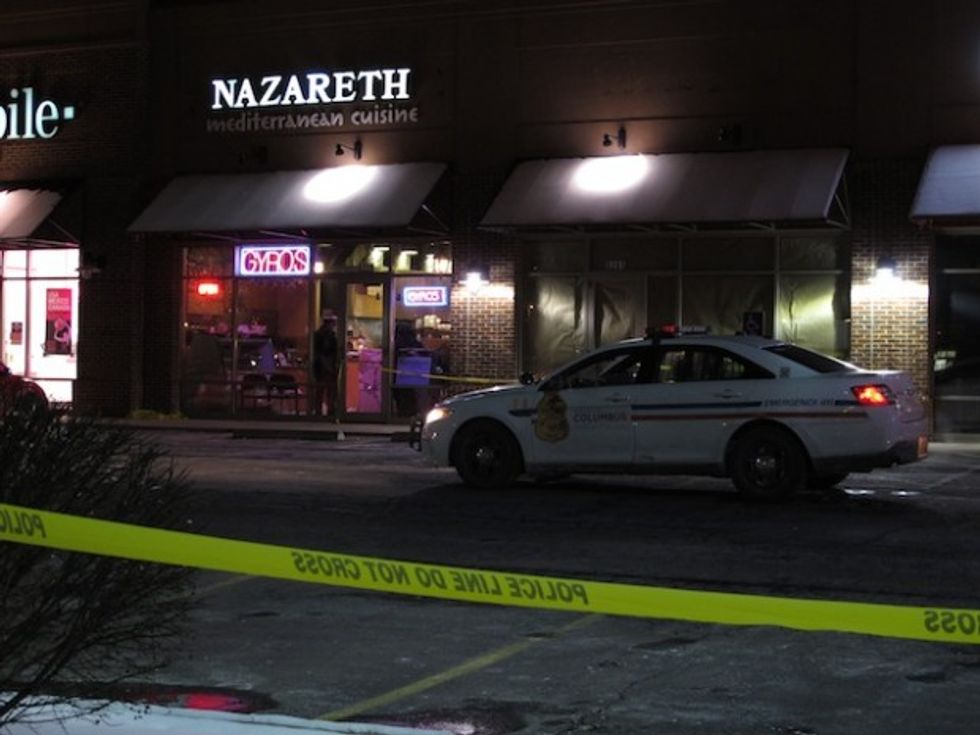 Police talk inside the Columbus, Ohio, restaurant where they say a man attacked several people with a machete Thursday. They say the man fled the scene and was later fatally shot by police. (AP Photo/Kantele Franko)
Given what happened the night of the attack, Baransi disputes police statements suggesting his establishment was targeted at random.
Baransi told The Tower that the assailant, 30-year-old Mohamed Barry, at first came to the Nazareth Restaurant & Deli in Columbus — a Mediterranean-style restaurant that serves hummus and falafel — to inquire where the owner was from. After learning from a waitress that the owner was from Israel, the assailant left and returned half an hour later with a machete.
Baransi said that the assailant yelled "Allahu akbar" then hacked four people, injuring them.
Police said that diners threw chairs at Barry and that a restaurant employee used the bat kept behind the counter to chase him away.
Police shot and killed him after a car chase culminating with Barry lunging at officers with his knife and machete, police officials told local media outlets.
Columbus Police Chief Kim Jacobs said that Nazareth's diners "were just randomly attacked, spontaneously, without warning."
The owner had a different take.
"Is it a random attack? Yes, but it wasn't a random attack like you're walking in the street and there are 10 shops and you pick one," Baransi told The Tower. "It was a random attack [insofar] that I was one of the Israelis [picked] between all of the Israelis that are around here. It was a terrorist attack."
Baransi told the Columbus Dispatch Sunday that FBI agents told him they believe the incident was terrorist in nature.
NBC quoted law enforcement sources who said that the FBI had investigated Barry four years ago over expressing extreme Islamist views. The news network, quoting family members, reported that the assailant was originally from Guinea in West Africa and lived in the U.S. since he was very youg.