Ohio police shot and killed an attacker after he entered a restaurant and began hacking people with machete Thursday evening.
According to CBS News, investigators have identified the suspected attacker as Mohammad Barry, a man who has a Somali background. Further, law enforcement may be investigating the incident as a possible lone wolf terrorist attack, the report states.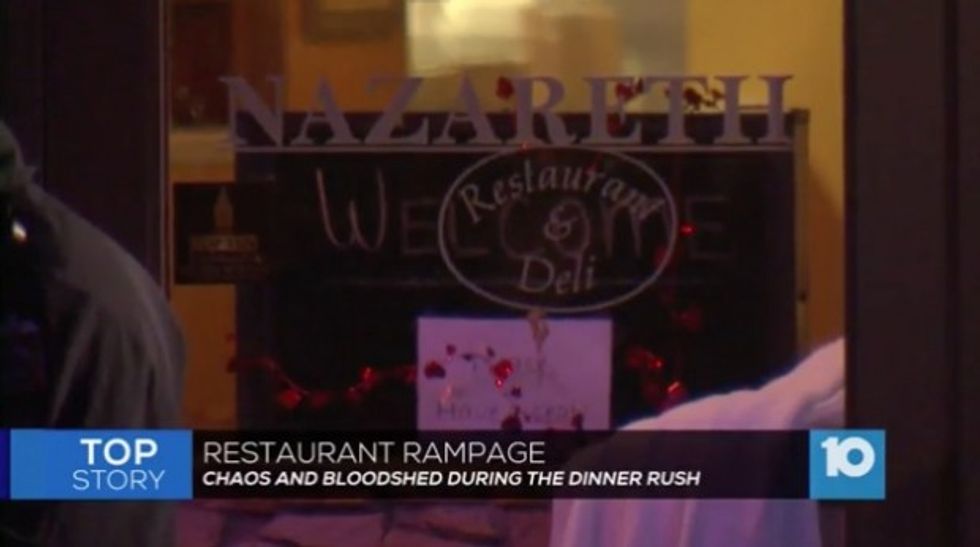 Nazareth Restaurant and Deli in Columbus, Ohio. Image source: WBNS-TV
"There was no rhyme or reason as to who he was going after," Columbus police Sgt. Rich Weiner previously told CBS.
"Right now there's nothing that leads us to believe that this is anything but a random attack," Weiner added.
Police responded to a report that a man wielding a machete was attacking patrons at Nazareth Restaurant and Deli in Columbus on Thursday.
Hany Baransi, the owner of Nazareth Restaurant and Deli, told WCMH-TV that he hangs his native Israeli flag in his business and that he believes his business was targeted.
"Employees told me he came in and looked around, asked where I was from, what food we have, where was I," Baransi said.
"I hope I'm wrong," Baransi said. "I hope it's not the case."
Baransi expressed concern for the victims.
"For customers, thanks for the support, and live, we'll get cleaned up, you get knocked down you get up again. God bless you, and I love you," he said.
Karen Bass told WBNS-TV that she had been in the restaurant during the attack.
"He came to each table and just started hitting them," Bass said. "There were tables and chairs overturned, there was a man on the floor bleeding, there was blood on the floor."
"I fell like five times. My legs felt like jelly. I just thought he was going to come behind me and slash me up," she recalled.
Patrons threw chairs at the suspect in an effort to stop the attack. He fled the scene in a car before police caught up with him. They first attempted to subdue him with a stun gun before fatally shooting him.
Four people were injured in the attack and taken to a local hospital. They are expected to recover.
This post has been updated to include new information about the attack.
---