UPDATE 11:39 a.m. ET Wednesday: Three separate car bombings in the Iraqi capital Wednesday killed at least 93 people and wounded at least 165.
The Islamic State group later claimed responsibility for all three bombings. In recent months, the extremist faction has lost some of the Iraqi territory it conquered in a stunning 2014 blitz. But Wednesday's carnage demonstrates the group's lingering ability to launch significant attacks across the country and in the heart of the capital.
—
BAGHDAD (TheBlaze/AP) — Iraqi officials say the death toll from a car bombing in a commercial area in a predominantly Shiite neighborhood of Baghdad has risen to at least 63 people killed, the Associated Press reported Wednesday. Other news outlets reported higher numbers.
Car bomb in Shia district of Sadr City, Baghdad, has killed at least 64 people, wounded 87https://t.co/rAXQmnJ3AMpic.twitter.com/4n0tYGhbfV

— BBC Breaking News (@BBCBreaking) May 11, 2016
A car bomb, claimed by ISIS, killed at least 66 people in a market in Baghdad https://t.co/xbpwD73gwmpic.twitter.com/J5BvXmgMUk

— The New York Times (@nytimes) May 11, 2016
Two police officers say the explosives-laden car that went off Wednesday morning at a crowded outdoor market in Baghdad's eastern district of Sadr City also wounded up to 85 people, several seriously.
Shortly after the explosion, the Sunni extremist Islamic State group, which sees Shiite Muslims as apostates, claimed responsibility for the attack in an online statement.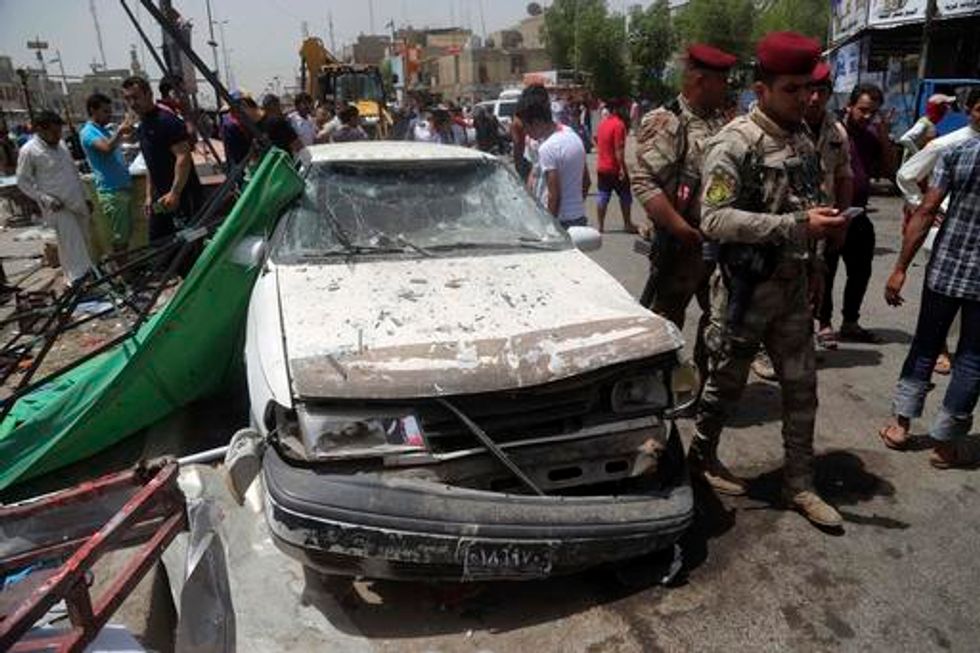 Security forces and citizens inspect the scene after a car bomb explosion at a crowded outdoor market Wednesday. (AP Photo/ Khalid Mohammed)
There are fears the death toll could rise further.