Should pastors be permanently banned from the pulpit if they commit adultery?
That was a key question in a recent LifeWay Research survey of 1,000 Protestant preachers and ministers, with just 24 percent of pastors supporting a "permanent withdrawal from public ministry" for those found guilty of such a moral infraction.
While one-in-four held that view, 25 percent said that they were not sure how to handle the situation, with an additional 31 percent recommending that any pastors found guilty of adultery step down for between three months and a year.
"Pastors believe church leaders should be held to high standards," Ed Stetzer, executive director of LifeWay Research, said in a statement announcing the results. "They also want to protect themselves against allegations that could be false."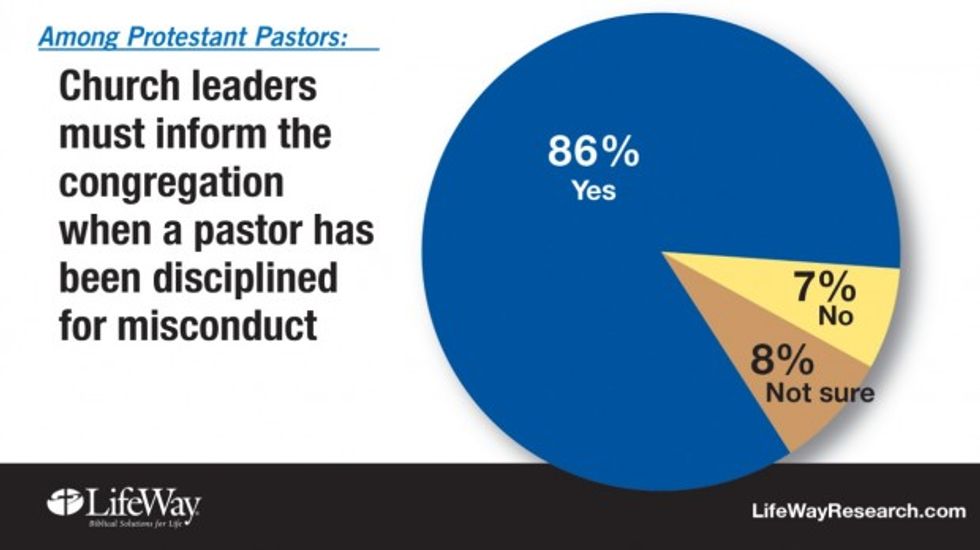 LifeWay Research
Some denominational differences were observed in the survey as well, with Lutherans polling as the least willing to reinstate a pastor who is guilty of adultery; 47 percent said that such a preacher should leave the ministry permanently.
This is compared to 30 percent of Baptists, 13 percent of Methodists, 13 percent of Pentecostals and 11 percent of Presbyterian and Reformed preachers, showcasing some stark differences depending on preachers' theological perspectives.
"The Scripture says pastors must be above reproach, so it's not surprising that some want to see fallen pastors banned from ministry," Stetzer said. "Still, pastors are also people who talk about forgiveness regularly and, by and large, they want to see those who fall have a chance at restoration."
It was also found that 86 percent of pastors believe that church leaders must inform a congregation if and when a pastor is disciplined for misconduct, with only 7 percent saying that they do not believe that this should be done.
The results came from a survey of 1,000 senior pastors across the U.S. that was conducted via telephone between March 9-24, 2016, with a sampling error that does not exceed plus or minus 3.2 percentage points.
Read the survey results in their entirety here.
What do you think? Let us know below:
--
Follow the author of this story on Twitter and Facebook and check out his new book "The Armageddon Code: One Journalist's Quest for End-Times Answers":