In his latest edition of "Lie Witness News," ABC's Jimmy Kimmel decided to ask passers-by what they thought of presumptive Republican presidential nominee Donald Trump's nonexistent selection of a running mate.
On his show Wednesday night, Kimmel said that, in the midst of a "crazy election," he decided to do "some VP vetting on the street."
"We went outside today and asked pedestrians if they heard who Trump picked as his running mate," Kimmel said, adding, "of course, he has not picked a running mate."
"But did that stop people from weighing in? No, it did not," the host said.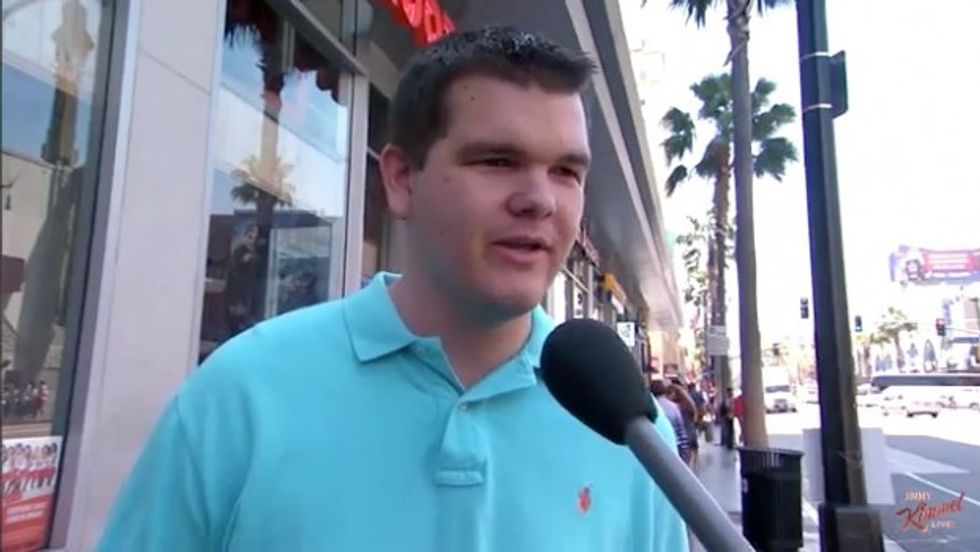 Image source: YouTube
The pedestrians weighed in on the selection of Trump's various fake vice presidential picks, including Gary Busey, Dennis Rodman, Arnold Schwarzenegger and Trump's daughter, Ivanka.
"I think it's the biggest joke that ever happened in the entire country in history," one person said of the selection of Busey.
One person praised Rodman for "improving U.S. relations over there" with "basketball," a reference to Rodman's visit to North Korea.
Another interviewee said she laughed when Trump selected Schwarzenegger.
"It gets people watching TV," she said.
And one person said Trump's selection of Ivanka Trump "can't possibly hurt him."
At the end of the clip, one of the people pranked in the video was revealed to be sitting in the audience with his mother, who joked that she was "so proud."
Watch the painful segment below:
—
Follow Kate Scanlon (@kgscanlon) on Twitter