Several South Carolina schools were placed on lockdown or partial lockdown Friday morning after police say a student was shot in the cafeteria at one of those schools.
A student at Southside High School in Greenville was reportedly shot around 8:30 a.m. The student was taken to the hospital for his injuries. He was conscious and talking after the incident, WYFF-TV reported.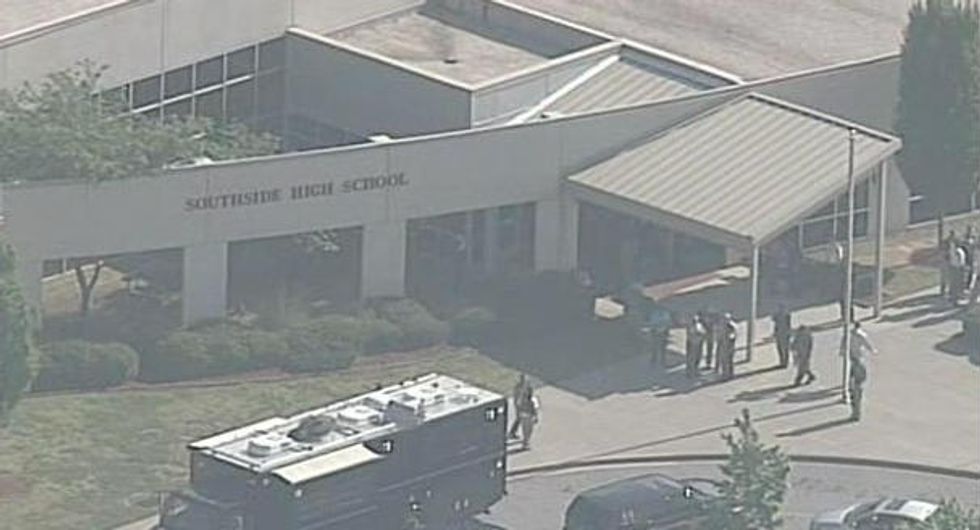 Image source: WYFF-TV
The school was placed on lockdown immediately following the shooting. Nearby Thomas E. Kerns Elementary also was on lockdown.
Two other schools, Blythe Elementary and Grove Elementary were placed on partial lockdown, according to WYFF.
Drew Pinciaro with the Greenville County Sheriff's Office said that no active search was underway and that no arrests had been made.
Pinciaro did not immediately respond to TheBlaze when asked for further details.
A spokeswoman for Greenville County Schools said that once law enforcement reaches a certain point in its investigation, students would be released to their parents.
"Although there is no danger or concern, considering the impact on the school and students we will dismiss in a manner that allows for full accountability. We need to make sure every child is accounted for. Law enforcement and district personnel will be at the school to make sure dismissal is safe and orderly," the spokeswoman said.
(H/T: WYFF-TV)
– 
Follow the author of this story on Twitter and Facebook: