People magazine reporter Sue Carswell indicated Friday evening in an interview with MSNBC that there may be a new twist to the Donald Trump faux publicist story.
Carswell told MSNBC's Rachel Maddow that Trump leaked the audio recording of her interview with a man identified as John Miller to the Washington Post, the outlet that published the initial report Friday claiming that Trump regularly corresponded with reporters in the 70s, 80s and 90s under the pseudonyms "John Miller" and "John Barron."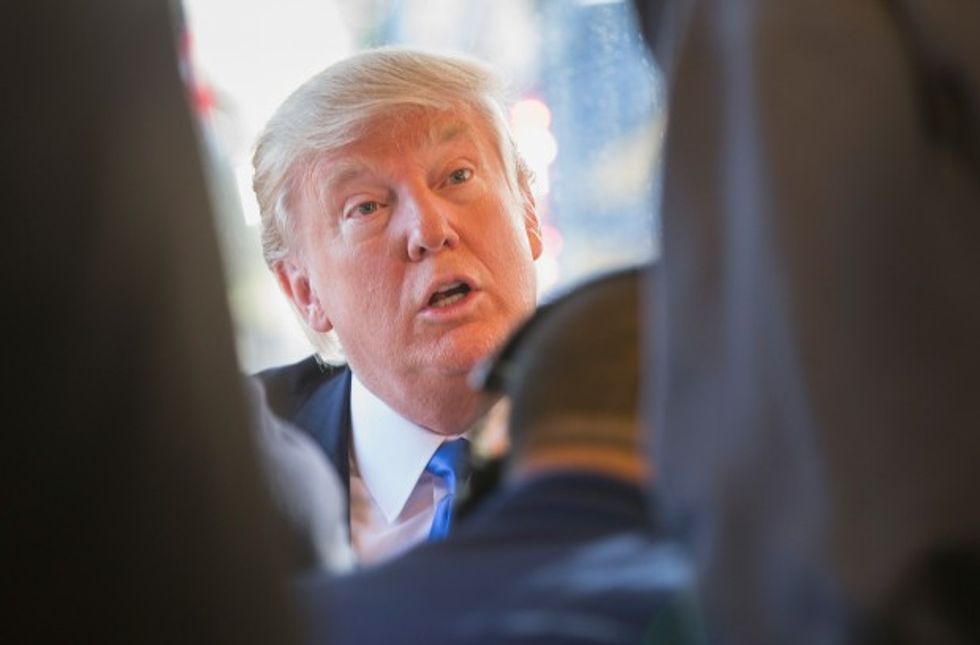 Scott Olson/Getty Images
Later Friday evening, Carswell appeared on Fox News, where she told Megyn Kelly why she thinks Trump is the only person who would have had access to the recording.
According to Carswell, the tape went missing 25 years ago after she moved apartments. There was only one copy, and Caswell claimed that Trump would have been the only other person capable of recording the interview.
"Wait a minute. So you're suggesting Trump leaked this to The Washington Post?" Kelly asked Carswell Friday.
"Yes, yes," Carswell said.
"Why?" Kelly pressed.
"You got me," the reporter replied. "He's done stranger things."
"Because he loves publicity?" Kelly suggested. "So you're suggesting he may want us talking about this right now because it generates a news cycle, perhaps?"
"Hello, Donald," Carswell said.
This interview was not included in the show when it re-aired later. Fox News spox says it was because of "technical issue during playout."

— Oliver Darcy (@Oliver Darcy) 1463234278.0
In an tense interview with the Washington Post Friday, the Republican presidential candidate, grew silent and then hung up when asked to comment on the accusations.
Following the initial Washington Post report, Trump insisted that the voice on an audio tape, which was played for him during a live interview with NBC's "Today" show, was not him.
"It was not me on the phone," Trump told NBC Friday morning. "And it doesn't sound like me on the phone, I'll tell you that, and it was not me on the phone."
After Carswell first voiced her suspicion to MSNBC that Trump may have leaked the 25-year-old tape, reporter Rachel Maddow asked the Washington Post's Steven Ginsberg if the tape came from Trump, which the editor declined to discuss.
Watch: