One of the topless, spray-painted women who pose for photos with tourists in Times Square was arrested this week after shoving a police officer.
The altercation broke out between the 24-year-old "desnuda," her boyfriend and several New York Police Department officers, according to New York Post reporters who were at the scene. The altercation, apparently, began when a bystander made a derogatory comment about Amanda Roman and her boyfriend took offense.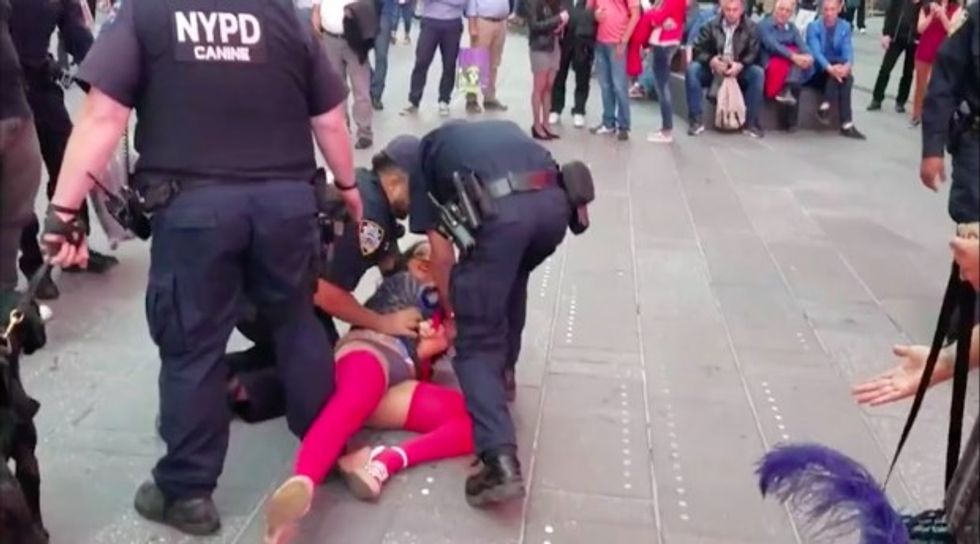 Image source: New York Post screen grab
Officers quickly noticed the brewing frustration, so they stepped in. But the 25-year-old boyfriend refused to cooperate, so they handcuffed him. But Roman continued to mock the police officers.
"What are you mad about? You stand out here all day and don't make nothing?" she charged.
Not long after, the woman reached a boiling point when the officers started picking up her belongings. "Excuse me, that's my stuff," she shouted to one officer before shoving another and continuing to curse at them.
Almost instantly, the officers grabbed Roman, forcing her to the ground as she continued to resist them, smiling the entire time, seemingly amused by the entire ordeal.
In fact, when the officers later photographed Roman, she was smiling as she stood handcuffed next to the police cruiser. She was charged with resisting arrest and obstructing governmental administration.
Typically, the topless women wear nothing but a thong and red, white and blue spray paint over their breasts. They have drawn the ire of many who live in or pass through the city often.
Some feel the women's attire is inappropriate for children and New York City Mayor Bill de Blasio has promised to find a way to rid the city of their presence.
—
Follow the author of this story on Twitter: