An all-out brawl erupted in the middle of a Houston street Saturday, and just when it seemed the confrontation was over, things got crazier.
At the beginning of the video, a woman in a black shirt and three men appear to be in an argument. Eventually, one man gets in the driver's seat of a white car, while another gets in the driver's seat of truck next to the car. The woman and a third man continue arguing.
"When the white car proceeded forward, just a few inches, that aggravated the truck driver because he thought, 'Oh no you're not! You're not going in front of me,'" David Dao, an eyewitness whose daughter used her cellphone to capture the entire incident on video, said, KTRK-TV reported.
The truck then inches forward, nearly hitting the woman in the black shirt. The woman then walks back over to the white car, where a passenger is seen throwing at her what KTRK reported to be some type of drink. The woman appears to say something to the people in the white car, but it is unclear what she said.
Just when it appears things are settling down, the driver of the truck comes back to the front of the white car, kicking the vehicle's grille.
"I couldn't believe it. As soon as he kicked the grille, I was like, 'This is going down now,'" Dao told KTRK. "I was thinking this is going to be bad. At that time, I knew because there's physical damage now."
At that point the driver of the white car gets out and runs after the man who was seen kicking the grille. The two men then get into an all-out brawl in the middle of the street. Another man then runs over and punches the driver of the truck.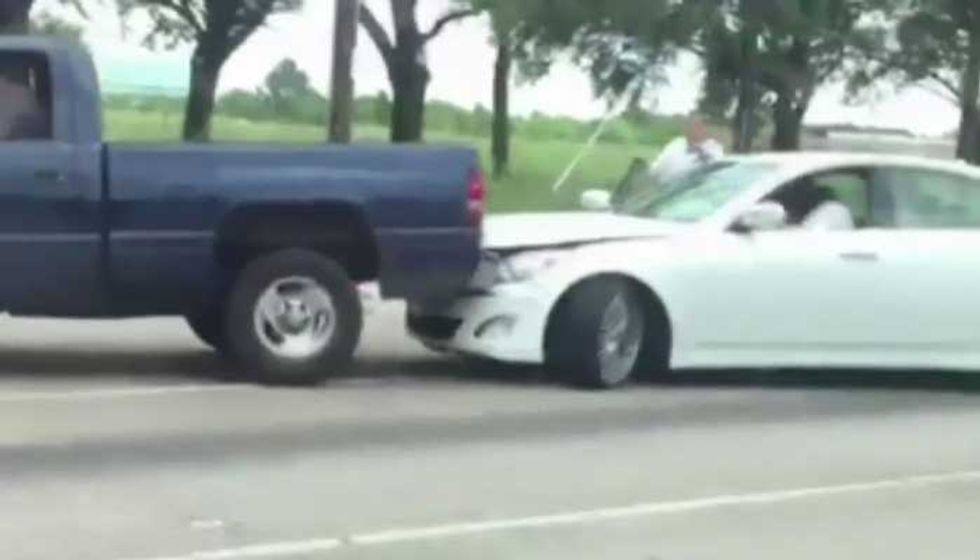 Image source: KTRK-TV
As the three men duke it out, the woman in the black shirt is heard screaming as she tries to break them up.
At the end of the video, just when it appears that everyone was about to go their own way, the driver of the truck puts it in reverse and rams the front of the white car, doing some serious damage.
Watch the raw video below.
(Content warning: Footage may be disturbing.)
(H/T: KPRC-TV)
– 
Follow the author of this story on Twitter and Facebook: