Millennial students at George Washington University are feeling "pressure" to support Democratic front-runner Hillary Clinton because she's a woman, but when asked if they trust her, they simply say, "Next question."
"I just think that, yeah, there's a lot of feminist pressure to vote for Hillary," one woman told Campus Reform, a conservative news site focused on higher-education. Another added, "It's a pretty good conspiracy."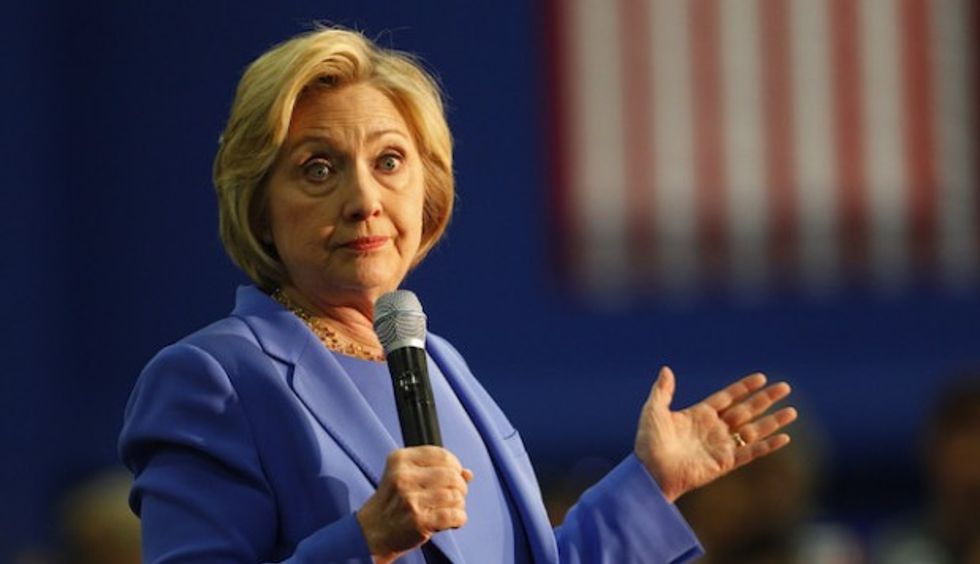 Photo by John Sommers II/Getty Images
One woman they questioned was quick to say she has "absolutely" been pushed to support the former secretary of state just because she's a woman: "I've had people come up to me and tell me straight out, 'You're a female. I can't believe you would vote for a Republican candidate, you would vote for an independent candidate.'"
But some don't mind the pressure. One student who described herself as "definitely" a feminist said she wasn't sure she would vote for Clinton if she was a man. Interestingly, this comes not long after presumptive GOP nominee Donald Trump suggested Clinton wouldn't get "5 percent of the vote" if she wasn't a woman.
When the conversation turned toward how much — or how little — the young students trust Clinton, there didn't seem to be much hope there, either.
"Next question," one male student said when asked if he trusts the Democratic front-runner.
Another said, "I don't think we have any trust there at all. There ain't too much trust over there."
A graduate student said she feels Clinton has some "trust issues" with the American electorate, adding, "I don't believe a word that she says."
Clinton's trustworthiness issue is not a new problem. According to a March poll, only 37 percent of Americans found her to be honest and trustworthy.
Additionally, the students also felt the Democratic primary system is rigged in Clinton's favor, calling the contest "unfair" because she continues to rack up delegates despite unenthusiastic support. But the development didn't seem to shock many of the millennial voters.
"The government doesn't really trust the people that much," one woman said. "So I understand why they would pick Hillary Clinton."
—
Follow the author of this story on Twitter: