"Duck Dynasty' patriarch Phil Robertson appeared on Fox News' "Fox and Friends" Wednesday to discuss his new film "Torchbearer," which is being shown at this year's Cannes Film Festival.
Before getting into the film, which shows the connection between religious morality and free empires, co-host Steve Doocy asked Robertson how his political stance has changed since his favored presidential candidate, Texas Republican Sen. Ted Cruz, suspended his campaign and Donald Trump became the presumptive GOP nominee.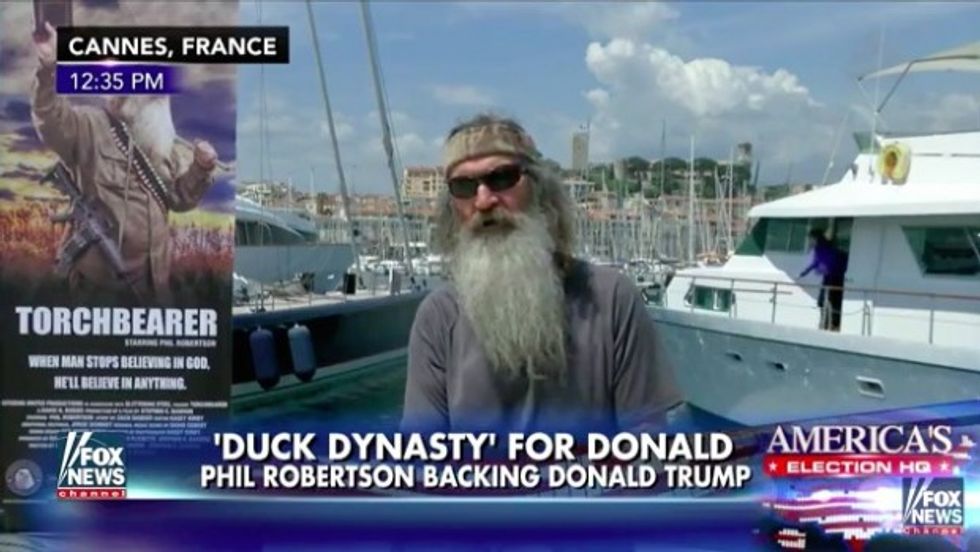 Image source: Fox News
"I was forced into the Trump train, but I am happily volunteering my services for Mr. Trump, mainly because the Republican Party has spoken," Robertson explained.
Robertson's son Willie endorsed the Trump back in January as his father pledged to support Cruz. But Robertson shared Wednesday that his allegiance to his party remains unwavering.
"They people have said, 'We want Mr. Trump.' So Mr. Cruz goes down, I love him, but now I'm on the Trump train, and I'll do everything I can to help him," he said. "We have to be loyal to the party."
"I know Clinton's record, or Bernie Sanders — I know their record. With Donald, I am not quite sure, since he doesn't have a record in the political arena," Robertson added. "However, I am taking my chances, not evening knowing. I know the Clintons. I'm not sure about Trump. I'm with Trump."