A group of 51 Muslim nations has blocked 11 gay and transgender rights organizations from attending a United Nations conference on AIDS next month, and now major Western nations are protesting, according to the Associated Press.
A letter from Egypt on behalf of the nations in the Organization of Islamic Cooperation to the president of the U.N.'s General Assembly — dated April 26 and obtained Wednesday by the AP — offers "no reason for the objections" to the groups, but officials from Western nations such as Samantha Power, the U.S. ambassador to the United Nations, felt that the OIC singled the groups out for their advocacy on behalf of gay, lesbian and transgender individuals.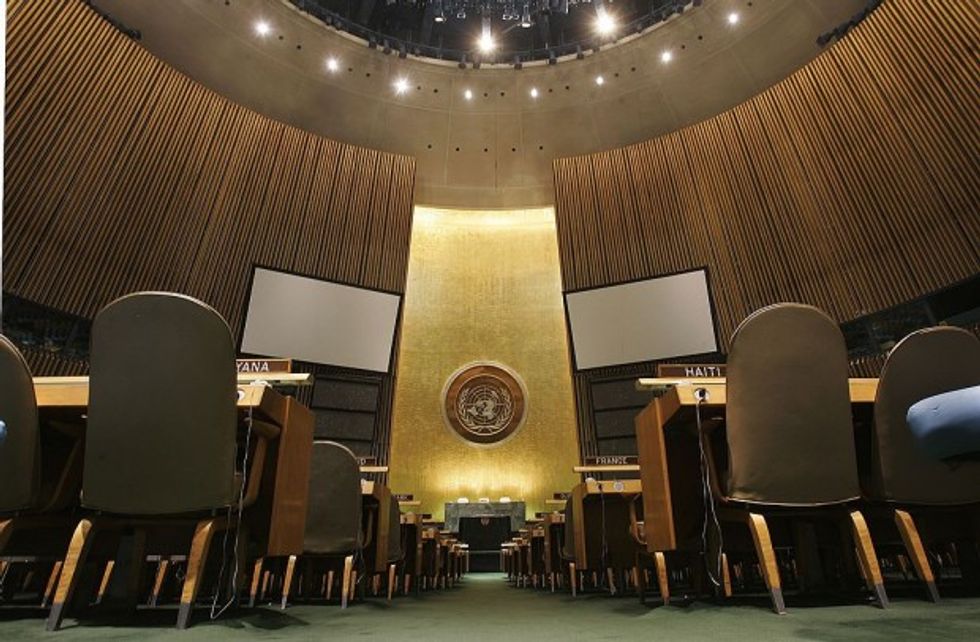 The United Nations logo on the back wall of the General Assembly Hall of the United Nations is seen from the floor at the United Nations headquarters in New York. (Chris Hondros/Getty Images)
Power wrote in a letter to General Assembly President Mogens Lykketoft that since "transgender people are 49 times more likely to be living with HIV than the general population, their exclusion from the high-level meeting will only impede global progress in combating the HIV/AIDS pandemic."
"The movement to block the participation of NGOs on spurious or hidden grounds is becoming epidemic and severely damages the credibility of the U.N.," she added.
According to the AP, while arrangements for the AIDS conference were negotiated last year, "some members insisted on being able to object to an NGO's participation without any public explanation." Lykketoft told the protesters in letters that he "had done everything in his power to ensure the broadest participation" in the conference.
Officials from the European Union, Australia and Canada also wrote to Lykketoft to express opposition to the groups' exclusion from the conference.
Britain's deputy U.N. ambassador, Peter Wilson, wrote, "If you're serious about getting to zero [AIDS cases], then it's vital to include all communities."
"It's wrong to block access to the U.N. for transgender organizations and gay organizations that have every right to participate in this important discussion," Wilson added.
The AIDS conference will take place June 8-9 at the U.N. headquarters in New York City.
—
Follow Kate Scanlon (@kgscanlon) on Twitter