WASHINGTON — House Minority Leader Nancy Pelosi (D-Calif.) believes the Democratic National Committee should "revisit" the role superdelegates play in selecting the party's nominee for president.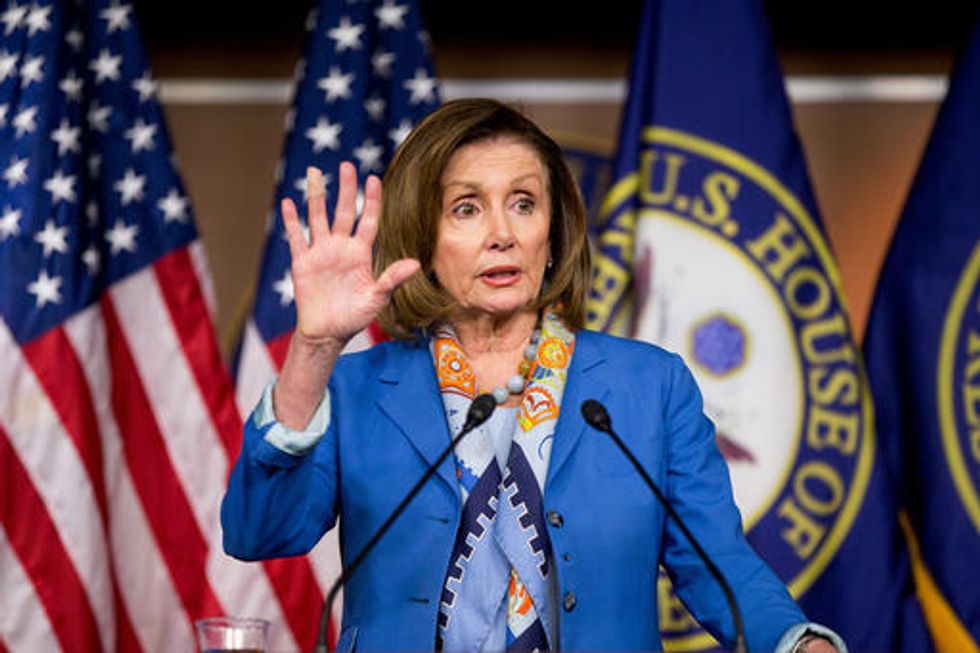 House Minority Leader Nancy Pelosi (D-Calif.) speaks during her weekly news conference on Capitol Hill Thursday. (AP Photo/Andrew Harnik)
"I had been very opposed to superdelegates," Pelosi told reporters at a Capitol Hill press conference Thursday. "I think it just makes people think, 'Well, wait a minute, we're going through a democratic process and then you're telling me that 500 people in Washington, D.C., are going to weigh in?'"
Pelosi, acknowledging criticism from Democratic presidential candidate Sen. Bernie Sanders (Vt.) and his supporters about the current role of superdelegates, offered a few possible solutions to the issue.
"I have said ... that we should be revisiting the number of votes that superdelegates have. Maybe give them half or give them a pass for the hall or a seat on the floor or something," Pelosi said. "But not to undermine, to make it look like something will weigh in after everyone goes through the elective process."
Superdelegates are party leaders who are free to support whichever candidate they choose at the Democratic National Convention. Sanders currently has 1,498 delegates, 40 of whom are superdelegates.
Democratic front-runner Hillary Clinton has 2,265 delegates, 524 of whom are superdelegates.
At the same press conference, Pelosi responded to presumptive Republican nominee Donald Trump's statement that the EgyptAir flight from Paris to Cairo that vanished from radar Wednesday was a "terrorist attack."
"I was hearing some of the experts who know about these things saying we have to get more information to determine whether this was a mechanical malfunction or what," Pelosi said.
She went on to say that there is "no information" currently that would suggest it was a terrorist attack.
'@NancyPelosi tells me there's 'no information' currently to suggest #EgyptAirMS804 crash was a 'terrorist attack,' as Trump has said

— Jon Street (@JonStreet) May 19, 2016
—
Follow the author of this story on Twitter and Facebook: