Democratic presidential front-runner Hillary Clinton declared at the annual SEIU Convention in Detroit Monday that presumptive Republican nominee Donald Trump could bankrupt the United States.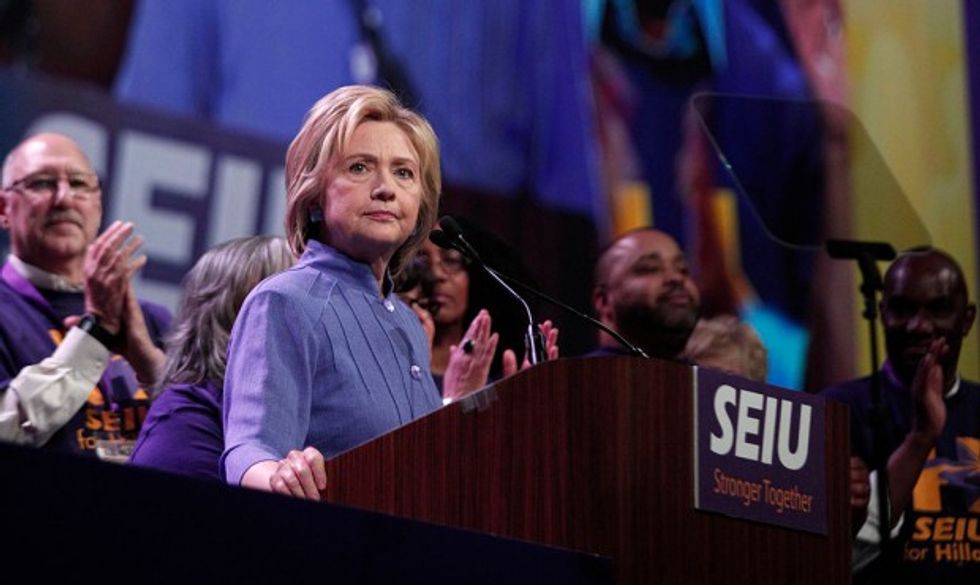 Democratic presidential candidate Hillary Clinton speaks at the Service Employees International Union 2016 International Convention in Detroit, Michigan, Monday. (Bill Pugliano/Getty Images)
Donning SEIU purple, Clinton told the crowd of union workers, "Trump economics is a recipe for lower wages, fewer jobs, more debt. He could bankrupt America like he's bankrupted his companies."
Hillary Clinton isn't wearing a SEIU t-shirt, but her purple outfit matches the union's colors https://t.co/YnZ0Vcrioy

— Chris Megerian (@Chris Megerian)1464025953.0
"I mean, ask yourself: How can anybody lose money running a casino, really?" she added.
According to CNN Money, Trump has filed four business bankruptcies but has never filed for personal bankruptcy. His most recent bankruptcy was filed in 2009.
During the first Republican presidential debate Aug. 6, Trump said he has used bankruptcy chapter laws "to do a great job for my company, for myself, for my employees, for my family."
WATCH: @HillaryClinton: Donald Trump "could bankrupt America like he's bankrupted his companies." https://t.co/3FYnQJBR08

— ABC News Politics (@ABC News Politics)1464027771.0
—
Follow Kate Scanlon (@kgscanlon) on Twitter