A Maine couple whose son went missing in 1977 received a letter recently from an anonymous source who claims to have information regarding his mysterious disappearance.
Police are now revisiting the decades-old missing persons case of Bernard "Bunny" Ross Jr., the Portland Press Herald reported Friday.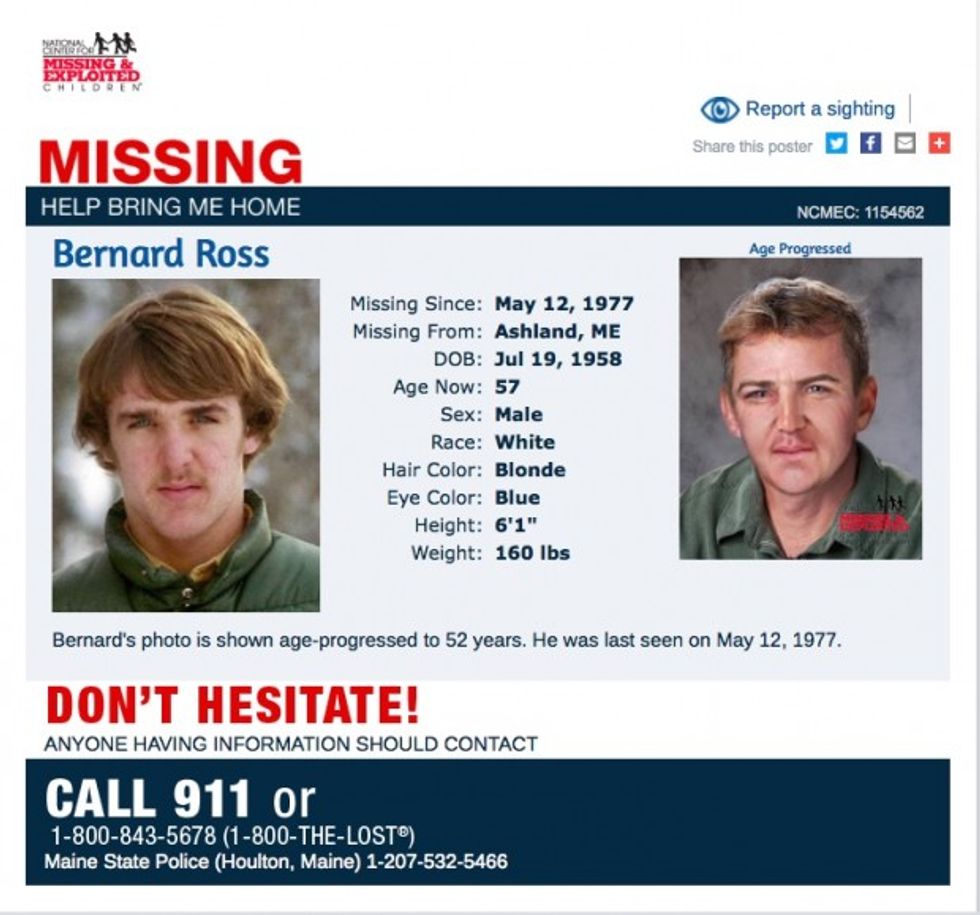 Image source: National Center for Missing & Exploited Children
At the time of his disappearance, Ross, 18, was living with his parents in Fort Kent, Maine. He was last seen May 12, 1977.
According to his parents, Ross left their home that morning in an anxious state. The teen was suspected of stealing a car, which was later found abandoned on a dirt road, the paper reported.
Carol Ross, 78, and her husband, Bernard Ross Sr., 80, received the letter, postmarked in March, at their home in Portland. The author claimed to have knowledge of Bunny's disappearance and referred to a story that appeared in the Kennebec Journal, a local paper owned by MaineToday Media, which also owns the Press Herald.
The Journal story cited by the author of the letter was about missing persons cases, including that of Bunny Ross. According to the Press Herald, the letter suggested that the paper should publish another piece on Ross.
Police were notified of the letter and arranged for reporters to interview the Ross parents Friday.
"I've never had anything like this happen in my career," Maine State Police Lt. Troy Gardner told the Press Herald. "Basically, all we're doing is extending an olive branch, saying we want to make contact with this person. Of course, there's no way of knowing whether the letter's truthful or the information is accurate, but we are asking for whoever wrote the letter to please contact us."
Carol Ross told the Press Herald the only calls she and her husband have received relating to their son's disappearance have been from detectives around the country trying to identify a body.
"We've had several calls," Carol Ross said. "You'd get your hopes up, but of course it would turn out to be someone else."
The couple, who have been married for 60 years, told the paper that in the 39 years since Bunny went missing, their other children have grown up and gone on to have families of their own, but they never stopped wondering about their oldest son.