Actress Michelle Rodriguez sounded off about what it's like to be a woman in Hollywood, comparing the glamorous lives of females in Hollywood to slavery.
A TMZ photojournalist caught up with Rodriguez at Los Angeles International Airport recently, where she was asked about actor Seth Rogen's suggestion that he is responsible for raising awareness about the gender wage gap.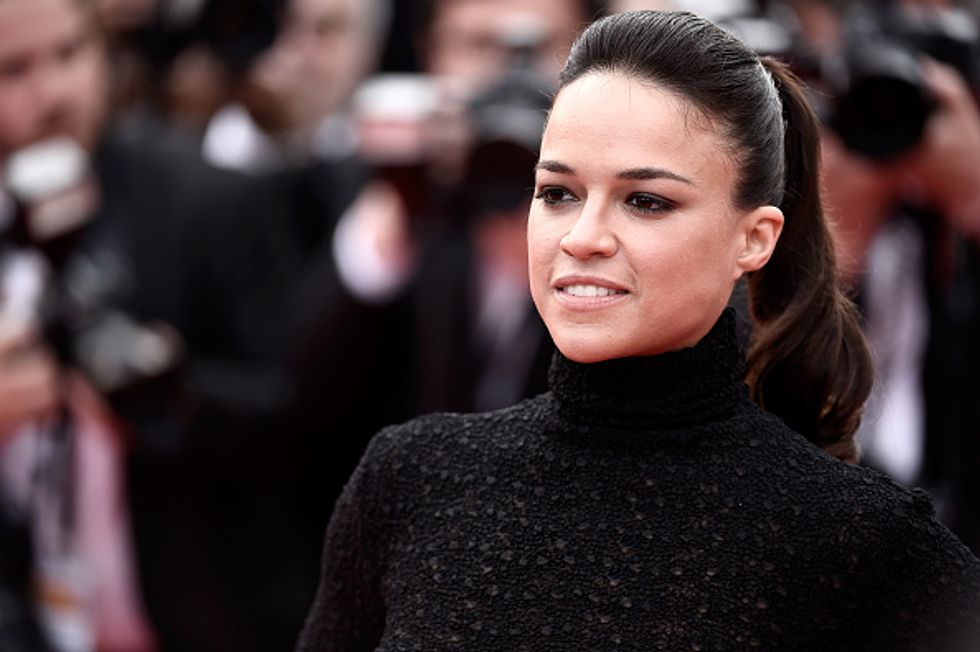 Actress Michelle Rodriguez in Cannes, France. (Ian Gavan/Getty Images)
"That's the world we live in. It's a patriarchal society," the "Fast and Furious" star told TMZ.
"Yes, I get paid a lot less than my colleagues. I don't complain. I'm not going to whine about it," Rodriquez said. "It's like being born a slave. It's like, 'Aw, damn, darn my luck.' You know? I wish I was born somewhere else or maybe some other way, but it is what it is."
Asked whether she ever "talks about it" with other celebrities, Rodriquez responded, "Nope. I don't care."
"I'm not about money or power," Rodriquez said. "I don't care about money."
Rogen starred in the controversial 2015 film "The Interview," which depicted an assassination plot against North Korea leader Kim Jong Un. Hackers later broke into Sony Pictures Entertainment's computer system, leaking company data, some of which revealed that actresses were paid less than their male counterparts.
Asked about the gender wage gap last week, Rogen made light of the breach.
"Thanks to our Sony hacking, everyone knows about [the gender wage gap] now," Rogen said, according to E! News.
(H/T: TMZ)
— 
Follow the author of this story on Twitter and Facebook: