In a short new ad released Monday, presumptive GOP nominee Donald Trump went after his likely Democratic counterpart by attacking her husband.
It's only 20 seconds long and lacks color, but the ad, posted to the social media-savvy candidate's Instagram account, includes the voices of multiple women seemingly accusing former President Bill Clinton of sexual abuse. Among the voices included in the ad is that of Juanita Brodderick, who alleged in 1999 that Clinton raped her. More recently, she has accused Democratic presidential front-runner Hillary Clinton of attempting to "silence" her.
Politico identified another voice in the ad as Kathleen Willey, who accussed Bill Clinton of sexually assaulting her in 1993.
The ad concludes with a soundbite of Hillary Clinton's harsh laugh and is captioned, "Is Hillary really protecting women?"
This isn't the first time Trump has gone after the Clinton campaign by using the sexual assault allegations that shroud Hillary Clinton's husband. He has often criticized the Democratic front-runner for "going after" and "destroying the lives" of the women allegedly involved with her husband.
"She was an unbelievably nasty, mean enabler, and what she did to a lot of those women is disgraceful," Trump said at one campaign event.
In an interview with Fox News' Sean Hannity last week, Trump referred to Bill Clinton's alleged transgressions against women as "rape."
While Bill Clinton has obviously never been found guilty of rape, are the sordid allegations of his sexual past fair game in a heated political contest that involves his wife?
"Sexual assault is a violent crime that should be taken seriously," Meaghan Ybos, founder of the People for the Enforcement of Rape Laws, a Memphis-based nonprofit advocacy group that organizes with victims of sexual violence and monitors law enforcement's response, told TheBlaze Monday.
"Allegations of violent crime should be fair game in any political race," she added.
And as Ybos noted, Trump isn't the first candidate to bring up sexual assault — including this election cycle.
A Democratic contender for district attorney in Philadelphia attacked the Republican incumbent for not charging Bill Cosby in a 2005 sexual assault allegation. And in Los Angeles County in 2013, a city council member publicly came forward about her own childhood sexual abuse after she was accused by her challenger of not doing enough to protect students from several teacher sex abuse cases while she was a school board member.
Hillary Clinton also raised the issue of campus sexual assault with a campaign ad in November in which she stated, "Every survivor of sexual assault deserves to be heard, believed and supported."
"If nothing else, Clinton's campaign video opened the door for her opponents to raise allegations like Trump's video raises," Ybos said.
And Karin Roland, the chief campaigns officer at UltraViolet Action, a women's advocacy organization, was quick to bring up Trump's own past with sexual assault allegations as she slammed the media for covering his new ad.
"Donald Trump has a pattern of abusing and sexually assaulting women — whether they are his employees, pageant winners or even his wife," Roland said in a statement Monday afternoon. "It is shameful that the media continues to fail the general public by not questioning Trump directly on the allegations against him. He is on TV every day, yet never gets asked about this."
"Voters across the country spend their time watching, observing and digesting the media's messages every day," Roland also said. "The media's apparent inability to focus on the real issues at hand is appalling, flat out unacceptable and only perpetuates a culture of violence against women. The media needs to stop giving Donald Trump a free pass and hold Trump accountable for his dangerous pattern of sexual attacks against women."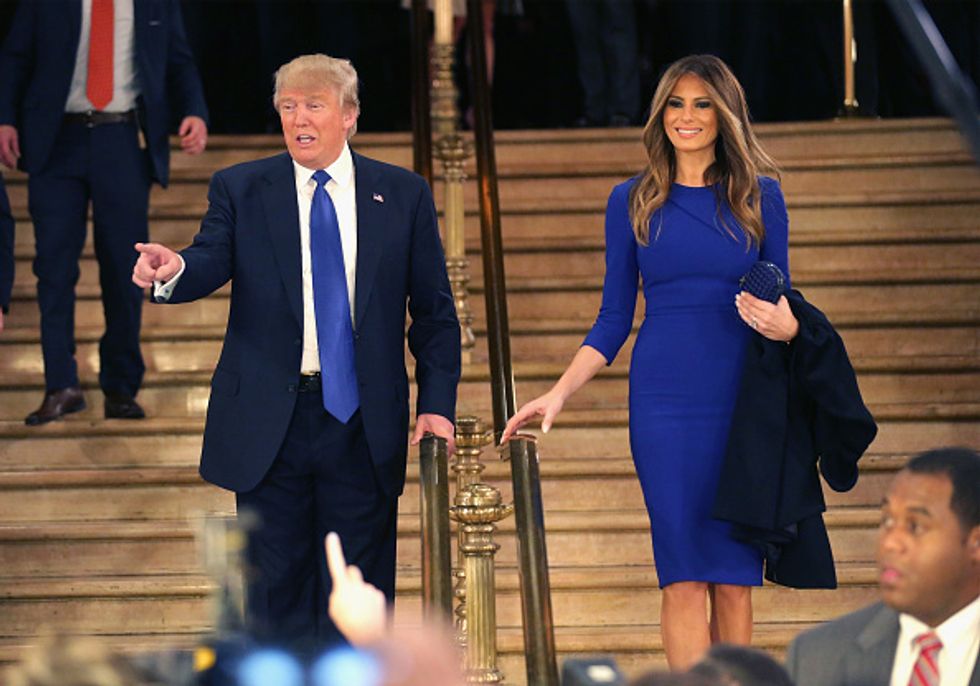 Republican presidential candidate Donald Trump and his wife Melania greet reporters in the spin room following a debate sponsored by Fox News in Detroit. (Getty Images/Chip Somodevilla)
As Roland pointed out, Trump, too, has been accused of sexual assault. During a divorce deposition, Trump's ex-wife Ivana described an altercation between her and her former husband in 1989 as a "rape" and contended that she "felt violated." As the Daily Beast reported last July, she has since walked back that accusation.
Michael Cohen, special counsel at The Trump Organization, received harsh criticism after the Daily Beast reported on the incident and included a quote from him in which he argued "that by the very definition, you can't rape your spouse."
Trump was also sued by Jill Harth for $125 million in 1997 when she alleged that the Manhattan businessman sexually abused her in multiple ways, including "groping" her on several occasions, "forcibly" moving her to a bedroom for sex and propositioning her for sex multiple times. Harth eventually withdrew her lawsuit and told LawNewz.com that while she was "pressured" to file the suit, her allegations against Trump were "twisted and embellished."
Multiple spokespeople for UltraViolet Action did not respond to a request for comment from TheBlaze on if allegations of sexual assault are fair game in politics.
Without commenting on Trump's specific ad, Lisae Jordan, executive director of the Maryland Coalition Against Sexual Assault, told TheBlaze that "there are going to be a range of responses — from feeling validated that people are concerned about the issue of sexual assault to triggering" as sexual assault survivors see any kind of political ad that includes sexual assault issues.
"I think it's important that politicians talk about the policy in regards to sexual violence, laws that affect sexual assault survivors and the horrible responses to sexual assault survivors," she continued, adding that as sexual assault continues to be one of the most underreported crimes in the U.S., victim-blaming can still occur — even incidentally.
The National Sexual Violence Resource Center declined to comment on Trump's specific ad as well but encouraged every presidential candidate to release his or her plans to "tackle this critical issue."
"As with all challenging subjects, exposure and conversation about sexual violence helps drive not only awareness, but action and change," Laura Palumbo, communications director for NSVRC, said in a statement to TheBlaze. "That being said, as we are in the midst of probably the most high-profile presidential election in recent memory, candidates have a real opportunity and responsibility to help support survivors and further the prevention movement in a constructive way."
Approximately one in every six women is a victim of an attempted or completed rape in her lifetime, the Rape, Abuse and Incest National Network has found. Approximately one in 33 men is a victim of an attempted or completed rape, as well.
—
Follow Kaitlyn Schallhorn (@K_Schallhorn) on Twitter