The FBI and prosecutors from the Justice Department's integrity unit are currently investigating Virginia Democratic Gov. Terry McAuliffe, CNN reported Monday.
The investigation, which has been ongoing for at least a year, centers on whether or not donations to his 2013 gubernatorial campaign violate the law, officials said. The governor was not notified by investigators about the FBI's probe.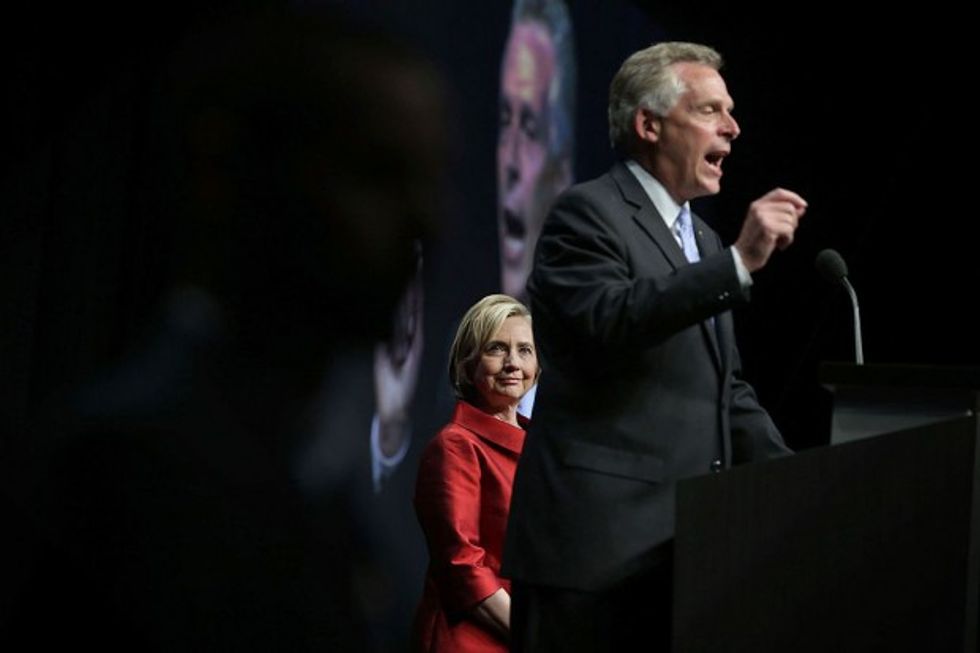 Democratic U.S. presidential hopeful and former U.S. Secretary of the State Hillary Clinton is introduced by Virginia Governor Terry McAuliffe during the Democratic Party of Virginia Jefferson-Jackson dinner June 26, 2015 at George Mason University's Patriot Center in Fairfax, Virginia. It's the first visit for Clinton since she announced her candidacy. (Photo by Alex Wong/Getty Images)
"The Governor will certainly cooperate with the government if he is contacted about it," McAuliffe campaign attorney Marc Elias told CNN.
A key part of the investigation involves the fact that McAuliffe served on the board of the Clinton Global Initiative, the fundraising foundation established by former President Bill Clinton and likely Democratic nominee Hillary Clinton. Additionally, McAuliffe, chairman of the Democratic National Committee from 2000 to 2005, co-chaired Hillary Clinton's 2008 presidential campaign.
Records reveal more than 100 donors contributed to both the foundation and McAuliffe's campaign. Investigators are looking into those overlaps, paying special attention to contributions from Wang Wenliang, a Chinese politician who donated $120,000 to McAuliffe's campaign.
Wenliang was previously delegate to China's National People's Congress, the country's ceremonial legislature.
"Neither the Governor nor his former campaign has knowledge of this matter, but as reported, contributions to the campaign from [Wenliang] were completely lawful," Elias insisted.
Wenliang has also donated $2 million to the Clinton foundation. He has been generous in his contributions, making donations to New York University, Harvard and environmental issues in Florida, too.
Election contributions from foreign nationals is federally prohibited, but Wenliang's spokeswoman said he holds permanent U.S. resident status, making him a U.S. person under election law and eligible to donate to the Virginia governor's campaign.
Neither Wenliang nor the companies he used to make his donations have been contacted by the FBI, according to his spokeswoman.
McAuliffe is the second consecutive Virginia governor to be investigation by the Justice Department and the FBI. Former Gov. Bob McDonnell was investigated in 2014 and subsequently convicted of corruption charges related to $175,000 in loans and gifts he received from a friend and donor.
Officials confirmed the investigations remains active and ongoing.
—
Follow the author of this story on Twitter: