National Public Radio is pushing back on allegations of media bias after taking a donation from an anti-nuclear proliferation group and reportedly refusing to interview one of Congress' top critics of the Iran deal championed by the Obama administration.
The publicly funded, nonprofit radio and media organization often takes donations to bankroll its journalism, but a spokeswoman told TheBlaze today that a $100,000 donation from The Ploughshares Fund had no influence on NPR's coverage.
"Ploughshares cannot in any way influence how we cover stories or who we interview," NPR spokeswoman Isabel Lara said. "As with all support NPR receives, we have a rigorous editorial firewall process in place to ensure our coverage is independent and is not influenced by funders or special interests."
But a bumped interview with Kansas Rep. Mike Pompeo last fall is giving critics grounds to disagree.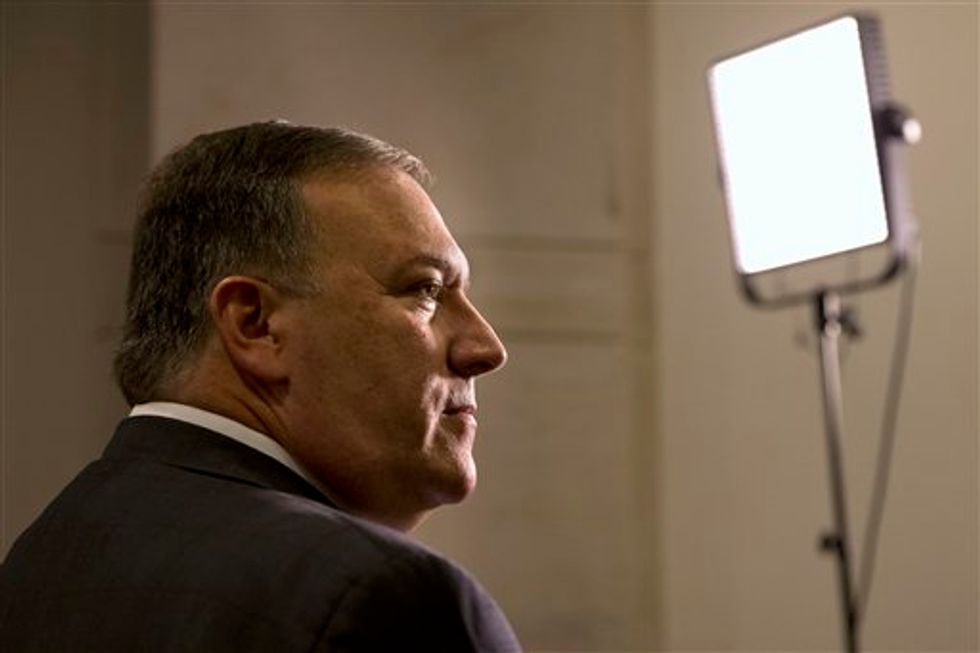 Rep. Mike Pompeo (R-Kan.) pauses while speaking to the media on Capitol Hill. (AP/Jacquelyn Martin)
The Republican had been booked to discuss the Iran deal in August 2015, Lara said, but the interview "did not take place, as often happens in news organizations interviews and schedules get shuffled around."
When first asked about the interview by the Associated Press, NPR reportedly said it had "no record" of Pompeo's interview requests.
But Pompeo's office quickly produced emails that show a communications staffer repeatedly contacting NPR to try to set up an interview, and an NPR producer shutting those requests down.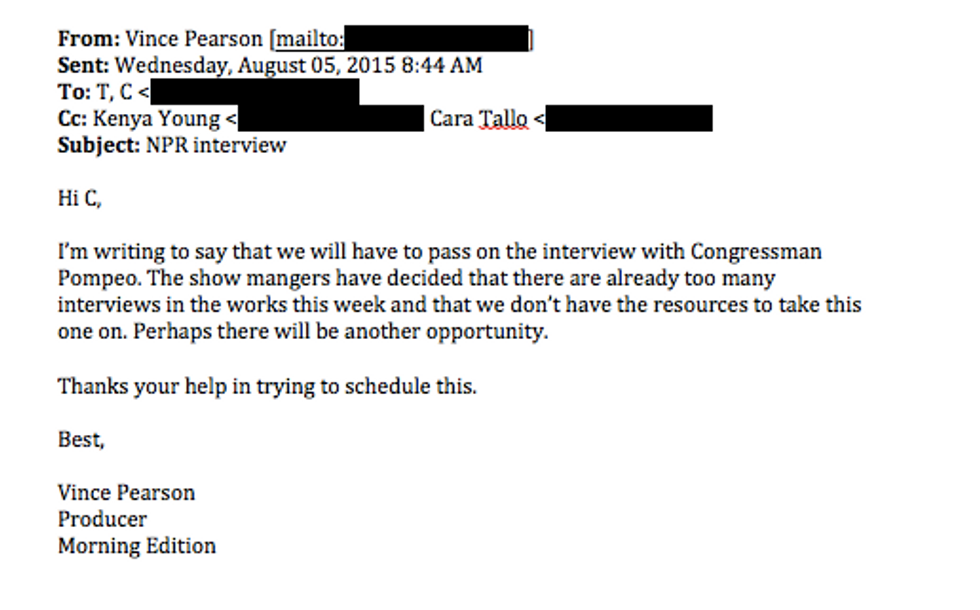 Email provided by Rep. Mike Pompeo's office
Today, Lara argued that NPR had been mistaken about Pompeo's requests and quickly corrected the record.
"We updated the response we gave to the AP as soon as we learned there was, in fact, a record of Rep. Pompeo being contacted," she said.
The question of NPR's independence was raised recently after a New York Times profile quoted President Barack Obama adviser Ben Rhodes as saying that "outside groups like Ploughshares" helped the White House create an "echo chamber" of favorable coverage on the Iran deal.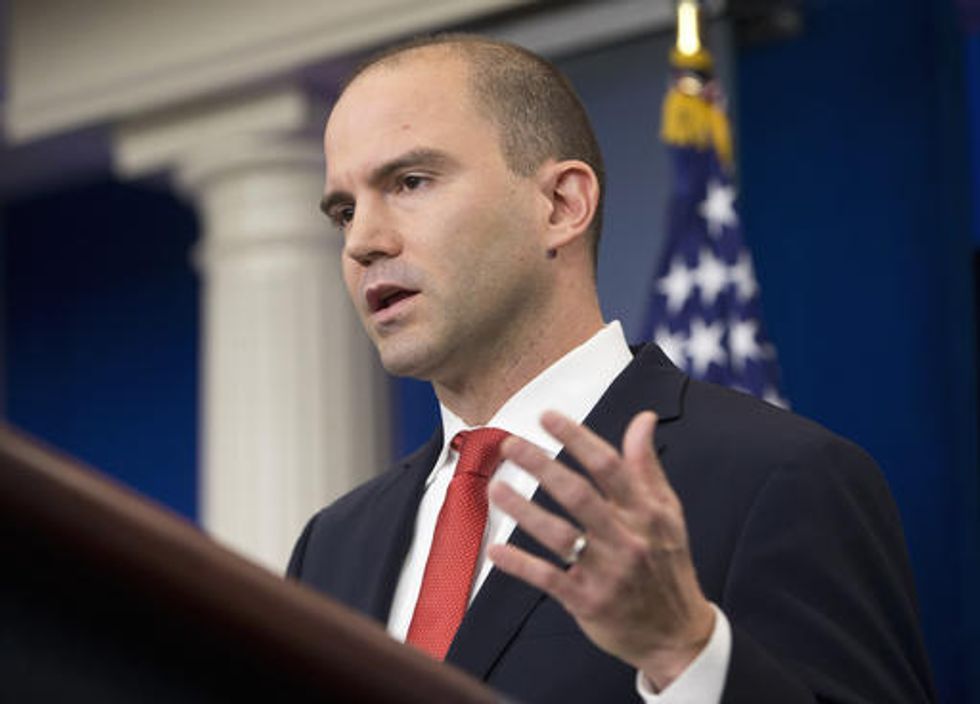 Ben Rhodes speaks in the Brady Press Briefing Room of the White House in Washington. (AP/Pablo Martinez Monsivais, File)
Pompeo argues that that "echo chamber" suppressed voices like his in media's coverage of the deal.
[sharequote="center"]"Recent statements and financial documents raise serious concerns about the integrity of the Ploughshares Fund, NPR, which is partly tax-payer funded, and the entire nuclear deal debate." - Rep. Mike Pompeo [/sharequote]
In a statement, Pompeo added: "Unfortunately, instead of coming clean, groups like NPR continue to distort facts. For example, NPR told the AP that it had 'no record' of my multiple interview requests, though it had actually cancelled on me, as it now admits. This comes on top of refusing or ignoring my multiple requests to be on their programs."
The American people should look into the "questionable relationship" between the global security foundation, the White House and organizations like NPR, the lawmaker said.
However, NPR's spokeswoman suggested today that the outlet included plenty of voices that opposed the Iran deal in its coverage, including many that are arguably higher-profile than Pompeo's.
"That week, NPR interviewed other members of Congress with diverse views on the deal. In the past year, other prominent Republican officials have appeared on our newsmagazines to discuss the Iran deal or were the focus of related stories about economic sanctions, including Sen. Marco Rubio, R-Fla.; Sen. John McCain, R-Ariz.; Sen. Kelly Ayotte, R-N.H.; Sen. Ron Johnson, R-Wis.; Rep. Peter Roskam, R-Ill.; and Rep. Pet Sessions, R-Texas, among others," Lara said.
Future bookings of Pompeo will be decided by NPR's newsroom, Lara said, but she pointed out that he was interviewed last October about the Benghazi Committee's work, as well as in April about Paul Ryan.
—
Follow the author of this story on Twitter and Facebook:
[facebook //www.facebook.com/plugins/like.php?href=