After leaving the Obama administration in 2013, former Secretary of State Hillary Clinton reportedly earned $21.6 million giving 92 speeches to various companies and organizations in North America. (Clinton gave 12 speeches in Canada, one in Mexico and was paid to speak at least 79 times in the United States.)
Clinton's speeches and the money she was paid have been campaign fodder for her Democratic presidential campaign opponent, Vermont Sen. Bernie Sanders, and have been mentioned by presumptive Republican nominee Donald Trump.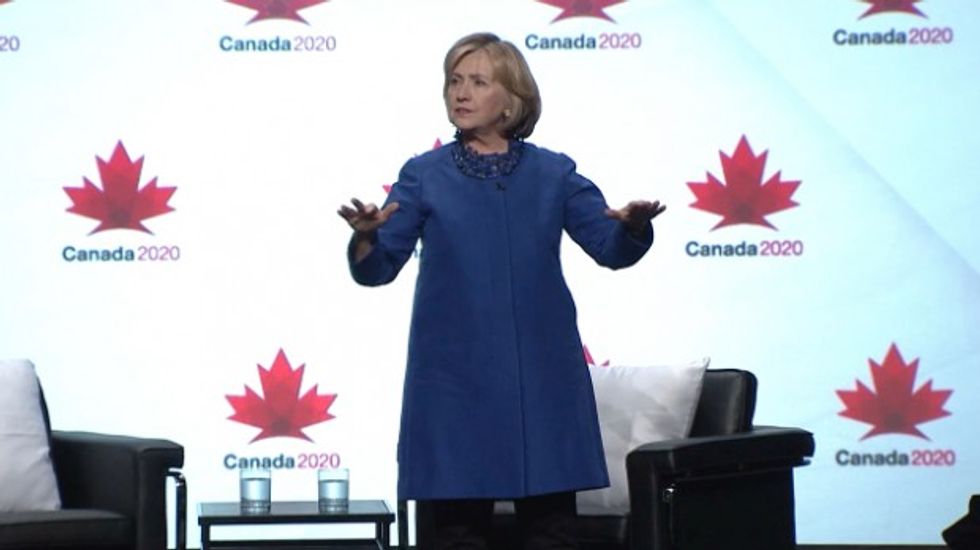 Hillary Clinton speaks at Canada 2020 in Ottawa, Canada, Oct. 6, 2014. (Image source: Vimeo/Canada 2020)
For her part, Clinton has consistently refused to release transcripts or videos of her speeches until all the candidates do the same.
In early May, while speaking to NBC's Andrea Mitchell, Clinton tied the release of her speeches to the release of Trump's personal tax returns.
"Let's get Donald Trump's tax returns out and the transcripts of his speeches. Because I am told he made a whole lot more money than I have," Clinton told Mitchell.
While the Democratic front-runner has not released transcripts or video of her paid speeches, TheBlaze has found a complete video from a Clinton speech from 2014.
On Oct. 6, 2014, Clinton delivered the keynote address to Canada 2020 in Ottawa, Canada. The group is a progressive political organization with ties to the George Soros-funded Center for American Progress in Washington, D.C.
The speech offered no ground-breaking ideas or proposals. The former secretary of state talked of the strong ties between Canada and America and the benefits of "working together." Clinton does mention "building ladders of opportunity," something heard regularly in her campaign speeches.
Clinton was reportedly paid $215,500 for a 23-minute speech. That works out to just more than $9,100 per minute.
Watch the speech:
—
Follow the author of this story on Twitter and Facebook: