Graduating students at California State University, Fullerton turned on the keynote speaker at a ceremony honoring the school's College of Communications over the weekend after she used her speech as an opportunity to attack presumptive Republican presidential nominee Donald Trump.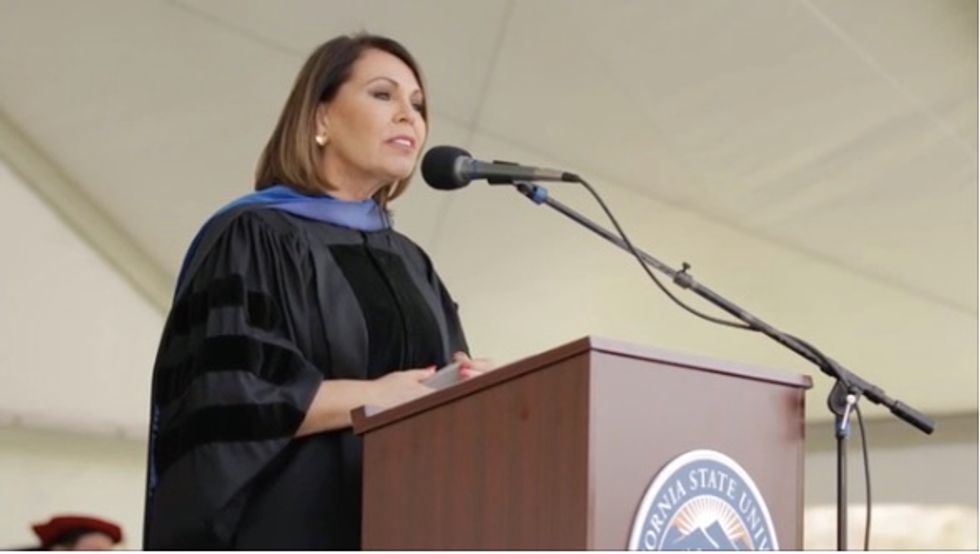 Image source: Washington Post
Maria Elena Salinas, an anchor for the Spanish language broadcast network Univision, addressed the university's entire graduating class of 2016 Sunday morning. Noting that 40 percent of the university's student body is Hispanic, she delivered part of her speech in Spanish.
Several students thanked Salinas afterward for addressing their parents in their native tongue, the Washington Post reported. The school even presented the anchor with an honorary doctorate.
When Salinas, 62, spoke to the university's College of Communications in a separate ceremony later that day, she thought she had a pretty good read of her audience. She was wrong.
Denise De La Cruz, a graduating senior writing for the OC Weekly, recalled the event:
Salinas' speech was well-received until it became a little too Latino-centric for some and blatantly anti-Trump. The Univision broadcaster began specifically congratulating Latino journalism graduates for what seemed like a large chunk of her speech. She then began speaking in Spanish. … This left non-journalism grads and non-Latinos/non-Spanish speakers feeling excluded. Parents in the audience and even students in the ceremony began demanding Salinas switch to a more inclusive tone by shouting phrases such as, "What about us?!"
Things got worse when Salinas began advising aspiring journalists to use certain media tactics to diminish political figures like Trump.
After Salinas' mention of the presumptive GOP nominee, students began yelling at her to "Get off the stage!" and calling her "Trash!" according to the Post.
De La Cruz told the Post Tuesday that, while some of the people in the audience Sunday said they didn't feel any tension from the crowd, others noted the hostile reactions to Salinas' Trump comments. "I would say it was tense throughout the speech," De La Cruz said. "I looked around and a lot of graduates were visibly upset — some were muttering criticisms."
On Tuesday evening, a spokesman for the university told the Post in an email, "I did not attend the ceremony for our College of Communications, but I am aware that some in attendance had concerns about comments made by Maria Elena Salinas."
Salinas told the Post, "It's really sad. And it's a testament to what has happened in our country. Our country is really divided."
Salinas claimed that she could hear some people yelling during her brief address but couldn't hear what they were saying. She learned later from a student that some were upset by her comments.
In video from the event, Salinas is heard saying, "They blame us so much for so many things, that now they're even blaming us, the media, for creating Donald Trump. Imagine that."
As shouting could be heard from the crowd, Salinas continued, "Isn't that terrible? But we didn't, right? Who did it? I don't know."
The yelling continued.
"If you allow me to say a few words in Spanish," she went on, but someone called out, "No!"
Since the speech, Salinas said she has received a lot of negative feedback on social media from students who found her speech exclusive and divisive. She told the Post that some people sent messages telling her to go back to Mexico, even though she was born and raised in California.
"It's really sad that people can turn such a special moment into a racial war," she said. "Because it seems like that is what has happened. I don't think I insulted anyone by saying a few words in Spanish to the parents. The whole speech was directed to everyone. … I think the message is, we have to cool down the intolerance right now, we really do. This is ugly, what's happening in the country."
"What I have seen on Twitter is really going out of control," Salinas added. "A lot of insults. That really does come from the presidential race. When you have people insulting you and #MakeAmericaGreatAgain, you have to wonder."
Watch: