A lasting criticism of the "Fight for $15" movement to raise the federal minimum wage has been that such a radical jump could lead to a severe economic upset by creating widespread unemployment.
A former McDonald's CEO warned that if the movement is successful in getting the minimum wage raised from $7.25 an hour to $15, robots and machines will gradually take over staff jobs because they'll be cheaper than hiring humans.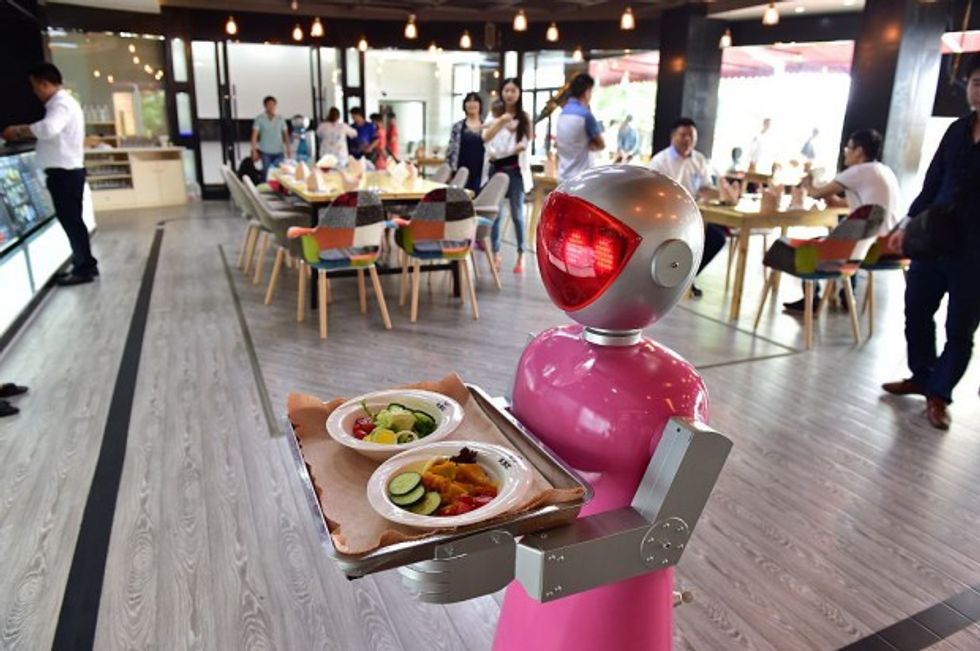 A robot waitress delivers meals for customers at robot-themed restaurant in Yiwu, China. (ChinaFotoPress via Getty Images)
Ed Rensi said that investing in expensive, high-tech robotics is a cheaper alternative for fast-food businesses like McDonald's that employ minimum wage workers.
"I was at the National Restaurant Show yesterday, and if you look at the robotic devices that are coming into the restaurant industry, it's cheaper to buy a $35,000 robotic arm than it is to hire an employee who's inefficient making $15 an hour bagging French fries," Rensi told Fox Business Network's Maria Bartiromo Tuesday on "Mornings with Maria." "It's nonsense and it's very destructive and it's inflationary and it's going to cause a job loss across this country like you're not going to believe."
Lynda Gratton, professor of management practice at London Business School, and futurologist David A. Smith recently conducted a study into the future of human employment, concluding that humans are becoming increasingly replaceable because robots are often better at performing certain tasks.
"Studies have suggested that a third of jobs in Europe will be replaced by technology over the next two decades," Gratton told the Mirror.
Demonstrators protest outside a McDonald's in New York's Union Square demanding a minimum wage increase. (AP Photo/John Minchillo)
California Gov. Jerry Brown (D) and other advocates of increasing the minimum wage by more than 100 percent have admitted that the pay increase might not "make sense" economically when it comes to helping workers, calling into question the sincerity of the "Fight for 15" movement.
"Economically, minimum wages may not make sense," Brown told the Sacramento Bee last month before signing a $15 minimum wage into law for his state, following New York Gov. Andrew Cuomo (D). But, Brown added, it's "not just an economic equation."
"Morally and socially and politically, [minimum wages] make every sense because it binds the community together and makes sure that parents can take care of their kids in a much more satisfactory way," he said.
But for Rensi, a flourishing economy demands "common sense" solutions from all industries.
"It's not just going to be in the fast-food business," he told Bartiromo.
Rensi explained that if companies can't get employees to work for a "reasonable wage," they will turn to machines to do the work: "It's just common sense. It's going to happen whether you like it or not. And the more you push this it's going to happen faster."