Donald Trump will not, after all, participate in a debate with Bernie Sanders, the presumptive Republican nominee announced in a statement Friday.
"Based on the fact that the Democratic nominating process is totally rigged and Crooked Hillary Clinton and Deborah Wasserman Schultz will not allow Bernie Sanders to win, and now that I am the presumptive Republican nominee, it seems inappropriate that I would debate the second place finisher," Trump said.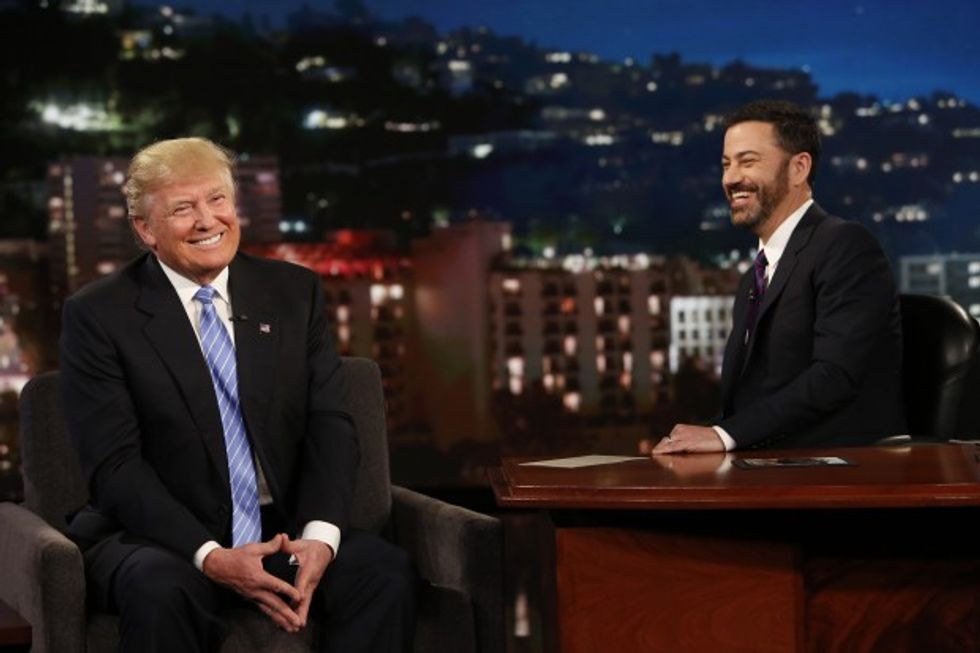 Randy Holmes/ABC via AP
The billionaire businessman added that, though several networks had agreed to broadcast the face-off, they would "make a killing" on the event and "are not proving to be too generous to charitable causes," which was the central condition to Trump's proposed debate with Sanders.
In an appearance on "Jimmy Kimmel Live!" earlier this week, Trump said he would debate Sanders only if the host network agreed to donate millions of dollars to charity. Moments before the Republican candidate's announcement, the Sanders campaign said two broadcast networks had agreed to make major charitable contributions in order to host the forum.
"Our campaign and the Trump campaign have received two offers by broadcast television networks to host the Sanders-Trump debate that we suggested," Sanders campaign manager Jeff Weaver said Friday. "Both offers include a major contribution to charity."
"We are prepared to accept one of those offers and look forward to working with the Trump campaign to develop a time, place and format that is mutually agreeable," he added.
Trump's decision to skip the proposed showdown comes one day after Weaver said he hoped the real estate developer wouldn't "chicken out" of the debate.
now @BernieSanders campaign manager Jeff weaver is taunting @realDonaldTrump saying he hopes he doesn't "chicken out" and debates sanders

— Dana Bash (@Dana Bash) 1464283212.0
Should the debate have taken place, in addition to the two networks that agreed to play host to the event, online show The Young Turks offered $1 million to broadcast the debate and technology company Traction and Scale volunteered $10 million to host the debate.
—
Follow the author of this story on Twitter: